Braves score late to down Dodgers
NATIONAL LEAGUE
AP, LOS ANGELES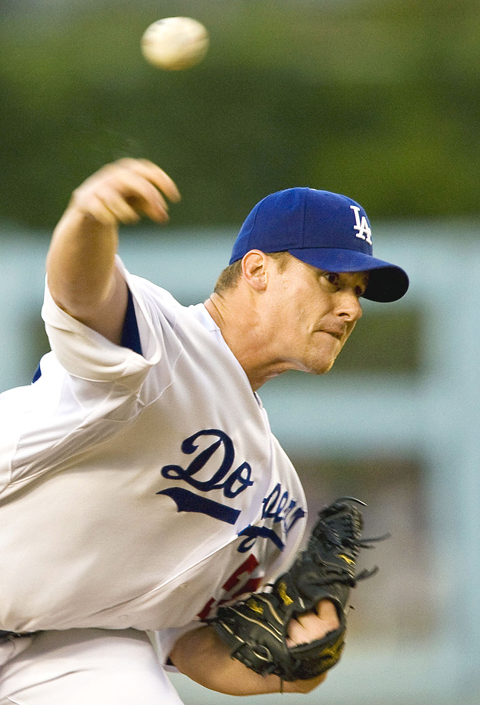 Los Angeles Dodgers starter Chad Billingsley throws against the Atlanta Braves in the first inning in Los Angeles on Friday.
PHOTO: AP
The Atlanta Braves heaped on four runs in the 12th inning to beat the Los Angeles Dodgers 9-5 in the National League on Friday.
Garret Anderson, who drove in the tying run for Atlanta with a ninth-inning single, scored the go-ahead run in the 12th on a single by Yunel Escobar. Ryan Church then hit a three-run homer to all but wrap it up for the Braves.
The Dodgers had a chance to win it in the bottom of the 11th, but Tony Abreu grounded out with the bases loaded.
Los Angeles' lead in the NL West was cut to six-and-a-half games, the same margin by which Atlanta trails NL East leader Philadelphia.
MARLINS 3, PHILLIES 2
In Philadelphia, Florida snapped an untimely three-game losing streak by beating Philadelphia, boosting their playoff hopes.
Ricky Nolasco pitched seven sharp innings for Florida, allowing only four hits while striking out seven batters.
Nick Johnson and Cody Ross hit solo homers for the Marlins, who suffered a costly three-game sweep to lowly Washington but bounced back to move within six games of the NL East-leading Phillies.
ROCKIES 6, CUBS 2
In Denver, Colorado, the home team took advantage of the late withdrawal of Chicago pitcher Carlos Zambrano to win their 15th straight game against a rival from the NL Central and move into a tie for the provisional wild card berth.
About 15 minutes before the start of the game, Zambrano was scratched because of a recurrence of a lower back injury. The Rockies jumped on emergency fill-in Sean Marshall for three runs in two innings.
ASTROS 6, BREWERS 3
In Houston, Texas, the hosts won to move level with Milwaukee in the NL Central and the wildcard race.
Jason Michaels hit a solo homer in the fifth and a three-run shot in the sixth. He was starting in center field in place of the injured Michael Bourn.
Astros pitcher Bud Norris struck out seven in six effective innings and allowed only three hits. It was his second major league start, after seven shutout innings on debut.
In other NL games, it was:
• Reds 10, Giants 5
• Cardinals 6, Pirates 4
• Padres 6, Mets 2
• Nationals 7, Diamondbacks 6
AMERICAN LEAGUE
AP, ANAHEIM, CALIFORNIA
Omar Vizquel drove in three runs with four hits, including one of the Texas' five homers, to help lift the Rangers over the Los Angeles Angels 11-6.
Josh Hamilton hit an early three-run shot for the Rangers, who moved within three-and-a-half games of the AL West-leading Angels.
Texas hit three homers in the fifth inning, including Vizquel's first for almost two years, to set up a 9-1 lead.
MARINERS 7, RAYS 6, 11 INNS
In Seattle, late-game replacement Ryan Langerhans hit a two-out two-run homer in the 11th inning to lift the home team over Tampa Bay.
Langerhans, acquired on June 28 from Washington as third baseman Adrian Beltre went out for shoulder surgery, had his first career game-ending hit and snapped Tampa Bay's three-game winning streak.
TIGERS 10, TWINS 8
In Detroit, Miguel Cabrera and Alex Avila homered amid a six-run first inning, with the hosts holding on to beat Minnesota.
It was Avila's first MLB homer, and the son of the Tigers' vice president finished with two hits and four RBIs in his second major game.
Placido Polanco had four hits and drove in a run for Detroit.
In other AL games, it was:
• Indians 6, White Sox 2
• Orioles 7, Blue Jays 5
• Athletics 9, Royals 4
Comments will be moderated. Keep comments relevant to the article. Remarks containing abusive and obscene language, personal attacks of any kind or promotion will be removed and the user banned. Final decision will be at the discretion of the Taipei Times.