Cabrera hits for cycle to top Chicago
'AWESOME THING' The Yankees' Melky Cabrera had a three-run homer in the second, a single in the fifth, a double in the fourth and a triple in the ninth
AMERICAN LEAGUE
Melky Cabrera drove in four runs and became the first New York Yankee to hit for the cycle in 14 years in an 8-5 win over the Chicago White Sox on Sunday.
Cabrera had a home run, triple, double and single as the Yankees ended a three-game skid to the White Sox and hung on to first place in the American League East, a half-game in front of the Boston Red Sox. Chicago remained 1.5 games behind leader Detroit in the Central Division.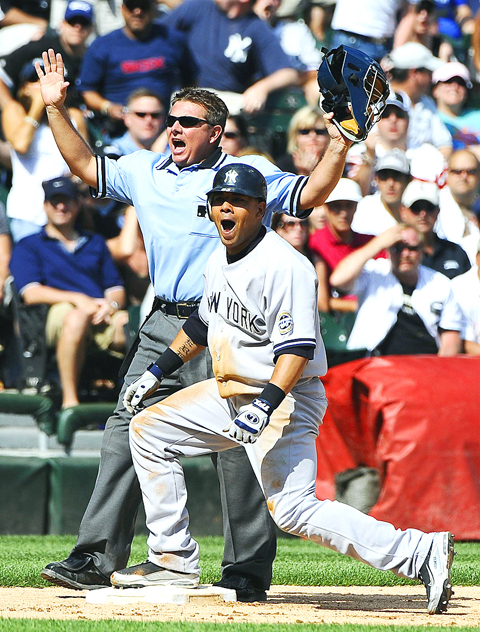 Yankees outfielder Melky Cabrera reacts to being ruled safe at third base with a triple by home plate umpire Greg Gibson, rear, after Chicago White Sox third baseman Gordon Beckham was late with the tag in the ninth inning of their game at US Cellular Field in Chicago, Illinois, on Sunday. The Yankees defeated the White Sox 8-5.
PHOTO: EPA
Cabrera launched the win with a three-run homer in the second inning and added a run-scoring single in the fifth. He had a double in the fourth and a triple in the ninth.
"I feel really happy, but I'm more happy because we won the game," Cabrera told reporters, speaking through an interpreter.
No Yankee had hit for the cycle since Tony Fernandez in 1995.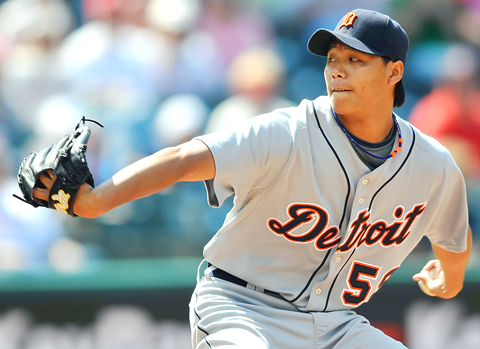 Detroit Tigers pitcher Ni Fu-te of Taiwan delivers in the ninth inning against the Cleveland Indians at Progressive Field in Cleveland, Ohio, on Sunday.
PHOTO: AP
"He got us started with that three-run homer, and to be able to end it with that cycle is really special," Yankees manager Joe Girardi said.
Cabrera needed to dive head first into third base to beat Gordon Beckham's tag for his triple.
"It's great," Yankees closer Mariano Rivera said. "I don't remember seeing one ... I was telling him, 'Go! Go! Don't stop at second base. Whatever happens, go.'"
Cabrera's team mates cheered wildly in the dugout after the hit that completed the cycle.
"Everyone was jumping up and down, clapping, cheering," Nick Swisher said. "We're just really happy for him. Not many people get a chance to do that. That's the first time I've ever seen [a cycle] in person. It's just an awesome thing."
The first three hits came off Chicago starter and loser Mark Buehrle (11-5) who gave up 12 hits and seven runs in four-plus innings in his first start at home since pitching a perfect game against Tampa Bay on July 23.
"I made a bad pitch on a hanging changeup on the home run," Buehrle said. "It was just one of those days."
Chicago bounced back from a 3-0 deficit with four runs in the third inning. But the Yankees took control with two runs each in the fourth and fifth.
Yankees starter CC Sabathia (11-7) held on for seven-plus innings for the win, but was charged with 10 hits and five runs.
INDIANS 11, TIGERS 1
At Cleveland, Carl Pavano tossed eight sharp innings to lead Cleveland past Detroit.
Asdrubal Cabrera and Grady Sizemore each hit a two-run homer off Armando Galarraga (5-10) as Cleveland totaled 13 hits and won for the seventh time in 10 games.
Pavano (9-8) allowed one run and six hits to improve to 3-0 with a 1.93 ERA against the Tigers this season.
The 33-year-old right-hander struck out four and walked one in his first win since a 5-4 victory at Detroit on July 11.
Galarraga allowed eight runs and 11 hits over 5-2/3 innings to fall to 0-3 in five starts since beating Oakland on June 30.
ANGELS 13, TWINS 4
At Minneapolis, Kendry Morales homered twice and had a career-high six RBIs to help the Angels sweep the three-game series against Minnesota.
Jered Weaver (11-3) struck out a career-high 11 in 6-1/3 innings for Los Angeles (63-40), which has the best record in the American League and has won 13 of their last 15 games.
Morales hit the first of his two three-run shots in the fifth as the Angels opened the inning with five straight hits to chase Glen Perkins. He connected again in the eighth to give Los Angeles a 13-4 lead.
Justin Morneau hit his 28th homer and newly acquired Orlando Cabrera also went deep for Minnesota.
In other AL games, it was:
• Red Sox 18, Orioles 10
• Royals 4, Rays 1
• Blue Jays 7, Athletics 2
• Rangers 4, Mariners 2
NATIONAL LEAGUE
AP, ATLANTA, GEORGIA
Matt Kemp homered and matched a career high with five RBIs to lead the Los Angeles Dodgers to a 9-1 win over the Atlanta Braves in the National League on Sunday.
Kemp had three hits, including a three-run homer in the fifth and a two-run single in the eighth as the Dodgers outhit the Braves 19-5. Andre Ethier and James Loney also had three hits.
Chad Billingsley (11-6) threw five scoreless innings before leaving with a cramp in his right hamstring.
Billingsley gave up only two hits with one walk and nine strikeouts in five innings.
ASTROS 2, CARDINALS 0
At St Louis, Bud Norris pitched seven sharp innings in his first major league start to lead Houston over St Louis.
Norris was working on a no-hitter before pitcher Adam Wainwright led off the sixth with a single to center. Norris (1-0) gave up just two hits, walked four and struck out five while subbing for Roy Oswalt, who missed his turn with lower back discomfort.
In other NL games, it was:
• Rockies 6, Reds 4, 11 innings
• Nationals 5, Pirates 3
• Diamondbacks 5, Mets 2
• Giants 7, Phillies 3
• Brewers 6, Padres 1
• Marlins 3, Cubs 2
Comments will be moderated. Keep comments relevant to the article. Remarks containing abusive and obscene language, personal attacks of any kind or promotion will be removed and the user banned. Final decision will be at the discretion of the Taipei Times.