Unheralded Biedermann wipes out Thorpe, Phelps
TECHNOLOGICAL EDGE: Paul Biedermann of Germany, who handed Michael Phelps a stunning loss in the 200m freestyle, admitted his swimsuit made all the difference
Germany's Paul Biedermann handed Michael Phelps his first major individual loss in four years — and snatched his world record, too — with a stunning win in the 200m freestyle at the world swimming championships on Tuesday.
Virtually unknown outside his country before this meet, Biedermann has erased Ian Thorpe from the record book in the 400m free and knocked off the most successful Olympian in history — all in the space of three days.
Biedermann's victory stirred up even more debate about the high-tech bodysuits that are being banned by the sport's governing body beginning in 2010. Biedermann wore an Arena X-Glide, one of those polyurethane suits that is generally considered faster than the Speedo LZR Racer, the once-revolutionary suit Phelps wore.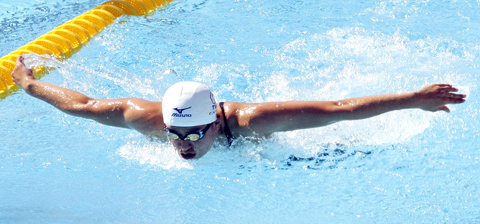 Yang Chin-kuei of Taiwan competes in the women's 200m butterfly swimming heats at the world championships in Rome yesterday.
PHOTO: REUTERS
The German relished his win, but acknowledged that he had a technological edge.
"The suits make a difference," the 22-year-old German said. "I hope there will be a time when I can beat Michael Phelps without these suits. I hope next year. I hope it's really soon."
Biedermann's upset launched another night of record breaking.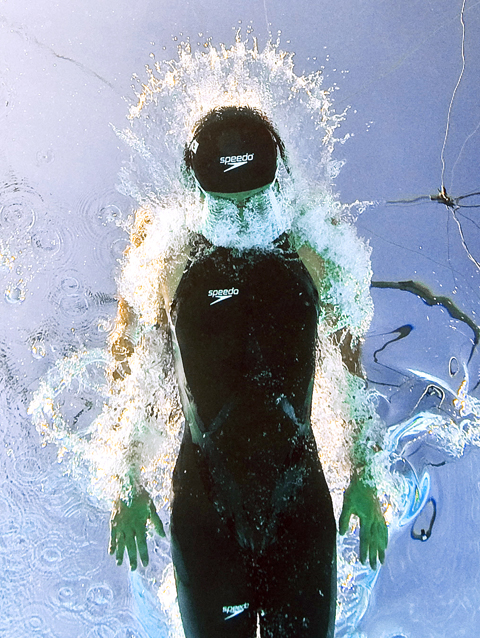 China's Jiao Liuyang competes in the women's 200m butterfly qualifications at the FINA world swimming championships in Rome yesterday.
PHOTO: AFP
Four more world standards were bumped from the books, bringing the total to 15 through the first three days of an eight-day meet. That equals the number of records set at the last worlds in Melbourne two years ago.
Britain's Gemma Spofforth went the fastest ever to win the 100m backstroke; Italy's Federica Pellegrini fired up the home crowd with her second world record of the championships in a semi-final heat of the 200m free; and South Africa's Cameron van der Burgh posted his own mark in the semis of the 50m breaststroke, a non-Olympic event.
Shortly before the race, FINA confirmed that a ban on bodysuits would go into effect by May next year, making this the last major competition where buoyancy-­aiding suits are allowed.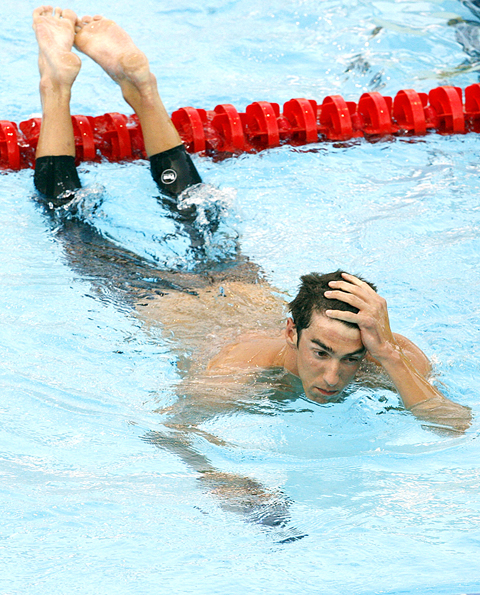 Michael Phelps of the US reacts after competing in the 200m butterfly semi-final at the world swimming championships in Rome on Tuesday.
PHOTO: AP
Phelps' coach, Bob Bowman, said he might just withhold Phelps from any meets until the new rules are implemented.
When told of FINA's timetable for bringing back suits that cover less skin and go back to being made out of textile materials, Bowman scoffed.
"Well, then probably expect Michael not to swim until they are implemented. I'm done with this. It has to be implemented immediately," the coach said. "The sport is in shambles right now and they better do something or they're going to lose their guy who fills these seats."
While Biedermann celebrated his time of 1 minute, 42.00 seconds, which knocked off Phelps' world mark of 1:42.96 from the Beijing Olympics, the American stared at the scoreboard for a few seconds, then headed to the side of the pool without acknowledging the swimmer who had just handed him his first big individual loss since July 30, 2005.
Phelps started to walk away after the top three got their medals, then was motioned back to the top rung to pose for pictures with the winner and bronze medalist Danila Izotov of Russia.
Instead of being the center of attention, Phelps had to stand off to the side, looking glumly toward the cameras. As they walked around the deck, Biedermann danced in delight while Phelps managed a few forced smiles when he looked up toward the stands.
Finally, Phelps climbed toward the stands to drop off a stuffed mascot with his mother, Debbie, who leaned over to give him a consoling hug. Before her son even left the pool deck, he pulled off his silver medal, as if he wanted no part of that consolation prize.
Phelps did come back about an hour later to qualify for the final of the 200m butterfly on what should be his toughest day of the meet. He posted the second-fastest time in the semi-finals, just 13-­hundredths behind Japan's Takeshi Matsuda.
Publication Notes
Taiwan's swimmers
Men's 50m breaststroke
Heat 9
Wang Wei-wen placed 93/148
time: 30.40 (eliminated)
Women's 200m freestyle
Heat 5
Ting Sheng-yo placed 60/91
time: 2:08.31 (eliminated)
Heat 7
Yang Chin-kuei placed 27/91
time: 2:01.00 (eliminated)
Men's 200m butterfly
Heat 7
Hsu Chi-chieh placed 28/73
time: 1:57.61 (eliminated)
Men's 800m freestyle
Heat 3
Lin Kuan-ting placed 37/52
time: 8:33.44 (eliminated)
Heat 4
Pan Kai-wen placed 36/52
time: 8:29.57 (eliminated)
Comments will be moderated. Keep comments relevant to the article. Remarks containing abusive and obscene language, personal attacks of any kind or promotion will be removed and the user banned. Final decision will be at the discretion of the Taipei Times.