Mexico put five past US in New Jersey, lift Gold Cup
Carlos Vela scored once and set up two other goals as Mexico defeated the US 5-0 to win the Gold Cup and snap the Americans' 58-game home unbeaten streak in the tournament.
Halftime substitute Vela was one of five different players to score for Mexico, who claimed their fifth Gold Cup title. It also marked their first win against the US outside of Mexico in more than 10 years, halting a 15-game losing skid.
"I believe this is a great win for Mexico, because we showed the pride we have in our hearts today," Mexico's Giovani Dos Santos said. "This is a huge step for us in the process."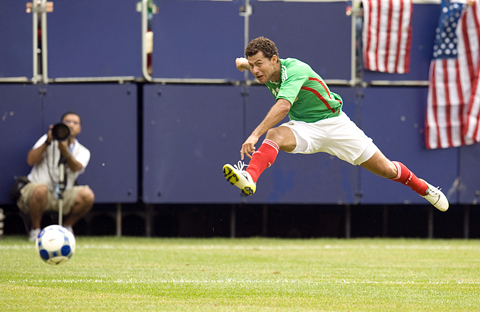 Mexico's Miguel Sabah scores a goal against the US during the CONCACAF Gold Cup final at Giants Stadium in East Rutherford, New Jersey, on Sunday.
PHOTO: AFP
Mexican captain Gerardo Torrado opened the scoring from the penalty spot in the 56th minute, comfortably beating US goalkeeper Troy Perkins.
Dos Santos, who was named man of the match, made it 2-0 just six minutes later, before Vela found the target in the 67th minute to give Mexico a commanding 3-0 lead.
Jose Castro (79) and Guillermo Franco (90) rounded off the scoring for Mexico.
"The win injects us with some motivation, confidence and maturity," Dos Santos said.
Despite playing in the US, the crowd at the 79,000-seat Giants Stadium was overwhelmingly pro-Mexico. The last time Mexico beat the US was in 1999. Mexico also won despite the organizers' decision to allow the US to add seven extra players to their squad because of the closeness of the Confederations Cup and Gold Cup tournaments.
It was the worst home loss for the US since June 1985 when they were dominated 5-0 by England.
"When a goal is scored, there's always a change in the game and we didn't respond well," US coach Bob Bradley said.
"We were chasing the game a lot in the second half and it tired us out. Look at anybody in the United States and this loss has to anger you," US forward Brian Ching said.
The teams meet again in Mexico City on Aug. 12.
"This ends here in this locker room," Mexico coach Javier Aguirre said. "We're celebrating now, but that's it. Tomorrow is another day and we begin working for Aug. 12 and that's a different story."
Comments will be moderated. Keep comments relevant to the article. Remarks containing abusive and obscene language, personal attacks of any kind or promotion will be removed and the user banned. Final decision will be at the discretion of the Taipei Times.