Angels rally against Yankees in the fifth
COMEBACK Los Angeles pulled off seven runs in the fifth inning to snatch their second victory against New York. The Angels lead the majors with 26 comeback wins
AMERICAN LEAGUE
The Los Angeles Angels scored seven runs in the fifth inning for their second straight comeback victory over the New York Yankees by 14-8 in the American League on Saturday.
During the Angels' fifth-inning rally from 4-1 down, Mike Napoli hit a go-ahead two-run double off David Robertson, Brandon Wood connected for a two-run homer, Howie Kendrick capped it with a two-run single and Bobby Abreu drove in three runs against his former team. The Angels lead the majors with 26 comeback wins, one more than the Yankees.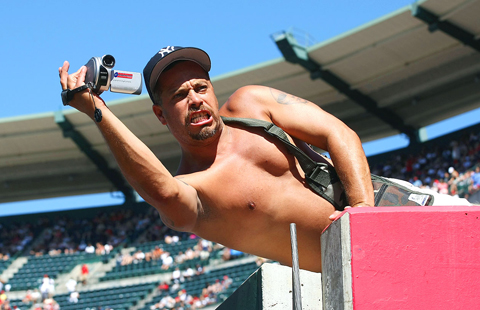 A fan strains to lean over the railing to point his video camera into the New York Yankees dugout during the game with the Los Angeles Angels of Anaheim on Saturday at Angel Stadium in Anaheim, California.
PHOTO: AFP
Alex Rodriguez homered twice for the Yankees, increasing his career total to 570 and putting him in 10th place on the MLB all-time list.
On Friday, the Angels overcame a 5-1 deficit to win 10-6.
WHITE SOX 8, TWINS 7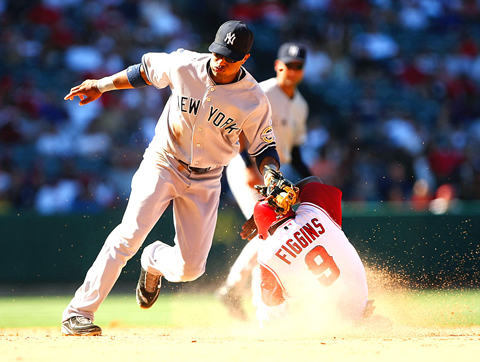 Chone Figgins of the Los Angeles Angels of Anaheim slides into second with a stolen base on Saturday at Angel Stadium in Anaheim, California.
PHOTO: AFP
At Minneapolis, Jim Thome drove in four runs for Chicago, countering two home runs by ex-teammate Joe Crede.
Bobby Jenks picked up his 20th save, but nearly blew it when Jose Morales hit a two-run single with one out in the ninth after Crede's sharp grounder shot through Gordon Beckham's legs for an error to put runners at second and third. Denard Span grounded into a double play to end the game.
Crede hit a three-run shot in the fifth inning and a solo homer in the seventh against Gavin Floyd (7-6).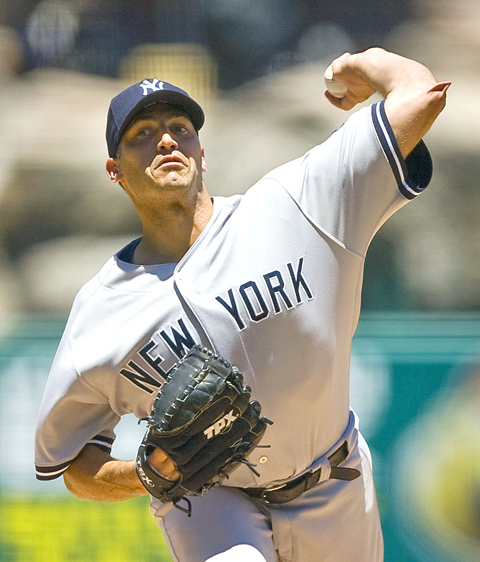 New York Yankees starting pitcher Andy Pettitte pitches against the Los Angeles Angels during the first inning of their MLB American League baseball game in Anaheim, California, on Saturday.
PHOTO: REUTERS
INDIANS 5, TIGERS 4
At Detroit, Carl Pavano allowed two runs in eight innings and Travis Hafner had two RBIs for Cleveland to end Detroit's three-game winning run.
Pavano (8-7) was aided by three double plays in the first four innings, including a strikeout-caught stealing version to end the fourth. He allowed seven hits with six strikeouts and no walks.
Armando Galarraga (5-8) took the loss, his first since June 13.
RED SOX 15, ROYALS 9
At Boston, John Smoltz got his first win for Boston and Kevin Youkilis hit two home runs to lift the Red Sox.
Smoltz (1-2) struck out seven over five innings, allowing one run on four hits. Coming off shoulder surgery that cut his 2008 season to six appearances, the 42-year-old Smoltz didn't make his first start until June 25 against Washington. He struggled with an 0-2 record and 6.60 ERA in three previous appearances.
Gil Meche (4-9) left with two outs in the fourth inning with back spasms after he had allowed seven runs — five earned.
Also on Saturday, it was:
• Athletics 7, Rays 2
• Orioles 4, Blue Jays 3, 12 innings
• Mariners 4, Rangers 1
NATIONAL LEAGUE
AP, PHILADELPHIA, PENNSYLVANIA
Ryan Howard hit a tying three-run homer in the ninth inning before Paul Bako's single gave the Philadelphia Phillies an 8-7 victory over the Pittsburgh Pirates in the National League on Saturday.
The Phillies, who have won eight of their past nine games, trailed 7-3 before pinch-hitter Matt Stairs led off the ninth with a homer off Matt Capps (1-5). Jimmy Rollins walked and stole second, his third steal of the game, and Chase Utley followed with a one-out single to left.
Howard followed Utley by blasting a 1-0 pitch to tie the game at 7. Raul Ibanez, playing in his first game after missing 20 with a groin injury, then hit a ground-rule double to center. After an intentional walk to Jayson Werth and an infield single by Pedro Feliz, Bako lined a 3-2 pitch to left, sending a crowd that included Vice President Joe Biden home happy.
METS 4, REDS 0
At New York, Jeff Francoeur had a two-run single in his Mets debut and Johan Santana pitched seven sharp innings to lead New York over Cincinnati.
Omir Santos had three hits for New York, which scored all its runs in the first two innings. Leadoff hitter Angel Pagan scored twice and swiped two bases in his second game back after being sidelined with a strained groin.
Santana (10-7) allowed five hits, struck out five and walked one, taking advantage of some rare run support. New York had scored seven runs in the left-hander's previous four starts.
CUBS 5, CARDINALS 2
At Chicago, Ted Lilly allowed four hits and a run in eight strong innings to earn his 100th career victory as Chicago beat St Louis Cardinals. Lilly (9-6), the Cubs' lone selection to the All-Star game, walked one and struck out four in a 103-pitch outing and left with a 5-1 lead. The veteran left-hander was staked to an early 3-0 lead with Jeff Baker hitting a two-run, bases-loaded single in the first.
St Louis got a run in the ninth off reliever Carlos Marmol and had the tying run at the plate before closer Kevin Gregg struck out pinch-hitter Skip Schumaker to end the game.
BREWERS 6, DODGERS 3
At Milwaukee, J.J. Hardy hit a two-out, two-run double in the eighth inning, and Trevor Hoffman and the Milwaukee bullpen held on to beat Los Angeles.
Mike Burns (2-2) struck out a career-high seven and drove in a run to win for the second time in his career and Frank Catalanotto homered for the Brewers.
Rafael Furcal and Andre Ethier hit back-to-back shots for the Dodgers (55-32), who are 5-3 on their nine-game trip and will have the best mark in the majors at the All-Star break regardless of what happens Sunday.
Manny Ramirez went 1 for 4 to extend his hitting streak to five games a night after tying Yankees great Mickey Mantle on the career home run list at 536.
NATIONALS 13, ASTROS 2
At Houston, Nick Johnson, Josh Willingham and Adam Dunn homered in consecutive at-bats as Washington set season highs for hits and runs to beat Houston.
Washington's 21 hits were the team's most since the franchise relocated from Montreal in 2005. The Nationals last scored 13 runs against the Chicago Cubs on Aug. 22.
Rookie Craig Stammen (2-4) gave up nine hits in Washington's fourth complete game of the season. Willingham added a two-run homer and an RBI double and Alberto Gonzalez had a pair of RBI singles for the Nationals.
In other NL games, it was:
• Giants 2, Padres 1
• Diamondbacks 5, Marlins 1
• Braves 4, Rockies 3
Comments will be moderated. Keep comments relevant to the article. Remarks containing abusive and obscene language, personal attacks of any kind or promotion will be removed and the user banned. Final decision will be at the discretion of the Taipei Times.