Superman's record night ends in gloom for Orlando Magic
The Superman capes were left crinkled up under the seats after a record-setting performance by Dwight Howard on Thursday could not prevent the Orlando Magic slipping to a 3-1 deficit in the NBA finals series.
The man dubbed Superman set a finals record with nine blocked shots, had 16 points and 21 rebounds. However the All-Star center missed eight free throws — including a pair that could have sealed a win in regulation — and the Magic lost 99-91 in overtime to the Los Angeles Lakers.
Orlando was ahead 87-84 with 11.1 seconds remaining in the fourth quarter when Howard was fouled, but he missed both free throws.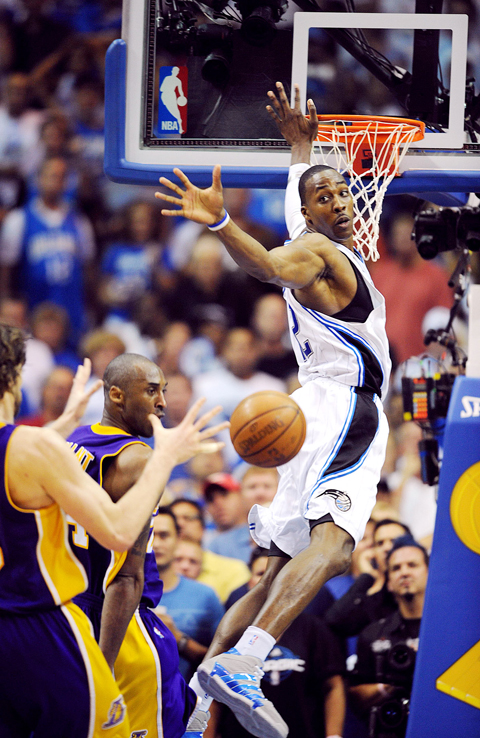 Dwight Howard, right, of the Orlando Magic misses the ball during Game 4 of the NBA Finals against the Los Angeles Lakers at Amway Arena in Orlando, Florida, on Thursday. The Lakers defeated Orlando 99-91 in overtime to take a 3-1 lead in the series.
PHOTO: AFP
"I just missed them," said Howard. "I've been working on my free throws. They just weren't falling tonight. There's no need to get down on myself. I did a lot of good things tonight, just my free throws weren't there."
Howard, who had been shooting 65 percent from the line in the postseason, finished 6 for 14 from the stripe. The Magic were 22 for 37.
"How would you feel? Pretty bad, right? He's obviously upset," Magic guard J.J. Redick said. "It's a disappointing way to lose — 11 seconds, up three with two free throws. You at least feel you're going to get another trip to the free throw line because they have to foul. End up losing in overtime."
It brought back memories of the Magic's only other finals appearance, when Nick Anderson missed four consecutive free throws at the end of Game 1 of the 1995 finals. Orlando never recovered and was swept 4-0 by the Houston Rockets.
These finals looked just the same.
Los Angeles' Derek Fisher hit a 3-pointer to send the game into overtime, and another big one in OT, and the Magic must now win three straight if it is to take this year's title.
"We can't hang our heads," Howard said. "We still believe. There's no reason to have any doubts right now."
Howard looked like he was going to bring the Magic to a 2-2 series tie, but Orlando blew a 12-point halftime lead and collapsed in the final minute of regulation. Howard had seven turnovers in the game and missed another free throw in overtime.
"It's tough for him," Magic point guard Rafer Alston said. "He played a great game. I'm not going to base his performance or anything like that on one free throw."
It was another excruciating loss for the Magic. Another game they had plenty of opportunities to win. It's been that way all series and throughout the franchise's history.
This franchise has seen plenty of heartbreak over the years: Shaquille O'Neal bolting for Los Angeles after the 1995-1996 season, Grant Hill's constant injuries, and so many potent Magic teams led by Tracy McGrady that never made it past the first round.
While the Magic have climbed back from nearly every obstacle this season — injuries, playoff deficits and buzzer-beaters — this one might be too difficult to overcome. Only eight NBA teams have come back from a 3-1 deficit in a best-of-seven series.
Comments will be moderated. Keep comments relevant to the article. Remarks containing abusive and obscene language, personal attacks of any kind or promotion will be removed and the user banned. Final decision will be at the discretion of the Taipei Times.