El Salvador send stunned Mexico to fifth
MUCHAS PROBLEMAS: A penalty kick in the 86th minute gave the Salvadorans their first victory in the North American qualifying round, leaving Mexico fifth of six teams
Mexico's stunning 2-1 loss at El Salvador on Saturday showed the Tri-color that it will take more than dumping ex-England manager Sven Goran-Eriksson for Javier Aguiree to reach the 2010 World Cup.
Eliseo Quintanilla's penalty kick in the 86th minute gave the Salvadorans their first victory in the six-team North American final qualifying round that decides three spots in next year's global soccer showdown in South Africa.
In addition to boosting El Salvador into third place with a victory and two draws in four starts for five points, the win sank Mexico to fifth at 1-3 for three points, one adrift of Honduras and one atop winless Trinidad and Tobago.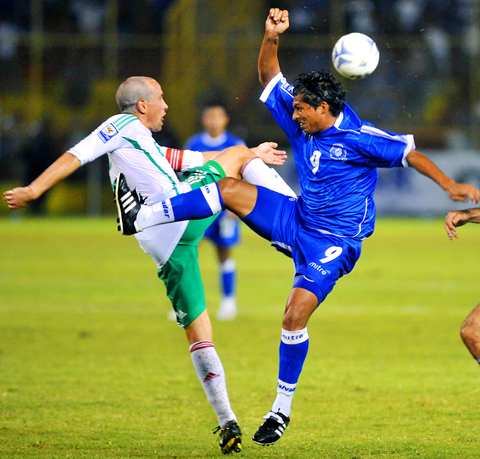 Mexico's Gerardo Torrado, left, vies for the ball with El Salvador's Rudis Corrales during their FIFA World Cup South Africa qualifier in San Salvador on Saturday.
PHOTO: AFP
Costa Rica and the US, the regional pace-setters, rallied from early deficits for key triumphs to pull away from the pack, with hosts US edging Honduras 2-1 and Costa Rica outlasting hosts Trinidad and Tobago 3-2.
But Mexico's struggles will be the main focus as the first half of the qualifying schedule concludes on Wednesday with El Salvador at Honduras and the Soca Warriors from Trinidad and Tobago visiting the still-reeling Mexicans.
Aguirre, 50, guided Mexico to the round of 16 in the 2002 World Cup and spent five years in Spain leading Atletico Madrid into the Champions League. He was hired in April to fix Mexico's woes after a 3-1 loss at Honduras.
But Julio Martinez gave El Salavador the lead in the 11th minute and even though Cuauhtemoc Blanco pulled Mexico level on a penalty kick in the 71st minute, the final blow sent Mexican fans farther into despair.
Costa Rica's Celso Borges scored in the 52nd and 68th minutes to spark a fourth triumph in five starts for the group leaders and spoil the debut of Russell Latapy as coach of the Soca Warriors, who fell to 0-2-2.
Carlos Edwards gave the Caribbean side a lead in the 29th minute but Alvaro Saborio's strike in the 40th minute pulled Costa Rica level. Borges' first goal was answered by Collin Samuels in the 52nd minute but Borges followed with the decider.
At Chicago, Carlos Bocanegra dove low to nod home the winning goal in the 68th minute as the US squad bounced back from a 3-1 defeat on Wednesday at Costa Rica despite falling behind after only five minutes.
"We took it as a must-win. When we gave up that goal it became an even bigger test," American Benny Feilhaber said. "That first goal was a little bit of a kick in the butt but we were able to come back and win. The Costa Rica game we came out a little flat and we got punished. This gives us a little bit of our confidence back."
The triumph came despite a scare when Carlos Costly put Honduras ahead in the fifth minute.
"We were just like, 'Not again,'" Bocanegra said. "Credit to the guys. We could have said, 'Here it goes.'"
Landon Donovan equalized in the 43rd minute on a penalty kick and Bocanegra headed in the winner, although he left with a strained hamstring barely three minutes later.
"Hopefully it's not too bad," Bocanegra said. "I think [I will miss] a week, week-and-a-half. I want to be ready for the Confederations Cup."
The US will play that event at South Africa later this month, then return to qualifying in August at Mexico in what figures to be a vital match for the Mexicans, 2-0 loser in their qualifying opener on US soil.
Comments will be moderated. Keep comments relevant to the article. Remarks containing abusive and obscene language, personal attacks of any kind or promotion will be removed and the user banned. Final decision will be at the discretion of the Taipei Times.