NHL: St Louis tames Minnesota
The St Louis Blues moved to within a point of a playoff berth in the tight Western Conference standings with a 5-3 win over the Minnesota Wild on Sunday.
The Blues scored three of their goals on power plays.
"We had penalties at the wrong time," coach Jacques Lemaire told reporters. "We had two penalties and they got three goals. They scored two on five-on-three and one four-on-three. We've got to try and play at our best and make the least mistakes possible."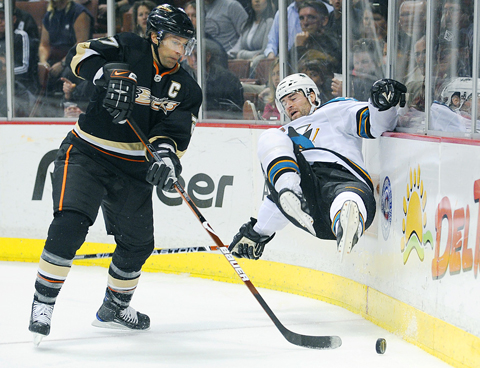 Anaheim Ducks defenseman Scott Niedermayer, left, checks San Jose Sharks center Patrick Marleau during their game in Anaheim, California, on Sunday.
PHOTO: AP
The Blues pulled into a tie for 10th in the West with the Wild on 72 points, leaving them just one point behind Edmonton and Nashville for the final playoff spot with 13 games remaining.
"You hardly ever see that against a team like Minnesota, giving up that many penalties and us capitalizing on them," the Blues' Keith Tkachuk said. "It was huge. We got some quality opportunities on the five-on-threes. That was nice. Every game we play now is so important because of the standings so this was a huge win for us."
David Perron, Brad Boyes, David Backes, Brad Winchester and Tkachuk scored for the Blues while Chris Mason made 19 saves.
The Wild trailed 4-1 while being out-shot 29-11 over the first two periods, before they scored twice in the third period. Boyes, however, scored into an empty net in the final minute to seal the win.
SHARKS 1, DUCKS 0
At Anaheim, California, Evgeni Nabokov made 34 saves for his sixth shutout of the season as the Sharks reached 100 points and wrapped up a playoff spot.
Moen, acquired from Anaheim at the trade deadline, deflected Jamie McGinn's backhander past goalie Jonas Hiller with 1:05 left in the second period.
Nabokov made 12 saves in the third period to secure the win, his second in two days after missing seven games because of injury. He has 46 career shutouts.
In other games it was:
• Rangers 4, Flyers 1
• Red Wings 4, Blue Jackets 0
• Penguins 6, Bruins 4
• Islanders 4, Blackhawks 2
• Canucks 4, Avalanche 2
Comments will be moderated. Keep comments relevant to the article. Remarks containing abusive and obscene language, personal attacks of any kind or promotion will be removed and the user banned. Final decision will be at the discretion of the Taipei Times.