Yeh betting on new blood in World Baseball Classic
Before Taiwan's national baseball team headed to Japan on Friday for the World Baseball Classic (WBC), manager Yeh Chih-shien said he had come up with a strategy that will make his inexperienced squad competitive against powerhouses Japan and South Korea.
Not surprisingly, he refused to divulge it, but unless it somehow involves the slingshot David used to kill Goliath, Yeh will be hard-pressed to find a way to get his team past its major Asian rivals.
Taiwan is fielding a team of nine US minor leaguers, 12 mostly mid-level players from Taiwan's Chinese Professional Baseball League (CPBL), five amateurs and two players looking for work in the CPBL in a four-team pool with the likes of established US major leaguers Ichiro Suzuki and Daisuke Matsuzaka of Japan and South Korea's Choo Shin-soo.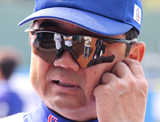 Taiwan's national baseball team head coach Yeh Chih-shien is pictured in Taichung City last Thursday.
PHOTO: CHAN CHAO-YANG, TAIPEI TIMES
POOR SHOWING
Yeh's hodgepodge team did nothing to ease the skepticism of fans still psychologically scarred from Taiwan's Olympic defeat to China when the national squad performed poorly in two of three exhibition games against CPBL teams this past week.
After defeating the Brother Elephants 6-1, the national team fell 7-5 to a weakened Uni-President Lions team and 9-4 to the Sinon Bulls in displays of porous defense, shoddy pitching and a lack of timely hitting.
Yeh knows plenty of work still has to be done.
"Right now, the team's biggest problems are the consistency of the pitching and defense. In the next few days, we'll strengthen training in these areas," Yeh said.
New York Yankees starter Wang Chien-ming, who was not given permission by the Yankees to take part in the WBC because he is recovering from an injury, knows what the young team will be up against.
"It will be a little difficult for Taiwan's players to play in the WBC because they are all new players, since many players competing overseas haven't been able to return to Asia," Wang said.
Indeed, Yeh will have to make a virtue out of new blood.
MISSING
Aside from Wang, he will also be without reliever Kuo Hong-chih and infielder Hu Chin-lung of the Los Angeles Dodgers, infielder Chen Yung-chi, who is trying to catch on with the Oakland A's, former Dodger Chen Chin-feng and a number of others who have stood out recently in international play.
Among them: three of the four players on Taiwan's Olympic team with the best on-base percentage during the Games (outfielder Lo Kuo-hui, out with an injury, and infielders Lin Chih-sheng and Shih Chih-wei, kept out of the WBC by their CPBL team the La New Bears).
The CPBL's Bears and Sinon Bulls were unwilling to release their star players for the event, fearing they might get injured or overexert themselves ahead of a new CPBL season.
Three pitchers who performed well at the Olympics — the CPBL's top Taiwanese pitcher, Pan Wei-lun (injury) , Hsu Wen-hsiung (held back by the La New Bears) and Chen Wei-yin (held back by Japan's Chunichi Dragons) — will also be absent.
So who's left? Ni Fu-te, who signed a minor league contract with the Detroit Tigers in the offseason, Cleveland Indians prospect Lee Chen-chang, Uni-President Lions starter Lin Yueh-bing and Chicago Cubs minor leaguer Chen Hung-wen are likely to be the hurlers Yeh relies on.
But in a tournament that will limit pitchers to 70 pitches — good for up to about five innings — in first round games, pitching depth will be critical. The collapse of the squad's relievers in recent exhibition games has left a major question mark.
SWINGERS
At the plate, battle-tested veterans Peng Cheng-ming of the CPBL's Brother Elephants, the Hanshin Tigers' Lin Wei-chu and US minor leaguers Lin Che-hsuan and Chiang Chih-hsien will likely provide much of the firepower.
If Taiwan has anything going for it, it may be the tournament's double elimination format.
In Pool A, comprising Japan, South Korea, Taiwan and China, the first two teams to lose two games will be eliminated, with the remaining two teams advancing to the quarter-finals in the US.
Taiwan could conceivably lose to South Korea on Friday, beat China on Saturday and face South Korea again on Sunday in a game to determine who will go on to play in the US.
In other words, two strong pitching performances could send Taiwan through without having to face Japan.
WARMUPS
Taiwan played an exhibition game against Japan's Yomiuri Giants yesterday and play the Seibu Lions today in an attempt to get acclimated to the slick artificial surface of the Tokyo Dome and see which of its young pitchers, most of whom are 24 or younger, look ready. The Giants beat Taiwan 7-6.
Last week, Yeh paraphrased the words of baseball's all-time home run king Sadaharu Oh in promising that his team would stand up to the tough competition.
"As long as the team has a sliver of hope, it will take advantage of every opportunity and not give up easily," he said.
The reality for Yeh, however, is that his young roster, devoid of some of the country's top players, may simply lack the arms and the gloves to give that never-say-die will full expression.
Comments will be moderated. Keep comments relevant to the article. Remarks containing abusive and obscene language, personal attacks of any kind or promotion will be removed and the user banned. Final decision will be at the discretion of the Taipei Times.