F1: Emotional Coulthard to race in F1 one last time
Briton David Coulthard admitted on Friday that the prospect of his impending retirement from Formula One has begun to hit him with emotions as he prepares for his final race in Brazil.
The 37-year-old Scot will climb into an F1 car for the last time prior to today's 71-lap race.
"It did not really strike me at all until I went to the airport — that was when I began to realize what was happening," Coulthard said. "Before that, I wasn't thinking about it and then I left last Thursday to go to Argentina for a promotion. Karen — my fiance — took me to the airport as normal and it was only when I was just about to get in the car that I realized I'd be leaving home as a Grand Prix driver, for what that's worth, and be coming back as an ex-driver."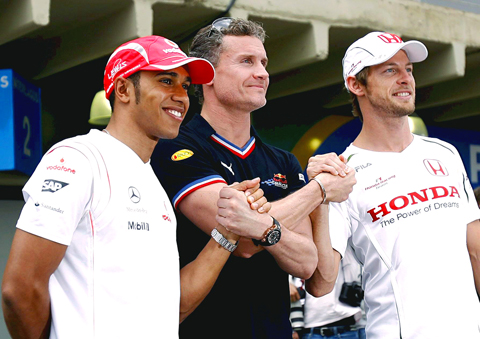 British Formula One drivers Lewis Hamilton of McLaren Mercedes, left and Jenson Button of Honda, right, shake hands with David Coulthard of Red Bull at Interlagos, near Sao Paulo, Brazil, on Thursday.
PHOTO: EPA
Coulthard made his debut as a replacement for Ayrton Senna in the Williams team at the 1994 Spanish Grand Prix, He survived a previous end of season when he believed his career was prematurely over, when he left McLaren in 2004 he found he had no immediate takers for his experience.
"When I was saying goodbye to the boys, before going off to the last race, I had tears," he said. "And when you're not someone who is a tearful person, it came as a complete surprise to me. The guys at McLaren were sort of looking away respectfully. It shows that I put a lot of emotion into my racing and a lot of passion for many years. And even though I don't see myself as an outwardly emotional person, it obviously just simmers underneath. I guess this Sunday might be a bit like that. I hope not, because there's nothing worse than a grown man crying, is there?"
Comments will be moderated. Keep comments relevant to the article. Remarks containing abusive and obscene language, personal attacks of any kind or promotion will be removed and the user banned. Final decision will be at the discretion of the Taipei Times.