Melzer beats Mayer to win berth in Austrian quarters
Jurgen Melzer beat Leonardo Mayer of Argentina 6-4, 6-2 after a five-hour rain delay on Thursday to reach the quarter-finals of the Austrian Open.
The sixth-seeded Austrian won 94 percent of the points on his first serve and converted three of four break points.
Melzer will next play either second-seeded Rainer Schuettler of Germany or Jan Hernych of the Czech Republic. Their match was suspended when rain started again in the final set with Hernych leading 6-2, 4-6, 3-2. It was scheduled to be finished yesterday.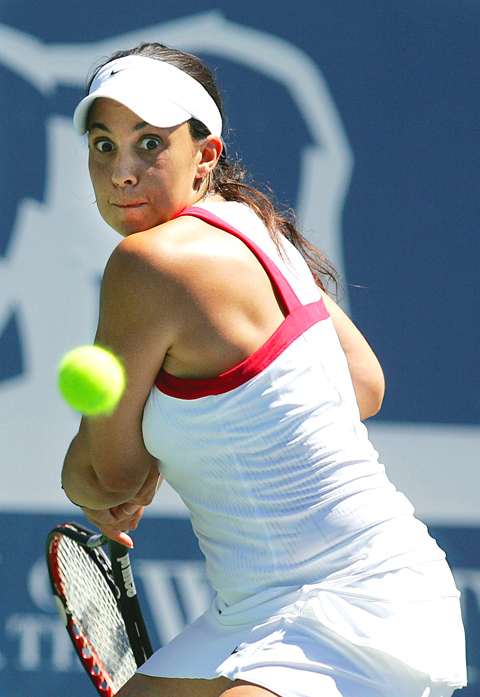 Marion Bartoli of France eyes her return to Anne Keothavong of England during the Bank of the West tennis tournament in Stanford, California, on Thursday.
PHOTO: AP
Two remaining second-round matches were also suspended and rescheduled for Friday — seventh-seeded Juan Martin Del Potro led Sergio Roitman 6-2, 2-2, and Nicolas Devilder was leading Alexander Peya 6-4, 4-2.
■BANK OF WEST
AP, STANFORD, California
Patty Schnyder beat Alisa Kleybanova on Thursday to set up a quarter-final match against Serena Williams at the Bank of West Classic.
The fifth-seeded Schnyder of Switzerland used a mix of power and finesse to get by the inconsistent Kleybanova 7-6 (8), 6-4 in the second round.
"She was trying to dictate everything, whether winners or errors. ... I think she was so dominant it was tough for me to play," Schnyder said. "I had to mix it up a lot. It was her game plan to hit a lot of winners and also accept some errors."
Next up was to be a quarter-final yesterday against Williams, who was eager to play better tennis after rallying from a set down to beat 15-year-old Michelle Larcher de Brito of Portugal 4-6, 6-3, 6-2 on Wednesday night in her opening match.
Williams has won seven of their previous 10 meetings, though Schnyder has taken two of the past three.
"It feels strange already the quarters," Schnyder said. "I like playing her. Obviously she's a great champion. Still, with her game, somehow I have found some ways to beat her in previous matches. She's the favorite and she does [well on] hard court. It's going to very tough."
Sixth-seeded Marion Bartoli of France advanced after being down two breaks in the third set of a 6-3, 1-6, 6-5 win over England's Anne Keothavong.
"From one double break down it was almost the end for me. I decided I was going to win this match whatever it takes," Bartoli said. "She was playing so well from the baseline and was hardly missing one ball. ... It was hard to do it, but I was able to get those winners."
Bartoli, last year's Wimbledon finalist, advances to face second-seeded Anna Chakvetadze of Russia in the quarter-finals.
A surprise quarter-finalist is Samantha Stosur, who upset third-seeded Vera Zvonareva 6-3, 6-2 in Thursday's late match.
Stosur only earned her spot in the main draw when Lindsay Davenport was forced to withdraw because of a knee injury.
Stosur next plays Canadian qualifier Aleksandra Wozniak, who beat her in the qualifying draw.
"It's a good opportunity for me to redeem myself," Stosur said.
For the 24-year-old Stosur, ranked No.107, this run is quite meaningful considering she returned in April after being sidelined since last September with Lyme disease. Her body is holding up just fine and she's on her best surface, hardcourts.
"I guess I've really made the most of my opportunity getting in — a bit of luck, find some form," Stosur said.
■CROATIA OPEN
AP, UMAG, Croatia
Fifth-seeded Ivan Ljubicic withdrew from the second round of the Croatia Open on Thursday because of back problems, enabling fellow Croat Roko Karanusic to reach his first ATP quarter-finals.
Karanusic will play Argentine Maximo Gonzales, who upset second-seeded Ivo Karlovic, 3-6, 6-3, 6-4, to also reach the first ATP quarter-finals of his career.
Guillermo Canas, seeded sixth, also advanced to the quarter-finals, defeating Boris Pashanski of Serbia 6-7 (3), 6-3, 7-5. The Argentine will take on fourth-seeded Igor Andreev of Russia, who beat Daniel Gimeno-Traver of Spain, 6-2, 7-6 (3).
Gonzales, ranked 101st in the world, previously had only one victory at a major tournament — against Karanusic in the first round of Roland Garros.
Karlovic, also a Croat, led 6-3 in the first set and had two break points — at 1-1 and 2-2 — in the second set, but Gonzales then began to dominate.
Comments will be moderated. Keep comments relevant to the article. Remarks containing abusive and obscene language, personal attacks of any kind or promotion will be removed and the user banned. Final decision will be at the discretion of the Taipei Times.