BEIJING 2008 :China issues a warning for visiting foreign performers
Beijing warned foreign performers and entertainers against harming China's sovereignty or ethnic unity, a sign of increasing nervousness over live performances weeks before the Olympic Games.
China is ratcheting up security ahead of the Games in an all-out attempt to shield the event from disruptions that could tarnish China's carefully cultivated image of order and control.
China should strengthen its rules about foreign performers and performers from Hong Kong, Macau and Taiwan, a notice on the Ministry of Culture's Web site said, including checks on their background.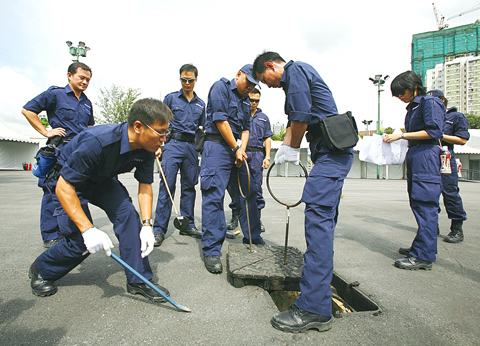 Police officers check an underground pipe at the Olympic equestrian venue in Hong Kong's Shatin district yesterday. Hong Kong police say they will deploy 4,000 police officers during the Olympic equestrian events next month.
PHOTO: AP
"The content of the performance should not violate the country's law, including situations that harm the sovereignty of the country," it said.
Chinese authorities were alarmed in March after singer Bjork shouted "Tibet! Tibet!" at the end of her Shanghai concert in March.
Authorities said Bjork's outburst "broke Chinese law and hurt Chinese people's feelings," and vowed to be stricter on foreign performers.
The notice said performances should also not harm China's "national security, or incite racial hatred and ruin ethnic unity."
Performers should also not promote pornography and superstition, it said.
The rules were first introduced in 2005, but the notice acts as warning and reinforcement during a sensitive time weeks from the opening of the Olympic Games. Agencies that bring foreign performers to China will be banned for two years if they violate the rules, it said.
Musicians in Beijing have gone into hibernation this summer as live performances have been stopped in bars, a music festival canceled, and clubs suddenly told they need a live performance license.
Personal information about performers will be examined, it said
Opposition to China's 58-year rule over Tibet is a popular cause among artists in the West, and also draws frequent condemnation from foreign governments and activists.
Comments will be moderated. Keep comments relevant to the article. Remarks containing abusive and obscene language, personal attacks of any kind or promotion will be removed and the user banned. Final decision will be at the discretion of the Taipei Times.