Ana and Maria focusing on the graft, not glamor
Ana Ivanovic and Maria Sharapova are determined to prove that their ruthless tennis packs just as much power as their supermodel looks at this year's Wimbledon.
The two pin-ups of the women's tour, with four Grand Slam titles between them and lengthy multi-million dollar endorsement lists, are seeded to meet in what, for sponsors, fans and the British tabloids, would be the dream final.
But Ivanovic, the new world No. 1 and French Open champion, and Sharapova, the 2004 winner, insist they will not get carried away by the hype over the next two weeks at the All England Club.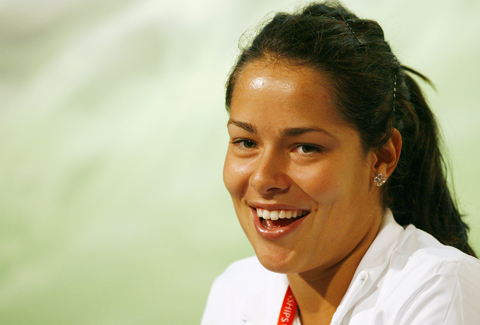 Serbia's Ana Ivanovic talks to the media during a press conference for the Wimbledon Tennis Championships in southwest London on Saturday.
PHOTO: AP
Both are focused on graft, not glamor.
"Just because my game suits grass or just because I feel comfortable on it doesn't mean that a win is going to come easy," Sharapova said.
Ivanovic, who has deposed Sharapova as the world's top player at Roland Garros, believes she also has the game to thrive.
"Grass is a very specific surface. Everything is happening much faster. You have to be much more alert," said the 20-year-old Serbian, who lost to eventual champion Venus Williams in the semi-finals last year. "I think I have very powerful shot, but there are some things I have to improve. I'm trying to come forward more, play some volleys, which is very helpful here."
Whoever triumphs will find their bank balance swelling even further.
Ivanovic has earned just over US$5 million in her career so far, a figure dwarfed by the Russian's US$12 million.
But a victory here on July 5 would surely boost the army of corporate callers desperate for an endorsement from the dusky Serbian with the girl-next-door charm.
When Sharapova won Wimbledon as a 17-year-old in 2004, her bank account swelled virtually overnight.
A Sharapova-Ivanovic final would also provide a fascinating contrast in personalities between Ivanovic, with her permanently sunny optimism, and Sharapova's steely determination.
Both have an ingrained competitive streak forged from the harshness of their childhoods.
Sharapova famously left her mother behind in Russia to make the grade in Florida, while Ivanovic practiced tennis in an abandoned swimming pool during lulls in the NATO bombing of Belgrade, before leaving for Germany.
Sharapova, who beat Ivanovic in the Australian Open final in January for her third Grand Slam title, has not returned to a Wimbledon final since her 2004 triumph over Serena Williams.
She was a semi-finalist in 2005 and 2006 and a fourth round loser to eventual champion Venus Williams last year.
The Russian starts with a first round clash against France's Stephanie Foretz, while Ivanovic faces Rossana De los Rios of Paraguary.
Ivanovic's fellow Serbian, Jelena Jankovic, is now the world No. 2, but has never got beyond the fourth round at Wimbledon, while Russia's Svetlana Kuznetsova, a former US Open champion, can only boast a quarter-final place.
That leaves the intimidating presence of the Williams sisters, one of whom at least has featured in seven of the last eight finals.
Last year, Venus surprised many observers, and probably herself, by winning a fourth singles title and making history as the lowest seeded player (23) to take the trophy.
Little sister Serena has won the title twice, although the most recent was 2003.
Comments will be moderated. Keep comments relevant to the article. Remarks containing abusive and obscene language, personal attacks of any kind or promotion will be removed and the user banned. Final decision will be at the discretion of the Taipei Times.