Scott Dixon wins dramatic Indy 500
TENSION Danica Patrick was knocked out in a pit lane crash with Ryan Briscoe. She ripped off her gloves and stomped off to confront him, but was stopped by security
New Zealand's Scott Dixon won the 92nd Indianapolis 500 in convincing style on Sunday, starting from pole and holding off a late charge by Vitor Meira for his first win in the fabled race.
Dixon started from pole position and led more than half the 200-lap race. In the closing stages he held off Brazil's Meira and Marco Andretti.
It was a satisfying win for the driver who finished runner-up in last year's Indy 500 to Scotland's Dario Franchitti — and who also lost the IndyCar series crown to Franchitti in the last race of last year.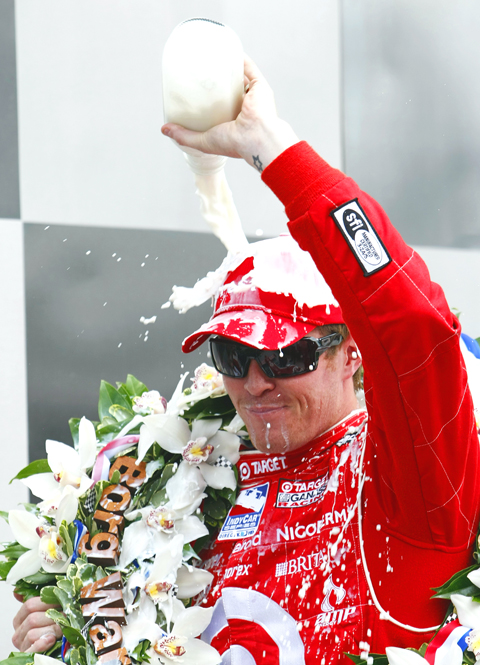 Scott Dixon of New Zealand douses himself with milk after winning the 92nd Indianapolis 500 automobile race in Indianapolis, Indiana, on Sunday.
PHOTO: AP
"I just couldn't believe it," Dixon said as his wife, Emma, showered kisses on him.
"There were so many yellows there it was hard to get into a rhythm. I was trying to save fuel and the car had a little too much drag on it, but as long as we got a good jump on those guys on the restart, I could stay up front," he said.
Handed the traditional bottle of milk in victory lane, Dixon took a swig and splashed his colleagues.
Danica Patrick, who last month became the first woman to win an IndyCar race, saw her bid to become the first female winner of the Indy 500 end in a pit lane collision.
Patrick was leaving pit lane when Australia's Ryan Briscoe, who had started from the front row, lost control of his car while pulling out.
"Briscoe lit it up coming out of pit lane, fishtailed and he nailed Danica in the rear," team owner Michael Andretti said.
Patrick climbed out of her race car, took off her gloves and headed down pit lane to confront Briscoe, but was headed off by security.
"It's probably best that I didn't get down there anyway," Patrick said. "I was pulling out of pit lane and from what I know it was pretty obvious what happened."
While that melodrama played itself out, the green flag waved to resume the race on lap 176, with Dixon leading Meira.
A tense battle saw the top 16 drivers all on the lead lap — and 15 of them finished on the same lap as the winner.
Marco Andretti passed two-time winner Helio Castroneves of Brazil on lap 190 to move into third place behind Dixon and Meira.
Ed Carpenter, who had fallen to 16th place when he stalled in the pits earlier in the race, tried to pass Castroneves for fourth but couldn't get by.
Finally it was Dixon, who was fastest all month in the build-up to the race, who took the win.
"We come here to the Indy 500 and we've been lucky enough to win and we've been lucky enough to finish up front," said Mike Hull, the managing director of Target Chip Ganassi Racing. "This year we had speed and speed was the denominator that we had with both Dan Wheldon and Scott Dixon. When you have speed as your ally, then it makes what we did enormously easier."
That speed helped Dixon stay out of trouble in a race in which the caution flag came out eight times over 69 laps, accounting for the race time of three hours, 28 minutes, 57.67 seconds and a average speed of 231.049kph.
Dixon and teammate Wheldon were moving targets at the front of the field through the first 200 miles (322km) of the race.
England's Wheldon led four times for 30 laps before developing a broken shock. He eventually finished 12th.
A.J. Foyt IV, grandson of four-time Indy 500 winner A.J. Foyt, saw his day end when his car, powered by highly flammable ethanol, caught fire as he tried to exit the pits on lap 40.
That episode came during the second caution of the race, after 19-year-old Graham Rahal crashed in the fourth turn on lap 37.
Castroneves had to have the nose of his car replaced when he hit a piece of debris from Marty Roth's crash before the halfway stage.
Brazil's Jaime Camara also crashed hard, but was able to climb out of his car without help.
One lap past the 300-mile mark, Marco Andretti squeezed past Dixon in the first turn.
He had already controversially got past teammate Tony Kanaan of Brazil.
Kanaan was leading the race when Andretti dived inside him, and Kanaan was forced high in the third turn, hitting the wall as he tried to avoid ending the day for two of his team's cars.
Not only did Andretti get by, but so did Dixon, while Sarah Fisher collided with Kanaan's car.
"It was a very stupid move, especially on a teammate," Kanaan said. "Me being a teammate, I didn't want to turn into him because it would have taken out two cars on the team. As usual, I'm the leader at halfway and don't win the race."
Rookies also had a tough time. England's Alex Lloyd hit the outside of the fourth turn wall, then veered into pit lane backwards — sending pit lane officials running.
"It could have been a lot worse," Lloyd said.
Comments will be moderated. Keep comments relevant to the article. Remarks containing abusive and obscene language, personal attacks of any kind or promotion will be removed and the user banned. Final decision will be at the discretion of the Taipei Times.