NBA: Madden, Brodeur lead Devils over Flyers
John Madden scored two goals and Martin Brodeur made 29 saves, including a game-turning penalty shot, to lead the New Jersey Devils over the Philadelphia Flyers 4-2 in the NHL on Sunday.
Arron Asham and Jamie Langenbrunner also scored for the Devils, who have won 10 straight from the Flyers in New Jersey since March 2004.
Mike Richards and Daniel Briere scored for the Flyers, who have lost three straight for the first time this season.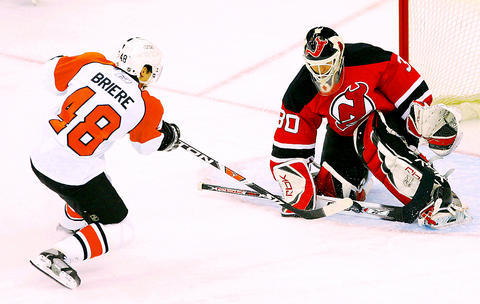 New Jersey Devils goalie Martin Brodeur, right, makes a stick-save on a penalty shot by the Philadelphia Flyers' Daniel Briere in the second period during their NHL hockey game at the Prudential Center in Newark, New Jersey, on Sunday.
PHOTO: AP
At 1-1, Briere broke into the Devils' zone and was hooked by Vitaly Vishnevski. Briere was awarded a penalty shot but Brodeur won the duel with a stick stop, energizing New Jersey.
COYOTES 5, RANGERS 1
At New York, Wayne Gretzky stood behind the Phoenix bench for the first time in Madison Square Garden and coached his club to a rout of New York in the building where he played the final game of his Hall of Fame career eight years earlier.
Joel Perrault scored twice and added an assist in just his second game of the season, and Ilya Bryzgalov rode a strong start after a rare day off and made 34 saves. The Coyotes earned their second win in two days and third on a six-game road trip that has two stops left.
Daniel Carcillo, Radim Vrbata, Fredrik Sjostrom and Perrault all scored in the second period on 11 shots when the Coyotes blew the game open. Phoenix hit the four-goal mark for the fourth time in six games.
Dan Girardi scored for the Rangers.
FLAMES 5, BLUES 3
At St. Louis, the top line of Jarome Iginla, Kristian Huselius and Daymond Langkow combined for 12 points, and Calgary won its fifth in a row on the road by beating St. Louis.
Iginla had two goals and two assists, Huselius scored a goal and added four assists, and Langkow added two goals and an assist for the Flames, who end a season-long six-game road trip on Tuesday in Columbus.
Andy McDonald scored a goal and added an assist in his St. Louis debut.
PANTHERS 3, BLACKHAWKS 1
At Chicago, Jay Bouwmeester recorded a goal and an assist to end an eight-game stretch without a point, and Tomas Vokoun made 43 saves to help Florida hand Chicago its sixth loss in seven games.
Rostislav Olesz and Richard Zednik also scored for the Panthers.
Rookie Dave Bolland, who netted his first NHL goal, was the only Blackhawk to beat Vokoun as Chicago outshot Florida 45-24.
The Blackhawks outshot the Panthers 22-4 in the first period, though the game was tied at 1. But Zednik made it 2-1 at 6:25 of the second period, completing a 3-on-2 break, and Bouwmeester's power-play goal with 3:03 left helped put it out of reach.
SHARKS 2, DUCKS 1, SO
At Anaheim, California, Joe Thornton beat Jean-Sebastien Giguere with a shot high to the stick side, helping San Jose spoil the return of Scott Niedermayer to Anaheim.
Thornton was the 12th shooter and just the fifth to score in the shootout. His goal gave the Sharks their first victory over Anaheim this season.
San Jose extended its road win streak to six.
Rookie Bobby Bryan put the Ducks ahead with his goal in the first period, with Doug Weight getting an assist in his Anaheim debut. Torrey Mitchell tied it 1-1 with a short-handed goal in the second period.
Evgeni Nabokov made 30 saves for San Jose.
Comments will be moderated. Keep comments relevant to the article. Remarks containing abusive and obscene language, personal attacks of any kind or promotion will be removed and the user banned. Final decision will be at the discretion of the Taipei Times.