NHL: Flyers soar to win over Penguins
Joffrey Lupul notched a hat trick and had six points, and R.J. Umberger matched him with another three goals to snap Philadelphia's five-game NHL winless skid at home and lift the Flyers over the Pittsburgh Penguins 8-2 on Tuesday.
Lupul had the first six-point game for a Flyer since Eric Lindros in March 1997.
The Flyers improved to 3-0 this season against their Atlantic Division rivals, a needed turnaround after an 0-8 mark against the Penguins last year.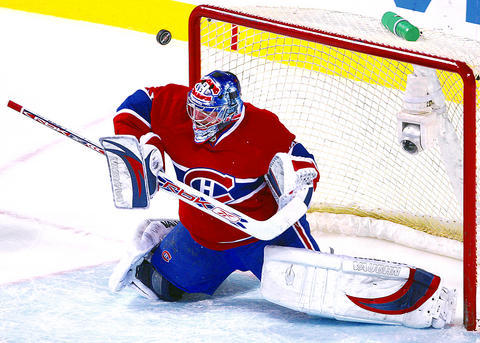 Montreal Canadiens goaltender Carey Price makes a save against the Tampa Bay Lightning during the first period of their NHL game in Montreal on Tuesday. The Canadiens lost the game 2-3 following a shootout.
PHOTO: AP
Sidney Crosby assisted on both goals for the Penguins, who ended a four-game winning streak. Ryan Whitney and Petr Sykora scored goals in the first period that tied the score at 2-2.
Mike Knuble and Braydon Coburn scored goals in the third period for the Flyers.
Flames 2, Panthers 1, SO
In Sunrise, Florida, Jarome Iginla scored with 10.2 seconds left to send the game to overtime and Calgary went on to beat Florida in a shootout.
Kristian Huselius, a former Panthers player, scored the only goal in the shootout.
Meanwhile, Calgary goalie Miikka Kiprusoff stopped Nathan Horton, Olli Jokinen and Stephen Weiss, all of whom tried to beat him with a deke.
Jokinen scored the only goal for the Panthers.
Tomas Vokoun stopped 34 shots while coming close to his second consecutive shutout.
Lightning 3, Canadiens 2, SO
In Montreal, Brad Richards scored in the shootout and Tampa Bay handed Montreal their sixth straight home loss.
Marc Denis stopped Tomas Plekanec, Andrei Kostitsyn and Saku Koivu after turning aside 29 shots during the game to claim his first win of the season.
Plekanec brought the sold-out Bell Centre crowd to life with 4 minutes, 38 seconds remaining when he tied it at 2-2, beating Denis with a shot from the slot for his 10th goal. Alex Kovalev also scored for Montreal.
Vincent Lecavalier and Andre Roy scored for Tampa Bay.
Other results on Tuesday:
* Oilers 5, Blues 4, SO
* Sharks 4, Wild 1
Comments will be moderated. Keep comments relevant to the article. Remarks containing abusive and obscene language, personal attacks of any kind or promotion will be removed and the user banned. Final decision will be at the discretion of the Taipei Times.