Sabbatini leads Woods by a single shot
DEADLY RIVALS Rory Sabbatini and Tiger Woods verbally sparred at the Wachovia Championship in spring, where Woods rallied from one shot down to win at Quail Hollow
Rory Sabbatini settled after an early double bogey to salvage a two-over 72 and build a one shot lead over Tiger Woods in the Bridgestone Invitational.
Woods dropped out of a share for the lead with a bogey from the trees on the final hole, but still managed a 69 and left himself a good chance to win for the third straight year.
"I tried to hang in there and not give any shots back," Woods said.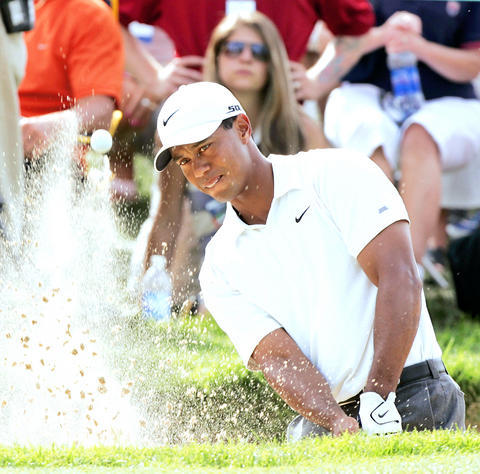 Tiger Woods hits from the sand to the 15th green during the third round of the Bridgestone Invitational golf tournament at Firestone Country Club in Akron, Ohio, on Saturday.
PHOTO: AP
Sabbatini was at four-under 206, the highest score for a 54-hole leader at Firestone since it became a WGC event in 1999.
Kenny Perry had a 71 and was the only other player under par at one-under 209.
Sabbatini and Woods verbally sparred this spring starting at the Wachovia Championship, where Woods rallied from one shot behind the spunky South African to win at Quail Hollow. Five days later, Sabbatini said he thought Woods looked "as beatable as ever."
Woods responded by mentioning he had three victories this year, as many as Sabbatini had in his career.
"He's trying to obviously think of ways to motivate himself," Woods said. "A lot of guys don't really externalize it. We all say things like that inside, and he's just trying to gain any kind of edge mentally when you're out there playing. He just verbalizes them."
Sabbatini didn't back down, saying he was 1-1 going against Woods in final rounds, the most recent coming at Quail Hollow.
Whether it becomes a two-man race remains to be seen, with ten players separated by five shots going into the final round.
Of the last three groups, Woods was the only player to break par. The other five players were 21 over par.
The best anyone could do was a 67, one of those belonging to Aaron Baddeley. That put him in a tie for fourth at one-over 211, a group that included Justin Leonard and Hunter Mahan, who each had a 71; and Andres Romero, the 26-year-old from Argentina coming off his first European Tour victory last week in Germany.
"It's so firm right now, you look at some of these pins and you just start to laugh," Leonard said. "But it's supposed to rain tomorrow, soften up a little bit. And if that happens, we might see some better scores."
No one suffered quite like Masters champion Zach Johnson.
He was tied for the lead at five under par when his tee shot on the par-four ninth went right into deep rough. He tried to hack out to the fairway, but the ball shot across into the left rough. From there he went into a bunker, then over the green. His wedge slid under the ball, moving it only a few feet. The next chip didn't reach the green. Johnson had to make a 1m putt to escape with a quadruple-bogey eight.
Then he took double bogey on the next hole, and went from leading to five shots behind.
Flesch takes comfortable lead
AFP, RENO, Nevada
Steve Flesch stretched his lead to a comfortable five strokes on Saturday after the third round of the US$3.5 million Reno-Tahoe Open.
The 40-year-old American carded a three-under 69 for a 15-under 201, finishing with back-to-back birdies at Montreux Golf and Country Club.
Flesh, a three-time winner on the US tour, is trying to become the first wire-to-wire winner on the tour this year.
His lead is the largest 54-hole advantage of the season, but Flesch has reason to be cautious.
He has held the lead entering the final day at seven tournaments, and won just one of them, the 2004 Colonial, which was his last win.
Johansson extends his advantage
AFP, MOSCOW
Sweden's Per-Ulrik Johansson extended his lead to four shots at the US$2 million Russian Open at the Le Meridien Country Club on Saturday with a solid five-under third round performance.
The 40-year-old Swede carded a third round 67 for an 18-under total of 198, maintaining the lead he carved out with a 62 on Friday.
He produced three birdies before an ugly double bogey at the 18th on Saturday. But he recovered with two more birdies as well as an eagle.
"I am very pleased with today but it is going to be a tough day tomorrow, there are still a lot of guys there right behind me so I have to keep playing my game," said Johansson, whose last win on the tour came 10 years ago in the European Open in Ireland.
"I know it is a cliche but it is the only way to go in this game. The only blemish I had today was on the 18th, our ninth hole, where I hit it in the water to make double bogey six," he said. "I couldn't believe that I didn't carry the right side. But except for that hole, I played pretty much the way I did yesterday."
Comments will be moderated. Keep comments relevant to the article. Remarks containing abusive and obscene language, personal attacks of any kind or promotion will be removed and the user banned. Final decision will be at the discretion of the Taipei Times.