Wang pitches New York past Orioles
MEMORABLE DAY Yanks shortstop Derek Jeter had two hits and recorded his 7,218th at-bat to move past Babe Ruth into fifth place on the franchise's list
At Baltimore, Wang Chien-ming (12-5) of Taiwan gave up three runs and nine hits in six innings to help New York avoid a three-game sweep and pull within four of the wild-card lead. Wang is 5-1 in his last six starts.
Johnny Damon had three hits, scored four runs and had two RBIs for the Yankees as they beat the Orioles 10-6.
The Yankees' Alex Rodriguez, seeking his 500th home run, went 0-for-2 with a run-scoring grounder and three walks. Since hitting No. 499 on Wednesday in Kansas City, Rodriguez is 0-for-12, including a groundout in the June 28 suspended game that was completed on Friday night.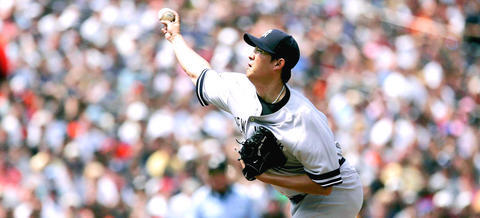 The New York Yankees' Wang Chien-ming pitches against the Baltimore Orioles at Camden Yards in Baltimore, Maryland, on Sunday. Wang got the win as the Yankees beat the Orioles 10-6.
PHOTO: EPA
New York shortstop Derek Jeter went 2-for-3 with two walks. He now has 7,218 at-bats, moving past Babe Ruth into fifth place on the Yankees' career list.
Devil Rays 5, Red Sox 3
Dioner Navarro, B.J. Upton and Carlos Pena homered during a five-run seventh inning as the Tampa Bay Devil Rays stopped an eight-game skid with a 5-2 win over the Boston Red Sox and its Japanese star Daisuke Matsuzaka.
Matsuzaka (12-8) took a six-hit shutout into the seventh before being lifted after allowing Navarro's solo homer on an 0-2 pitch and a single to Josh Wilson with one out. Matsuzaka was charged with two runs and eight hits.
Twins 4, Indians 1
At Cleveland, Josh Barfield made two errors on one play to help Minnesota score the go-ahead run in the eighth inning as the Twins rallied to beat C.C. Sabathia.
Sabathia (13-6), coming off a hard-luck 1-0 loss to Boston's Matsuzaka last Tuesday, tied a career high with 11 strikeouts, but lost for the fourth time in five starts in this month.
Blue Jays 4, White Sox 1
At Chicago, Shaun Marcum outpitched Javier Vazquez as Toronto downed Chicago. Marcum (7-4) struck out eight and retired nine straight to start the game.
Jeremy Accardo pitched a scoreless ninth for his 17th save in 20 chances.
Mariners 14, Athletics 10
At Seattle, Ben Broussard, playing for the ejected Richie Sexson, hit a two-run homer in the seventh to tie the game and Jason Ellison scored the go-ahead run on an errant throw an inning later for the Mariners.
The Mariners' Ichiro Suzuki also became the third-fastest player in major league history to reach 1,500 hits when he singled in the second against Oakland's Lenny DiNardo.
Royals 10, Rangers 0
At Kansas City Missouri, Leo Nunez pitched six scoreless innings in his second start as the Royals completed a three-game sweep.
Nunez (1-0), who was recalled from Triple-A Omaha, gave up three singles with a walk and a strikeout before departing after 85 pitches, 53 for strikes.
Angels 13, Tigers 4
At Anaheim, Garret Anderson and Casey Kotchman each had two RBIs and Gary Matthews Jr drove in three runs as Los Angeles completed a three-game sweep of defending AL champion Detroit.
This was only the second time in the Angels' 47-year history that they scored at least 10 runs in three consecutive games and the first time against one opponent.
Carlos Zambrano became the first 14-game winner in the major leagues and finished with three hits to help the Chicago Cubs beat the Cincinnati Reds 6-0 on Sunday.
Derrek Lee homered for the third time in four days for Chicago, which finished off a 4-2 road trip. Alfonso Soriano of the Dominican Republic also had two hits and scored a run.
Marlins 8, Giants 5
At San Francisco, Barry Bonds was 1-for-4 with an infield single on the final day of the Giants' homestand, failing to come close to a home run.
Still one homer from tying Hank Aaron's record of 755, Bonds takes his quest to a place where his reception figures to be anything but friendly -- Dodger Stadium in Los Angeles.
Mets 5, Nationals 4
At New York, John Maine shut down Washington, David Wright drove in two runs and the Mets salvaged a four-game split in a game shortened by rain.
Ryan Castro made sure the Mets didn't miss All-Star catcher Paul Lo Duca, who strained a hamstring on Saturday night. The backup catcher had a home run, a double and two RBIs.
Phillies 5, Pirates 1
At Philadelphia, Jimmy Rollins had three hits and Kyle Kendrick tossed seven strong innings as the Phillies completed a three-game sweep.
Philadelphia, winners in eight of their last nine, improved to a season-high six games over .500 (55-49) and swept the Pirates for the first time since 2001.
Padres 18, Astros 11
At Houston, Mike Cameron and Adrian Gonzalez hit two-run homers during an 11-run first inning off Jason Jennings, as the Padres' bats came alive on the day franchise hits leader Tony Gwynn was inducted into the Hall of Fame.
Brian Giles had a two-run double and starting pitcher Tim Stauffer, called up from the minors on Saturday, had a two-run single as San Diego put together its biggest first inning since scoring 13 against St. Louis on Aug. 24, 1993.
Cardinals 9, Brewers 5
At St. Louis, Ryan Ludwick's bases-loaded walk broke an eighth-inning tie, Albert Pujols followed with a three-run double and the Cardinals rallied from a five-run deficit.
Milwaukee, which led the NL Central by eight-and-a-half games before play on June 24, is just a half-game ahead of the Chicago Cubs, the Brewers' smallest margin since April 22.
Rockies 9, Dodgers 6
At Denver, Matt Holliday homered and drove in three runs and Ubaldo Jimenez went six innings for his first major league victory.
Jimenez (1-0) gave up two runs and four hits, striking out three after getting no-decisions in his first two starts this season.
He hasn't allowed more than three runs in four career starts, including his big-league debut last season.
Braves 14, Diamondbacks 0
At Phoenix, Chipper Jones drove in five runs, Tim Hudson allowed three hits in seven innings and the Braves ended the Diamondbacks' eight-game winning streak.
Andruw Jones and Scott Thorman also homered for the Braves, who pounded out 17 hits and snapped a four-game losing streak. Jeff Francoeur went 3-for-5 and scored two runs.
Atlanta matched a season high for runs and handed Arizona its worst loss of the season.
Comments will be moderated. Keep comments relevant to the article. Remarks containing abusive and obscene language, personal attacks of any kind or promotion will be removed and the user banned. Final decision will be at the discretion of the Taipei Times.