Contador beats Rasmussen to win stage
The way Alberto Contador tore away on a mountaintop finish and outsprinted his chief rival to win the 14th stage of the Tour de France was a flashback to Lance Armstrong's era.
Ironically, the Discovery Channel team may have found a successor to seven-time Tour winner Armstrong in the year the team's sponsorship deal runs out.
"I'm certain Contador will win the Tour in the future," Discovery's sporting director Johan Bruyneel said.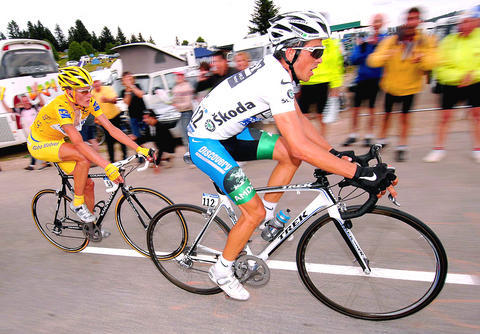 Spanish rider Alberto Contador of the Discovery Channel team breaks in front of Danish Rabobank rider Michael Rasmussen, in the overall leader's yellow jersey, during the 14th stage of the Tour de France near Plateau de Beille, France, on Sunday. Contador won the stage.
PHOTO: EPA
Contador was toe-to-toe with race leader Michael Rasmussen when the pair neared the summit of the 197km ride from Mazamet to Plateau de Beille on Sunday, the first of three tortuous Pyrenees stages.
The two had taken turns to pull up Plateau de Beille in order to separate from rivals Cadel Evans, Levi Leipheimer and Andreas Kloeden. Legs churning in perfect unison, they ruthlessly dropped all three.
Then, with 200m left, Contador sized up Rasmussen, made his move down the right, boxed the Dane in next to the barriers and left him in his wake.
PHOTO: EPA
It seemed like a replay of Armstrong's win up to Le Grand Bornand in 2004 in the Alps.
Armstrong dropped his teammate Floyd Landis after he'd slogged for him up the hills and then the US rider overtook Kloeden at the top of the final ascent just as the two turned into a corner. Armstrong stormed past him and fist-pumped gleefully at the line.
Contador pumped his fist twice on his heart and then made a gesture with his fingers as if he was firing a pistol to gun down his rivals after winning in 5 hours, 25 seconds, 48 seconds and closing to within 2:23 of Rasmussen.
"This is the Tour de France. You don't give any presents," Rasmussen said. "The Plateau de Beille is not something you give away. It was a very well deserved win."
Even Bruyneel feels Contador has exceeded expectations.
Bruyneel once sent Armstrong an e-mail shortly before the 1999 Tour predicting that Armstrong would be on the Tour podium. He clearly sees a winner in Contador and maybe even a similar independence of spirit.
"When I attacked, it was not programmed by Bruyneel," Contador said. "I chose the moment."
At no stage in the final ascent did Contador look behind to check on the whereabouts of Leipheimer, his team leader.
"Alberto's phenomenal. I certainly have no problem with him being ahead of me," Leipheimer said. "If he doesn't win the Tour this year, he will some day."
Like cancer survivor Armstrong, Contador had serious health setbacks, notably when he suffered a massive blood clot in his brain that required surgery in 2004. The 24-year-old Spaniard took seven months to recover and then won a stage at Australia's Tour Down Under in January 2005.
Going into the Tour de France, Contador impressed by winning the Paris-Nice stage race. He's confident enough to taken on Rasmussen, the two-time holder of the King of the Mountains jersey.
"Rasmussen is very tough and he's in the lead," Contador said. "I will try to attack him."
He was to get another chance on yesterday's 15th stage, a 196km trek from Foix to Loudenvielle-Le Louron that features the Col de Mente, Port de Bales and Col de Peyresourde.
Sunday's big loser was Evans, who had begun the stage 1 minute back of Rasmussen in second place, but fell behind in the last 5km to drop to third, 3:04 back.
"They knew it was the right time to take some time off him [Evans]," Evans' Predictor-Lotto team sporting director Marc Sergeant said.
Leipheimer finished 40 seconds back and sits fourth overall, 4:29 off the pace. Kloeden, who was runner-up to Armstrong in 2004, is fifth, 4:38 back.
"This final climb is just brutal. I don't know what it is about it," Leipheimer said. "But it's always a killer. When there where all those accelerations it just hurt me."
Comments will be moderated. Keep comments relevant to the article. Remarks containing abusive and obscene language, personal attacks of any kind or promotion will be removed and the user banned. Final decision will be at the discretion of the Taipei Times.