Hu Chin-lung leads World past US in Futures game
Taiwanese shortstop Hu Chin-lung (胡金龍) had a pair of RBI hits and stole a base to lead the World team over the US team 7-2 in Major League Baseball's All-Star Futures game on Sunday.
Hu, playing in Double-A, showed off some of his talents for former San Francisco Giants great Juan Marichal's World team that featured players from 11 countries and territories.
He hit an RBI double off Jeff Niemann in the first inning, stole third and scored on a sacrifice fly by Wladimir Balentien to give the World team a 2-0 lead. Hu added an RBI single in the third off Joba Chamberlain to make it 3-0.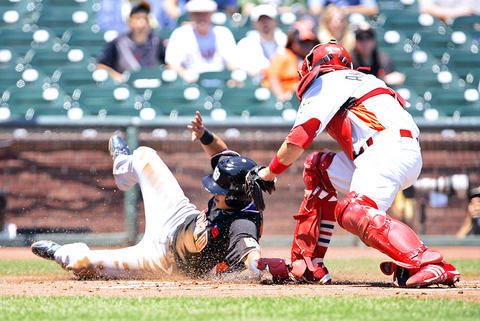 Hu Chin-lung of Taiwan, left, who plays for the Los Angeles Dodgers, reaches to tap home plate as he scores against US catcher Bryan Anderson, from the Florida Marlins, in the first inning of the All-Star Futures Baseball game at AT&T Park in San Francisco, California, on Sunday. The game is part of All-Star week leading up to the Major League Baseball All-Star game on Tuesday.
PHOTO: AP
The World team scored its fourth run in the fourth when Max Ramirez doubled and scored on a sacrifice fly by Carlos Gonzalez. Balentien had an RBI double in the seventh.
World player Joey Votto hit a solo homer against Clay Buchholz in the sixth inning and James Van Ostrand added one in the seventh against the Clayton Kershaw to make it 6-2.
Justin Upton, whose older brother B.J. played in this game in 2004 and 2005, hit a solo homer in the third off Fautino De Los Santos for the first run for Dave Winfield's US team.
John Whittleman added a solo shot in the fifth against Deolis Guerra. Guerra, who turned 18 in April, was the youngest player in the game.
Rick Vanden Hurk allowed one hit and struck out one batter in the first inning to get the win. Unlike most of the other players who are still waiting for their call to the majors, Vanden Hurk has already been there, going 2-2 with an 8.38 ERA in seven appearances with the Florida Marlins before being sent back to the minors last month.
Comments will be moderated. Keep comments relevant to the article. Remarks containing abusive and obscene language, personal attacks of any kind or promotion will be removed and the user banned. Final decision will be at the discretion of the Taipei Times.