Duncan leads San Antonio to victory
MAKING THE SHOTS The Spurs took a commanding 2-0 lead in the Western Conference finals on Tuesday, leading from start to finish to beat the Utah Jazz 105-96
Tim Duncan had 26 points and 14 rebounds, and the San Antonio Spurs built a big halftime lead that turned into a 105-96 victory over the Utah Jazz in Game 2 of the Western Conference finals series on Tuesday.
Tony Parker finished with 17 points and 14 assists, his most ever in a playoff game, and Manu Ginobili added 17 points as the Spurs took a 2-0 lead, moving halfway to reaching the NBA finals for the third time in five years.
Parker set up Brent Barry for his trio of 3 pointers in the second quarter and Bruce Bowen for his three 3s in the fourth quarter. San Antonio shot 55.4 percent for the game and was 13-of-26 from behind the arc, setting a franchise playoff record for made 3s.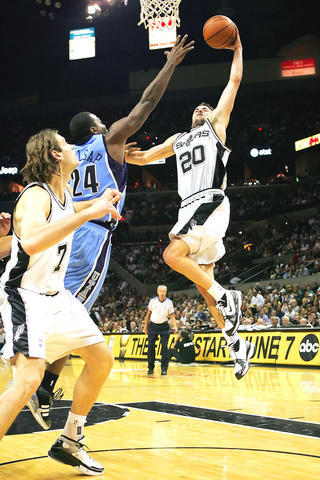 Manu Ginobili, right, of the San Antonio Spurs goes up for a dunk over Paul Milsap, center, of the Utah Jazz in the first quarter of Game Two of the Western Conference Finals in San Antonio, Texas, on Tuesday.
PHOTO: AFP
"That's what they're giving us," Parker said. "Every time I penetrate, they're wide open. They're forcing us to make outside shots and tonight we made those shots."
The Jazz never led in this game, and haven't led since the seventh minute of the opener. While Carlos Boozer bounced back from a poor game with 33 points 15 rebounds, a second straight second-quarter meltdown left Utah trailing by 17 at halftime and 22 a few minutes into the third quarter. They got within seven in the final period, but were repeatedly turned away by big baskets from San Antonio's playoff-tested veterans.
"Every time we made a run, they made a 3," said Deron Williams, who had 26 points and 10 rebounds. "Those guys stepped up and hit shots. We didn't do a good job of defending the 3 and it hurt us."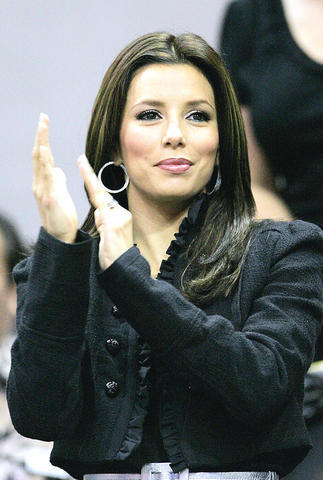 Actreee Eva Longoria attends the Spurs-Jazz game in San Antonio, Texas, on Tuesday.
PHOTO: AP
San Antonio's Michael Finley opened the game with a quick 3-pointer from the left wing and the tone was set. Three of Finley's four baskets wound up coming from behind the arc. Ginobili had three of six, and Bowen and Barry hit nothing but 3s.
Now the Jazz are headed home trailing 0-2 for the second time this postseason.
They fought back in the first round against Houston, but Yao Ming, Tracy McGrady and the Rockets are no comparison to Duncan, Parker and the Spurs. Plus there's this bit of history to overcome: Only two of the previous 57 teams to lose the first two games of a conference finals have advanced.
"We still have a chance," Williams said. "But I think it's a lot worse t o be down 2-0 to the Spurs than the Rockets. They have championships and guys who know how to win. They're also a much better road team."
Utah coach Jerry Sloan has several days to come up with something. Game 3 isn't until Saturday night and the next two games will be in Salt Lake City, where the Jazz are 6-0 this postseason. They also went 2-0 against the Spurs there during the regular season.
"They're going to be a lot more confident playing in that building," Duncan said. "We're going to need to bring a much better effort than we had here to beat those guys."
Comments will be moderated. Keep comments relevant to the article. Remarks containing abusive and obscene language, personal attacks of any kind or promotion will be removed and the user banned. Final decision will be at the discretion of the Taipei Times.