Windies legend Lara bows out
END OF AN ERA It was a sad day for West Indies cricket on Saturday with Brian Lara run out on his final international appearance and England snatching a last-gasp victory
Brian Lara walked out of international cricket in defeat. And it was nothing to do with the one-wicket, next-to-last ball World Cup loss to England.
One of the all time greats, Lara admitted his mission to restore West Indies to the top of world cricket had failed.
Bidding farewell to international cricket after 17 years as a West Indies player, Lara said he wanted to open the door for a younger leader to take charge of the Caribbean squad.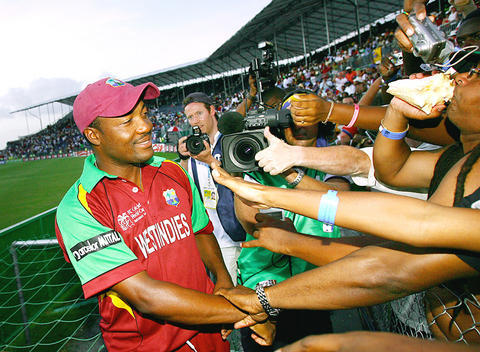 Fans reach out to touch Brian Lara while he does a lap of honor following the West Indies game against England at the Kensington Oval in Bridgetown, Barbados, on Saturday.
PHOTO: AFP
"I feel its the right time to call it a day, and let the youngsters take over," Lara said, trying to keep his emotions in check as he addressed reporters for the last time as a West Indies skipper and player.
"I've give a thought to life without a bat in my hand. I've been playing a long time, but I knew it had to come to an end somewhere," he said.
Lara said the West Indies team, which was the world's best when he started his career, needed new blood to make it a credible challenger to the likes of Australia, South Africa, India and Pakistan.
?
"My dream and my thinking over the last 17 years was to see West Indies cricket try to stay on top," Lara said. "When I arrived, that's where we were, on top of world cricket. There was a decline and unfortunately we haven't been able to stop that the last 10 or 12 years and that has been the most disappointing thing."
"I'm a team player and if there's one thing I have great hope for it's to see this West Indies team back at the top," he said.
He admitted he wouldn't be the player to do it.
"West Indies cricket is a place where change is necessary," Lara said. "I see no reason for me to carry on at this point of time. I don't see myself regretting the decision and look to enjoy my life outside cricket."
Lara, who turns 38 next month, ended his international career with the World Cup Super 8s game against England. He ended with a one-wicket defeat off the penultimate delivery as England reached 301-9 in reply to West Indies 300 all out.
Lara's final innings also ended in disappointment as he was run out for 18 during a mix up with Marlon Samuels.
Starting his Test career against Pakistan in 1990, Lara emerged to become one of the best batsmen in contemporary cricket as he accumulated 11,953 runs in 131 Tests and 10,405 in 299 limited-overs internationals.
The left-handed Trinidadian, who holds the world record scores of 400 in Test cricket and 501 in the first class game, said he was moved by the fond farewell given to him by a capacity crowd at the Kensington Oval in his last match for the West Indies.
"The fans gave an emotional farewell to me, it brought tears to my eyes," he said. "I'm always going to cherish memories like this, the affection I got from cricket fans whom I sought to entertain."
"The big scores were my destiny, I'm a very lucky man who got the privilege to represent the West Indies for 17 years," he said.
Lara said he was glad to leave by choice, and not get pushed out of international cricket.
"I've had the opportunity to decide when to say goodbye," Lara said.
Comments will be moderated. Keep comments relevant to the article. Remarks containing abusive and obscene language, personal attacks of any kind or promotion will be removed and the user banned. Final decision will be at the discretion of the Taipei Times.