Rasheed Wallace helps Pistons to sixth straight victory
Rasheed Wallace made up for a fourth-quarter technical foul by scoring six points of his season-high 28 points late in the game, helping the Detroit Pistons beat the Toronto Raptors 98-92 on Saturday night.
Richard Hamilton added 21 points and eight assists for the Pistons, who won their sixth straight.
TJ Ford had 17 points and 11 assists for the Raptors, whose five-game winning streak was stopped. Chris Bosh added with 14 points and 11 rebounds for Toronto, which has lost eight in a row at the Palace of Auburn Hills.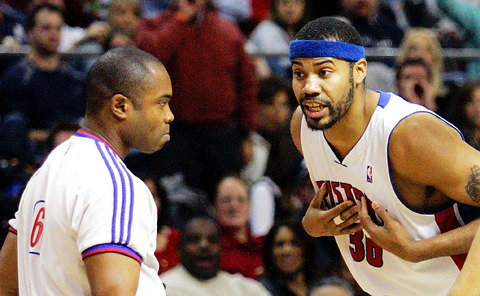 Detroit Pistons forward Rasheed Wallace, right, talks to referee Courtney Kirkland after his technical foul in the fourth quarter of the basketball game against the Toronto Raptors at the Palace of Auburn Hills, Michigan, on Saturday.
PHOTO: AP
Detroit, which led 76-73 after three periods, continued to hold the lead for most of the fourth before getting frustrated by the officiating, culminating in Wallace's technical foul. Anthony Parker's free throw pulled the Raptors within 85-84, and Andrea Bargnani followed with a 3-pointer to put Toronto ahead.
Wallace answered with a three-point play that put Detroit back in front, and his 3-pointer with 2:45 remaining finished the Pistons' 10-point run.
Nets 93, Magic 78
At East Rutherford, New Jersey, Vince Carter scored 32 points and reserve Marcus Williams added 12 clutch points to lead New Jersey.
Jason Kidd had 10 points and nine rebounds as the Nets extended their winning streak to three.
Dwight Howard scored 25 points on 11-of-15 from the field along with 12 rebounds for Orlando, which lost for the 12th time in 16 games.
Williams came in late in the third quarter to spell Kidd and immediately took charge by scoring the last six points for the Nets in the period as New Jersey took a 66-63 lead.
Starting the fourth quarter, Williams orchestrated a 15-8 run that sealed it. Williams scored four points in the surge and dished out three assists.
Hornets 114, Grizzlies 99
At Oklahoma City, Chris Paul had 23 points and 11 assists, and David West added 22 points to help New Orleans win its third straight.
After back-to-back overtime wins, the Hornets put this one away earlier -- using a 17-3 push shortly after half-time to take control.
Tyson Chandler had 15 points and 16 rebounds for his seventh double-double in the last eight games.
Pau Gasol had 21 points and 11 rebounds for the Grizzlies.
Jazz 104, Knicks 102, OT
At Salt Lake City, Mehmet Okur forced overtime on a layup with 12 seconds left in regulation, and Derek Fisher scored with three seconds left in the extra period to lift Utah past New York.
Okur scored 29 points and Fisher finished with 14, including the winner on a pass from Deron Williams, who had 10 assists for Utah. The Jazz ended a five-game losing streak against the Knicks.
New York had a final chance, but Jamal Crawford's shot at the buzzer was off. The Jazz trailed by 10 late in the fourth quarter before rallying to win their fourth in a row.
Rockets 104, Bobcats 83
At Houston, Tracy McGrady and Juwan Howard each scored 16 points and Houston rebounded from a blowout at Dallas a day before to beat Charlotte.
Dikembe Mutombo, who has been great in place of the injured Yao Ming, added 14 points and 14 rebounds for Houston, and Rafer Alston had 14 points.
Raymond Felton led Charlotte with 16 points, and Emeka Okafor had 15 points and 12 rebounds.
Nuggets 109, Bucks 102
At Milwaukee, Carmelo Anthony had 29 points, 10 assists and eight rebounds, and Nene added 17 points and 11 rebounds for Denver.
Nene hit three free throws in the final 35 seconds to seal the victory as the Nuggets completed a short road trip with wins on back-to-back nights.
Earl Boykins led Milwaukee with 26 points.
Kings 114, SuperSonics 93
At Seattle, Kevin Martin scored 14 of his 26 points during a big second quarter that led Sacramento past Seattle.
It was Sacramento's season-high fifth straight win.
Martin and Ron Artest both scored 16 in the first half, as the Kings built a huge lead -- helped by a 36-point second quarter -- and were never challenged in the second half.
Comments will be moderated. Keep comments relevant to the article. Remarks containing abusive and obscene language, personal attacks of any kind or promotion will be removed and the user banned. Final decision will be at the discretion of the Taipei Times.