Pietersen looking forward to a sportsmanlike Ashes
Tough but fair, and maintain the friendships: that's what England cricketer Kevin Pietersen would like to see happen at this year's Ashes series against Australia.
Pietersen, who has a strong friendship with Australian legspinner Shane Warne, said yesterday he was hopeful both sides could continue the sportsmanlike tradition begun last year when England regained the Ashes for the first time in 17 years in England.
The first of five Tests between the teams begins on Nov. 23 in Brisbane, with others scheduled in Adelaide, Perth, Melbourne and Sydney.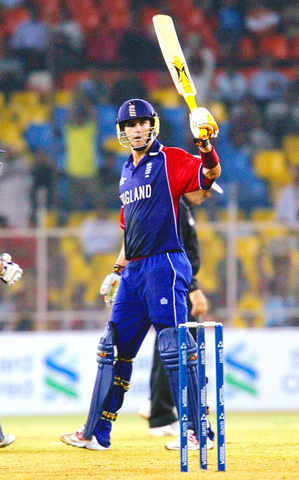 England batsman Kevin Pietersen celebrates his 50 runs scored against the West Indies in the ICC Champions Trophy match at Ahmadabad, India, on Oct. 28. Pietersen is looking forward to the Ashes series against Australia.
PHOTO: EPA
Pietersen said the iconic image of Andrew Flintoff consoling Australia's Brett Lee after England's two-run win in the second Test at Edgbaston last year perfectly illustrated the spirit in which last year's series was played.
"The whole world media took note of that and the way the series was played was fantastic," Pietersen said. "That's how sport should be played."
"I play this game to enjoy it, to challenge myself and to go out and make friends. I don't see any reason why anybody should be fighting and shouting and arguing and complaining and going at each other on and off the field," he said.
Pietersen said his friendship with his Hampshire teammate Warne spurred both players on when against each other.
"He wants to get me out more than he does somebody else so he can rib me," he said.
"I don't think [the mateship] works to my advantage because when he crosses that white line and I cross the white line and we're out there playing for our countries, we're making sure we can do the best job for our countries," he said.
England opens its three-month tour Down Under on Friday with a one-day match in Canberra against a Prime Minister's XI. On Monday, Cricket Australia said a shoulder injury to Test pace bowler Jason Gillespie would prevent him from captaining the side.
Gillespie will be replaced as captain by Victoria state skipper Cameron White, who was originally selected as vice-captain.
Comments will be moderated. Keep comments relevant to the article. Remarks containing abusive and obscene language, personal attacks of any kind or promotion will be removed and the user banned. Final decision will be at the discretion of the Taipei Times.