Blake tops Safin to make Bangkok final
DISAPPOINTMENT The US No. 3 seed came back strongly to defeat the Russian giant, who has not made a final since his comeback from injury
James Blake denied Marat Safin a place in his first final in more than a year as he staged a comeback to pip the Russian 3-6, 6-4, 7-6 (7/3) at the Thailand Open yesterday.
Blake, the third seed with titles this season in Adelaide, Las Vegas and Indianapolis, rallied to set up a showdown today with the winner from Thai hero Paradorn Srichaphan and Croatian top seed Ivan Ljubicic.
The mercurial Safin smashed a racket at a heated moment in the second set as he was broken for the first time to drop to 2-3.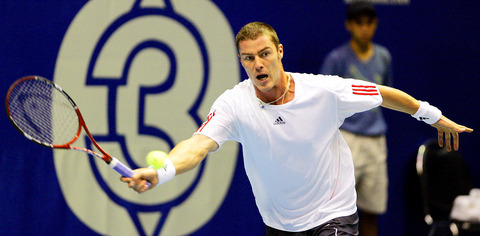 Marat Safin of Russia hits a forehand to James Blake of the US during their semi-final at the Thailand Open in Bangkok, Thailand, yesterday.
PHOTO: AP
The former world No. 1 and two-time Grand Slam winner last played a final against Roger Federer at Halle, Germany, in June last year, just before a knee injury began to plague his game.
Safin, competing in his third semi-final of this comeback season, drew level at two-all with Blake, who also beat him last Sunday in a dead rubber at the Davis Cup semi-final tie in Moscow won by Russia.
"When he's on his best he can give everyone fits," said third-seed Blake, ninth in the world. "I had to weather the storm. Often, you are at his mercy. I've had a few more matches than he has this season," said the American, 49-21 this season.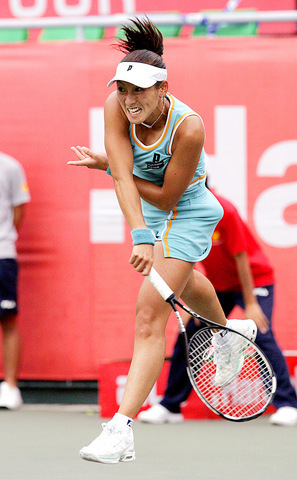 Japan's Ai Sugiyama serves to Spain's Virginia Ruano-Pascual during their semifinal at the Korea Open at Olympic Park in Seoul, South Korea, yesterday.
PHOTO: AP
Safin, who has lifted his ranking from 104 during the summer to its current 55th after a knee injury, said he had no luck in the struggle lasting nearly two hours.
"It slipped away," said the 26-year-old. "I was up a break in the third and it slipped away, he broke back and then the tiebreak was a disaster. I was so close to being in the final. This is the third time this year it's happened like this for me."
"I wish I could break through that barrier," he added.
Safin came up short as he aimed to defeat his seventh Top 10 opponent of the year.
Blake came good in his sixth semi-final of the season, now a perfect 6-0 at the last-four stage.
After winning the first set and successfully nullifying four break points, Safin began to fade when Blake broke in the fifth game of the second, going on to level the match on a third set point.
Safin against lost a break in the third set then turned in a forgettable tiebreaker to lose after saving a pair of match points before Blake put away the win.
Korea Open
Fourth seed Ai Sugiyama of Japan and Greece's Eleni Daniilidou routed their semi-final opponents to book a showdown in today's final of the US$145,000 Korea Open.
Sugiyama thrashed Spain's Virginia Ruano Pascual 6-0, 6-3 while Daniilidou dominated French third-seed Marion Bartoli 6-1, 6-0 at Seoul Olympic Park yesterday.
"Mentally and physically I am feeling good. Daniilidou is playing really well and I am really looking forward to [today's] final," Sugiyama said.
Ruano Pascual was slow on her feet and had none of the backhand accuracy that had worn down India's Sania Mirza in a three-hour epic the previous night.
"In the first set she couldn't get her rhythm," Sugiyama told reporters. "She made many mistakes."
The Japanese world No. 27 had also been in action the evening before but showed no strain while taking the first set in 20 minutes.
Ruano Pascual got back into the match by winning the first two games of the second set, but the experienced 31-year-old Sugiyama covered the court well, encouraged by a number of her compatriots in the crowd.
She broke the Spaniard's serve to move 3-2 ahead and never looked back.
Earlier, 24-year-old Daniilidou used an unerring backhand to control her match from start to finish in a punishing rout of Bartoli, who admitted she was not in peak physical form.
"I had a fever overnight and didn't sleep well. I was really tired today and had no energy. The court here is so slow and you need to use a lot of power every time you hit the ball," Bartoli said. "I will look at the positives. I reached the semi-final, I will be 22 next week and my ranking will also move up to 22."
Daniilidou, ranked 58th in the world, took the opening two games, which saw multiple deuces, and quickly won the first set.
Bartoli tried in vain to establish a foothold in the second set, never being allowed to settle in by the athletic Greek.
"[Eleni] played really great," said Sugiyama, who watched the match before taking the court herself. "There was no weakness today but [today] will be a different game."
Comments will be moderated. Keep comments relevant to the article. Remarks containing abusive and obscene language, personal attacks of any kind or promotion will be removed and the user banned. Final decision will be at the discretion of the Taipei Times.