Australia claims women's title
RARE TRIUMPH The Australians had previously finished no higher than third, but won the final comfortably, defeating the Russians by 17 points
Australia won its first women's basketball world championship on Saturday, getting 28 points from Penelope Taylor and another 16 from Lauren Jackson for a 91-74 victory over Russia.
Australia, which had never finished higher than third in the quadrennial championship, trailed 9-2 early after only 3:12, went ahead for good 16-15 on Belinda Snell's three-pointer with 1:29 remaining in the first quarter and then exploded for a 24-5 run that put it in control 37-20 with 4:05 left in the first half.
Taylor also had nine rebounds while Kristi Harrower had 15 points for the Opals and Snell finished with 12 points. Jackson finished as the tournament's leading scorer, averaging 21.3 points per game.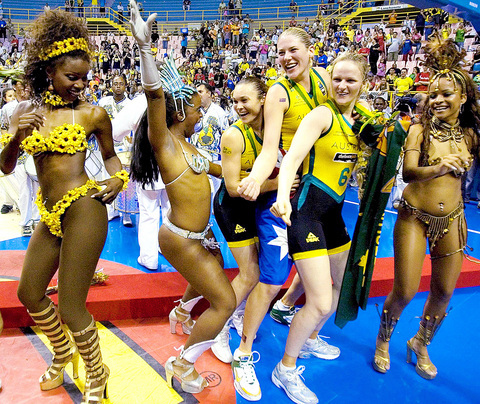 Australia team members celebrate with Brazilian samba dancers after beating Russia and winning the final of the FIBA Women's World Basketball Championships in Sao Paulo, Brazil, on Saturday. The final score was 91-74.
PHOTO: EPA
It was the third straight runner-up finish for Russia, which lost to the US in the previous two championship matches but beat the US on Thursday in the semi-finals.
The former Soviet Union won the women's crown six times, the last in 1983.
Earlier the US beat host Brazil 99-59 to win the bronze medal. Diana Taurasi led the US with 28 points, while Tina Thompson contributed 15.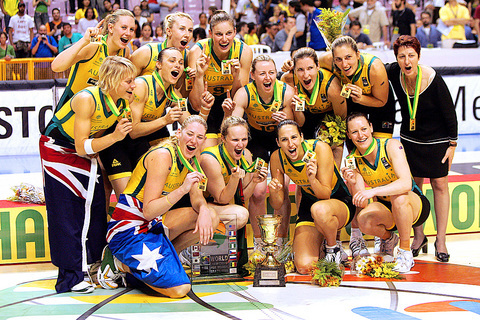 The Australia women's basketball team celebrates after defeating Russia to win the FIBA World Championship for Women Brazil at the Ibirapuera Gymnasium in Sao Paulo, Brazil, on Saturday.
PHOTO: AFP
"We had to prove to ourselves that we could play better than we did against Russia," Taurasi said. "We lost some of our pride in that game, but we managed to recover it [on Saturday]."
Thursday's loss to Russia ended the US' world championship winning streak at 26, dating to the 1994 bronze-medal game, and snapped their string of victories in the Olympics and worlds at 51.
"The Americans played a perfect game," Brazil veteran Janeth dos Santos Arcain said. "Our coaches told us that each team would have one great game and one horrible game. Their horrible game was against Russia and their great game was against us."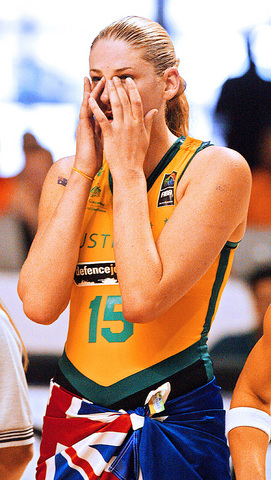 Australia basketball team member Lauren Jackson weeps after the victory over Russia at the Ibirapuera Gymnasiun in Sao Paulo, Brazil, on Saturday.
PHOTO: AFP
Comments will be moderated. Keep comments relevant to the article. Remarks containing abusive and obscene language, personal attacks of any kind or promotion will be removed and the user banned. Final decision will be at the discretion of the Taipei Times.