North Korean trio banned for brawl
The Asian Football Confederation imposed one-match bans on three North Korean women players yesterday for attacking the referee after a narrow loss to China at the Women's Asian Cup in Adelaide.
The confederation said North Korean goalkeeper Hye Yong-han and outfield players Son Kyong-sun and Song Jung-sun were banned for violent conduct and would miss the playoff for third place in the tournament.
Referee attack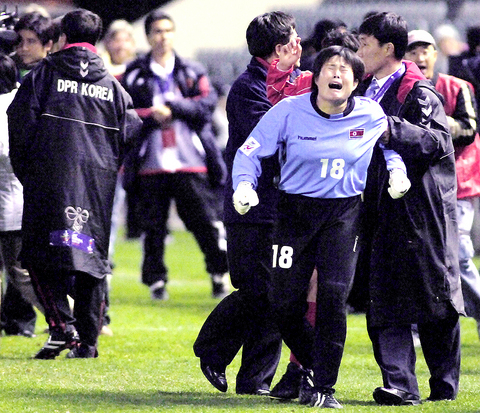 North Korea's Hye Yong-han, No. 18, reacts to their loss to China during their AFC women's Asian Cup soccer semi-final match in Adelaide, Australia, on Thursday.
PHOTO: AP
Television footage showed them attacking Italian referee Anna De Toni after their team lost 1-0 to China in Thursday's semi-final, in which North Korea had an injury-time goal disallowed for an offside infringement.
Hye lashed out at De Toni with her boot after the final whistle, while Son and Song hurled water bottles and other objects at the referee as she was escorted from the pitch by security guards.
Other players appeared to jostle the official immediately after the game ended.
Further measures
The AFC said further disciplinary measures against the three suspended players would be discussed by the AFC Disciplinary Committee.
North Korea will face Japan in the play-off for third and fourth place tomorrow while Australia plays China in the final.
The top two teams from this tournament secure places at the 2007 Women's World Cup in China.
With China getting an automatic place as host at the World Cup, the other qualifying place from the Asian Cup will go to the winner of the third-place match.
Comments will be moderated. Keep comments relevant to the article. Remarks containing abusive and obscene language, personal attacks of any kind or promotion will be removed and the user banned. Final decision will be at the discretion of the Taipei Times.