Bears claw toward trophy
PRO BASEBALL The La New Bears overcame the Chinatrust Whales and the Macoto Cobras in an ongoing chase of the league-leading President Lions for the first-half title
A pair of wins over the Chinatrust Whales and the Macoto Cobras on Thursday and Friday, respectively, kept the La New Bears in contention with the league-leading President Lions as the race for the first-half title in Taiwan's Chinese Professional Baseball League goes down the wire.
Friday night's 6-1 Bears victory over the Cobras in Kaohsiung had the hosts taking a 2-0 lead in the opening inning on shortstop Lin Chih-sheng's RBI single and third baseman Todd Betts' sacrifice-fly off Cobras starter Felix Villegas of Puerto Rico.
The two runs proved to be ample for Bears starter Kenny Rayborn as the staff ace went the distance in a one-run gem for his ninth win of the season, tying him with fellow lefty Wu Si-yo for the lead in total wins in the CPBL.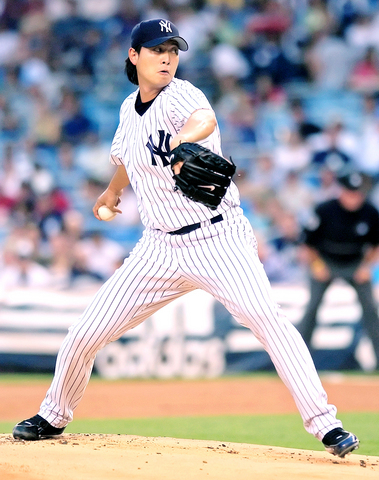 Yankees starter Wang Chien-ming pitches during the first inning against the Marlins at Yankee Stadium in New York on Friday.
PHOTO: AP
The American right-hander actually took a shutout two outs into the ninth inning before surrendering an RBI single to Cobras pinch-hitter Amaury Garcia of the Dominican Republic.
Offensively for the Bears, leadoff man Shih Chih-wei and outfielder Lu Jung-hsiung both went 2-for-3 with two RBIs to account for the bulk of the scoring.
Taking the loss for the Cobras was Villegas, who also threw a complete-game for his team as a shorthanded Cobras staff looked to conserve as many fresh arms as possible, playing its seventh game in as many days.
Bears 11, Whales 3
The explosive Bears lineup took no mercy on the Whales in Hsinchu on Thursday, as it picked apart the Whales pitching by drawing eight walks on top of 13 hits to run away with an 11-3 triumph.
Bears starter Lee Fong-hua was not particularly sharp in his first start of the year, as the longtime reliever yielded three first-inning runs before being pulled in the third.
But it did not matter much for the Bears, because rookie righty Tsai Ying-fong more than filled in for Lee with five innings of one-hit relief to halt all scoring attempts by the marine creatures in a hurry before Ramon Morel and Hsu Chih-hua combined to retire the final five Whales for the win.
Doing the damage with their bats were Shih, outfielder Tsai Jien-wei, and Canadian slugger Betts, who had multi-hit games to lead an offense that averages over five runs per game.
Lions 7, Elephants 0
Behind a complete-game effort by Pan "Du Du" Wei-luen, the President Lions blanked the Brother Elephants 7-0 in Tianmu on Friday for their 17th win in a row.
American righty Joey Dawley was no match for Pan in his shortest outing of the year with three innings of five-run ball on eight hits. The three errors by the Elephants defense, two of which led to four unearned runs for the Lions, only added insult to injury to the Elephants as they fell behind 5-0 after a five-run second inning that saw the Lions send 10 batters to the plate.
The four-hit, complete-game shutout was Pan's first of the year, and his third in the three-plus seasons that he has been in the league, upping the former Rookie of the Year's season mark to 7-2 while dropping the team's magic number to win the first-half title to two, meaning another win, or a loss/tie by the Bears, and the Lions would clinch the title.
The loss by Dawley was his third of the season as he dropped to a 4-3 record.
Bulls 7, Cobras 0
The Sinon Bulls greeted their fans at home with high-flying form by trouncing the Cobras 7-0 after the grand reopening of Taichung's Taiwan Provincial Baseball Stadium on Thursday night to remain above the .500 mark in winning percentage with a 25-2-23 record.
Resurging starter Yang Jien-fu pitched six strong innings of five-hit ball with four strikeouts and two walks for his sixth win of the year, while his counterpart Chen Jia-hong suffered the setback with 5-1/3 innings of two-run ball (only one earned run) on five hits in just his third start of the year to settle for a 1-1 mark.
The construction of a baseball stadium in Taichung, central Taiwan is expected to be completed in October on schedule, a Taichung City official said yesterday.
The stadium is scheduled to be completed by Oct. 15.
The central government has provided subsides of more than NT$100 million (US$3.05 million) for the project, the official said.
Jorge Posada drove in three runs to help the New York Yankees cool off the surprising Florida Marlins 6-5.
Making their first trip to Yankee Stadium since winning the 2003 World Series, the young Marlins lost for only the second time in 12 games. Managed by ex-Yankee catcher and coach Joe Girardi, they are 20-8 since May 22 after starting the season 11-31.
Wang Chien-ming (王建民, 8-3) allowed four runs and nine hits in seven innings. Kyle Farnsworth yielded Miguel Cabrera's RBI single in the eighth and Mariano Rivera worked the ninth for his 15th save in 17 chances, sealing New York's third straight victory.
Miguel Olivo hit a two-run homer for Florida, which opened the season with baseball's lowest payroll (about US$15 million) to New York's major league high of approximately US$199 million.
Orioles 2, nationals 1
At Baltimore, Rodrigo Lopez allowed one run in seven innings and Chris Ray bounced back from his first blown save of the season to help Baltimore beat Washington 2-1 in interleague play on Friday.
Melvin Mora drove in a run and scored one for the Orioles.
Lopez (5-8) gave up seven hits, struck out seven and walked none. LaTroy Hawkins worked the eighth, retiring Robert Fick with two on and two outs. Ray pitched a perfect ninth to earn his 19th save in 20 chances.
Royce Clayton went 3-for-3 with two doubles for the Nationals, who have lost nine of 11.
John Patterson (1-1), activated from the disabled list before the game after missing 62 days with a strained forearm, allowed one earned run and six hits in six innings, struck out three and walked none.
Tigers 10, Cardinals 6
At Detroit, Brandon Inge and Curtis Granderson homered to lift Detroit, which lost catcher Ivan Rodriguez to a wrist injury.
Albert Pujols went 4-for-4 with his 26th homer and a walk in his second game since coming off the disabled list for St. Louis. He had been sidelined since June 3 with a strained oblique muscle.
Rodriguez was hit with a foul tip. X-rays were negative and his status is day-to-day.
Rookie Justin Verlander (9-4) picked up the win, allowing four runs and seven hits in six innings. He struck out five, but couldn't get past six innings for the fifth straight start.
Fernando Rodney pitched two innings. Todd Jones gave up Pujols' homer in the ninth.
Chris Carpenter (6-4) lost for just the second time in seven starts, allowing a season-high seven runs and nine hits in seven innings.
Mets 6, Blue Jays 1
At Toronto, Tom Glavine became baseball's first 11-game winner and the New York Mets beat Toronto to set a club record with its ninth straight road win.
David Wright and Lastings Milledge homered for the Mets to support the pitching of Glavine (11-2), who allowed one run and eight hits in seven innings to win his ninth consecutive decision.
Duaner Sanchez, a key member of New York's bullpen, left after only two pitches with an apparent arm injury in the eighth inning.
Wright, who homered twice in Thursday's 6-2 victory over Cincinnati, gave New York 4-0 lead in the third with his 18th homer, a shot to left off starter Casey Janssen (5-6).
Alex Rios drove in the lone run for the Blue Jays, who had won their previous three games.
Reds 3, Indians 0
At Cleveland, Aaron Harang pitched his third career shutout and Ryan Freel had a career-high five hits as Cincinnati blanked Cleveland.
Harang (8-5) allowed seven hits, walked two and struck out six. Cincinnati won for the 10th time in its last 12 road games.
Freel went 5-for-5 and is hitting .418 (33-for-79) in his last 22 games.
Cincinnati won for only the fourth time in its last 14 games overall and improved to 2-5 in interleague play.
Red Sox 10, Phillies 2
At Boston, Josh Beckett retired the first 16 batters and Manny Ramirez drove in five runs with two homers and a double to lead Boston over Philadelphia for its seventh straight win.
After rain delayed the start of the game by 43 minutes, Beckett (9-3) worked eight innings, allowing three hits -- including Chase Utley's two-run homer in the seventh -- with eight strikeouts and no walks. Mike Timlin worked the ninth.
Beckett lost his shutout in the seventh on a leadoff double by Jimmy Rollins and Utley's 13th homer of the year with no outs.
Gabe Kapler hit a three-run homer for Boston off Ryan Franklin in the eighth.
Twins 7, Cubs 2
At Minneapolis, Johan Santana threw eight strong innings to help Minnesota trounce the Chicago Cubs and move two games above .500 for the first time this year.
Justin Morneau homered and had three RBIs, and Michael Cuddyer and Luis Castillo each drove in two runs to support Santana (8-4), who struck out six and walked one while giving up five hits. He easily outpitched Cubs rookie Carlos Marmol (1-2) and sent the Twins to their 12th win in 14 games.
Phil Nevin homered early and Chicago scored late on a throwing error by shortstop Jason Bartlett that followed three eighth-inning singles.
Marmol was charged with six hits, seven runs and four walks while striking out three in his third major league start.
Braves 4, Devil Rays 3
At St. Petersburg, Florida, Todd Pratt's RBI grounder in the 11th inning helped Atlanta beat Tampa Bay and end its longest losing streak in 18 years at 10 games.
The victory stopped Atlanta's longest losing streak since they lost the first 10 games of the 1988 season. The win came with a cost, though, as starting pitcher John Smoltz left with a strained right groin in the second inning.
Andruw Jones drove in three runs for the Braves with a two-run homer off Casey Fossum in the first and a sacrifice fly in the eighth that wiped out a 3-2 lead Tampa Bay. The Devil Rays had taken the lead on Carl Crawford's RBI triple in the seventh.
Jorge Sosa (2-9), moved to the bullpen earlier this week, pitched two innings for the victory. Chad Harville (0-1) took the loss.
Fossum allowed two runs and two hits in six innings. He struck out five and retired the last 10 batters he faced.
White Sox 7, Astros 4
At Chicago, Jose Contreras won his team-record 16th straight decision, Scott Podsednik hit his first career grand slam as the Chicago White Sox won a World Series rematch by beating Houston for their eighth straight win.
Eight months after helping the White Sox sweep Houston for their first World Series championship since 1917, Podsednik and Contreras again found themselves in the middle of the action.
Podsednik, who ended Game 2 of the World Series at US Cellular Field with a home run, went deep against Andy Pettitte (6-8) with two out in the fourth to make it 6-0. The four RBIs tied a career high for Podsednik, who also tripled.
Contreras (8-0), who won Game 1 of the Series, left to a standing ovation after allowing an RBI double off the left-field wall by Chris Burke that cut the lead to 6-4 with one out in the seventh.
Brewers 7, Royals 2
At Kansas City, Missouri, Dave Bush pitched effectively into the eighth inning and Geoff Jenkins drove in three runs to lead Milwaukee past Kansas City.
Corey Koskie homered for Milwaukee and Bush (5-6) earned his second victory since May 12. He scattered nine hits, struck out eight and walked none in 7 1-3 innings.
Jenkins, who popped out as a pinch-hitter Wednesday to snap his six-game hitting streak, had a two-run double in the first and a run-scoring single in the third.
Bill Hall, who had two hits and a walk, scored three runs for the Brewers, who have won five of seven to even their record at 37-37. The Royals had their season-best four-game winning streak snapped.
Royals rookie Bobby Keppel (0-4) lasted just 2 1-3 innings in his fifth big league start, giving up five runs.
Rangers 8, Rockies 6
At Denver, Mark Teixeira and Hank Blalock hit back-to-back home runs in the seventh inning and Texas rallied to beat Colorado.
Jeff Francis (5-7) cruised through the first 5 2-3 innings before unraveling. The Rangers strung together five hits and a walk to turn a three-run deficit into a 5-4 lead.
Teixeira started the rally with a double and was singled home by Blalock. Kevin Mench had an RBI single and Gerald Laird added an RBI double to tie the game.
Francis intentionally walked Ian Kinsler and then was relieved by Scott Dohmann, who gave up a single to pinch hitter Jason Botts.
Padres 2, Mariners 1, 10 innings
At San Diego, Brian Giles threw out a runner at the plate in the ninth inning and singled home the winning run in the 10th to give San Diego a victory over Seattle.
The Padres loaded the bases off Julio Mateo (4-1) in the 10th on Rob Bowen's one-out double, a single by Mike Cameron and a walk to Ben Johnson.
Giles then singled up the middle to score Bowen.
Scott Linebrink (5-2) pitched a scoreless inning for the victory, striking out Ichiro Suzuki and pinch-hitter Carl Everett with two runners on.
Athletics 4, Giants 3
At San Francisco, Nick Swisher drove in the go-ahead run with a ninth-inning triple, and Oakland rallied over San Francisco in the opener of the Bay Bridge Series.
Barry Bonds stole second base and scored on Pedro Feliz's single in the eighth to put San Francisco up 3-2, but the A's rallied for two runs to post their 12th win in 14 games.
After Jason Kendall and Bobby Kielty hit one-out singles in the ninth against Armando Benitez (4-1), Mark Kotsay tied it with a sacrifice fly. Swisher then drove home Kielty with a triple to right-center, thrilling the A's fans in the bipartisan sellout crowd at the Giants' waterfront ballpark.
Benitez, who blew his fourth save, again was booed heavily by the home crowd.
Kiko Calero (2-1) got one out in the eighth, and Huston Street pitched the ninth for his 18th save in 22 chances.
Angels 8, Diamondbacks 2
At Phoenix, Mike Napoli hit a long home run, Orlando Cabrera also connected and Ervin Santana won his fourth straight start to lead the Los Angeles over slumping Arizona.
Santana (8-3) worked around six walks, scattering seven hits over six innings. Napoli went 3-for-3 with three RBIs and three runs to help Los Angeles win its second consecutive game after dropping three in a row.
Chad Tracy hit his team-leading 12th homer for the Diamondbacks, who have lost 16 of 18 to fall two games under .500 for the first time since they were 11-13 on April 29.
Arizona has dropped 10 of 11 at home and has been outscored 86-26 in the process.
Los Angeles wasted little time jumping ahead against starter Enrique Gonzalez (2-1).
Dodgers 10, Pirates 4
At Los Angeles, Brett Tomko snapped a string of five consecutive losing starts despite leaving with an injury, and the Los Angeles Dodgers gave former manager Jim Tracy a rude welcome back to Chavez Ravine with a 10-4 rout of the Pittsburgh Pirates.
Jeff Kent hit a three-run homer, Jose Cruz Jr. had a two-run double and J.D. Drew also had two RBIs, helping send the Pirates to their ninth consecutive loss.
It's Tracy's longest drought as a big league manager. The Dodgers had a pair of eight-game losing streaks during his five seasons with them, in May 2004 and June 2005.
Tomko (6-6) won for the first time in six outings since May 15, allowing two hits and no walks through five innings before a strained left oblique muscle ended his outing after 68 pitches.
Jae Seo earned his first major league save, allowing four runs and five hits over the final four innings. The Dodgers built a 10-0 lead before Craig Wilson hit a two-run homer in the seventh, his 11th of the season and fourth in 16 at-bats against Los Angeles. Wilson added an RBI single in the ninth.
Philadelphia Phillies pitcher Brett Myers was arrested on Friday and charged with hitting his wife on a street not far from Fenway Park.
The team's best starter, who was scheduled to pitch today against the Red Sox, pleaded not guilty to assault charges at his arraignment on Friday in Boston Municipal Court, said David Procopio, a spokesman for the Suffolk County District Attorney's office. Myers' next court date is on Aug. 4.
"My lawyers have advised me not to comment on the issue," Myers said before Friday's game with Boston.
Phillies general manager Pat Gillick said the team would not take disciplinary action against Myers until the legal case is resolved.
"It's a very sensitive issue," Gillick said, "and I certainly think that anything that affects our players or affects the team, we take it very seriously. ... I don't know that it's an embarrassment" to the team.
Die-hard fans
Baseball fans will soon have a way to be close to their favorite teams in the afterlife.
Eternal Image Inc, which makes customized caskets and urns, said on Friday it has signed a multiyear licensing agreement with Major League Baseball that allows the company to reproduce the names and logos of all 30 league teams on a new line of caskets and urns.
"Fans incorporate baseball in nearly every aspect of life," Eternal Image Chief Executive Clint Mytych said, adding that the caskets could appeal to "a market that is just waiting for a way to make team loyalty a final statement of a great passion in their lives."
The urns and caskets will go on sale next year at prices from about US$600 to US$3,500, Mytych said.
"Our clubs receive these requests with some frequency. We have really passionate fans," Major League Baseball spokeswoman Susan Goodenow said, adding that the deal gives the sport's governing body control of the tastefulness of the product.
Sports licensing accounted for an estimated US$14.5 billion in retail sales last year in the US, up 1.9 percent from 2004, according to the International Licensing Industry Merchandisers' Association.
The idea of sports teams' logos and colors on caskets is not new as fans of Argentina's most popular soccer team, Boca Juniors, can buy their own coffins decorated in team colors and symbols for US$650 to US$800, a small fortune for many of its working-class followers.
Comments will be moderated. Keep comments relevant to the article. Remarks containing abusive and obscene language, personal attacks of any kind or promotion will be removed and the user banned. Final decision will be at the discretion of the Taipei Times.