World Cup: South Korea rally to edge out Togo
Group G

South Korea 2, Togo 1
South Korea overcame 10-man Togo 2-1 at the World Cup in Germany on Tuesday.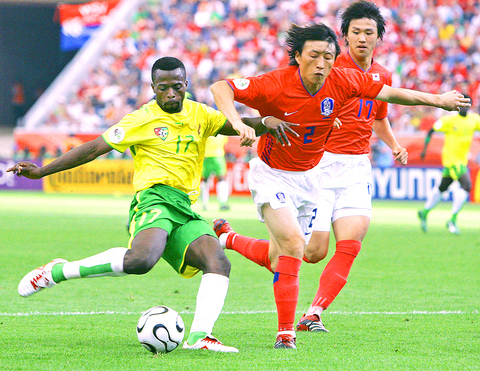 Togo's Mohamed Kader, left, shoots at goal during the Group G match between South Korea and Togo in Frankfurt on Tuesday.
PHOTO: AP
The Koreans now lead Group G after beating debutants Togo, ahead of France and Switzerland who could only draw.
Togo made a strong start on their World Cup debut despite turmoil in their camp including a players' pay dispute which prompted their German coach Otto Pfister to quit last week.
Pfister made a surprise return to his post the day before the Group G match and his team took a first-half lead with an impressive goal from Mohamed Kader Coubadja.
But Togo captain Jean-Paul Yaovi Abalo Dosseh was sent off in the 53rd minute for bringing down Park Ji-sung on the edge of the penalty area and Lee Chun-soo curled the ball home from the resulting free kick.
Ahn Jung-hwan then scored the winning goal in the 72nd minute to give South Korea the victory and its first World Cup victory away from home.
Ahn, who was sacked by his Italian club for scoring the winner against Italy four years ago to send the Koreans into the World Cup semifinals, sent a 25m shot past Togo goalkeeper Kossi Agassa.
Togo said on Tuesday they would decide within 24 hours whether to stick with Pfister as coach.
"I don't know for the moment," the Togolese football association's secretary-general Assogbavi Komlan told reporters when asked who would coach Togo in their next World Cup match against Switzerland on Monday.
Komlan made clear he was not in favor of Pfister.
"I don't like Mr. Pfister," he said. "He is not a good trainer. For me, Pfister is not the coach of Togo."
Comments will be moderated. Keep comments relevant to the article. Remarks containing abusive and obscene language, personal attacks of any kind or promotion will be removed and the user banned. Final decision will be at the discretion of the Taipei Times.