Derek Jeter saves the day
PRO BASEBALL Returning from a two-day absence because of a hand injury, Jeter went 3-for-4 with a walk and two RBIs, the New York Yankees finished with 12 hits
American League
Derek Jeter singled in the tiebreaking run in the ninth inning and the New York Yankees got homers from Andy Phillips and Jason Giambi to defeat the Baltimore Orioles 6-5 Friday.
Returning from a two-day absence because of a hand injury, Jeter went 3-for-4 with a walk and two RBIs. The Yankees finished with 12 hits, giving them nine straight games with at least 10 for the first time since July 1958, according to the Elias Sports Bureau.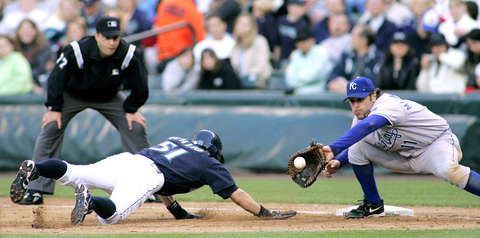 Seattle Mariners' Ichiro Suzuki dives safely back to first base as Kansas City Royals first baseman Doug Meintkiewicz fields the pickoff attempt in the sixth inning of a baseball game in Seattle, Washington, Friday. Seattle defeated Kansas City 4-0.
PHOTO: AP
With the score 5-all, Johnny Damon hit a one-out single in the ninth off Chris Ray (1-1). With two outs, Damon tried to steal second and was called out when tagged by Brian Roberts, but the second baseman was charged with an error when the ball popped from his glove.
Jeter followed with an opposite-field single to right, assuring the Yankees their sixth win in seven games.
Miguel Tejada, Ramon Hernandez and Javy Lopez all had three hits for the Orioles.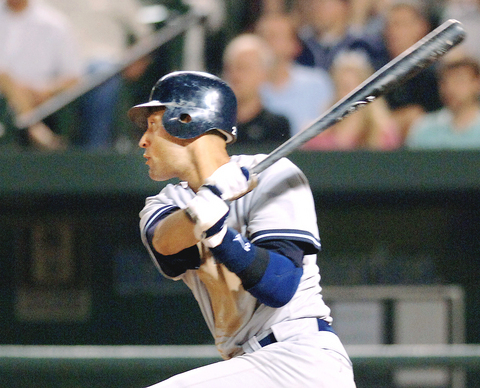 New York Yankees' Derek Jeter follows through on a single, driving in the go-ahead run off Baltimore Orioles' Chris Ray, during the ninth inning in Baltimore, Maryland, Friday. Johnny Damon scored on the play as the Yankees won 6-5.
PHOTO: AP
After Luis Matos hit a RBI double off former Oriole Scott Erickson in the eighth, Kyle Farnsworth (2-3) entered with the bases loaded and one out. Melvin Mora drove in the tying run with a groundout. Farnsworth, who had blown two straight save chances, worked a perfect ninth.
red sox 3, tigers 2
At Detroit, Kevin Youkilis' two-run homer with two outs in the ninth inning pushed the Boston Red Sox past the Detroit Tigers 3-2.
It was the second loss in four days for closer Todd Jones.
With Detroit leading 2-1, Jones (0-3) retired the first two batters in the ninth. But Mike Lowell singled and Youkilis drove an 0-1 pitch into the bullpen in left for his sixth homer.
On Tuesday, Jones allowed five runs in the 11th inning of a 11-6 loss to the New York Yankees.
Rudy Seanez (1-0) got the win with a scoreless inning of relief, and rookie Jonathan Papelbon pitched the bottom of the ninth for his 20th save in as many tries.
Kenny Rogers allowed one run and five hits in seven innings for the Tigers. He struck out a season-high seven and walked one.
Curt Schilling allowed two runs and seven hits in six innings for Boston. He struck out eight without walking a batter.
Angels 10, Indians 3
At Cleveland, Los Angeles rookie Jered Weaver took a two-hit shutout into the seventh inning and won his second start in the majors.
He allowed two runs and four hits in 6 1-3 innings, walked two and struck out eight. Cleveland managed to get just one runner to second base before the seventh when Casey Blake singled and scored on Ben Broussard's double.
Vladimir Guerrero hit a two-run homer off Cleveland starter Jason Johnson (3-5) in the first, Dallas McPherson connected for another one off Guillermo Mota in the sixth and Garret Anderson hit a three-run shot in the seventh.
Blue Jays 13, Devil Rays 4
At St. Petersburg, Florida, Reed Johnson homered twice, including a three-run shot to cap Toronto's nine-run ninth inning.
Johnson, who came in with just one home run this season, had his second career multihomer game.
Frank Catalanotto had a RBI triple to start the ninth-inning outburst, and Aaron Hill added a two-run single to help Toronto stretch its lead to 13-3.
Johnson hit a leadoff homer in the first and Shea Hillenbrand had a solo shot one inning later as the Blue Jays took a 2-1 lead. Hillenbrand had an RBI double and Gregg Zaun a sacrifice fly to put Toronto ahead 4-1 in the sixth.
Casey Janssen (4-3) gave three runs and three hits over 5 1-3 innings.
Russell Branyan homered for Tampa Bay, which has lost nine of 11. Seth McClung (2-7) allowed four runs and five hits in five-plus innings.
Rangers 4, White Sox 3
At Chicago, Gary Matthews Jr. doubled home the go-ahead run off Bobby Jenks in the ninth inning, and Texas handed Chicago its fourth straight loss.
The winning rally started when Chicago's Brandon McCarthy (2-3) walked Ian Kinsler with one out. Jenks, the White Sox's closer, came on and gave up a double to Matthews on the first pitch to lead the Rangers to their sixth win in eight games.
Francisco Cordero (5-3) allowed one hit in a scoreless inning of relief. Akinori Otsuka pitched the ninth for his 10th save.
Matthews and Mark Teixeira each had two hits for the Rangers.
National League
After a miserable May, the Chicago Cubs began the new month on a good note. Even if it took them more than five hours.
Todd Walker's RBI grounder scored Juan Pierre with the go-ahead run in the 14th inning, lifting the Cubs to a 5-4 victory over the St. Louis Cardinals on Friday night.
Closer Ryan Dempster (1-3) worked 2 1-3 innings and Pierre had three hits for the Cubs, who were an abysmal 7-22 in May.
"Rarely do you come in here and win a game like that," manager Dusty Baker said. "Hopefully the worm has turned and this is the way to start off June.
"It was a hard-fought game by both sides."
Scott Rolen had three hits for the Cardinals, including a go-ahead two-run double in the seventh inning after Albert Pujols was walked intentionally to load the bases. But a fielding error by the six-time Gold Glove third baseman allowed the Cubs to score a pair of unearned runs off Jason Isringhausen to tie it in the ninth.
"I'm just thinking field the ball, and my reaction was up, and in retrospect I wish my reaction was down," Rolen said. "I don't have an excuse for a ball that goes between your legs in the ninth inning."
Manager Tony La Russa said he didn't know what happened on the play.
"I didn't ask him," La Russa said. "Errors are part of the game. As many great plays as he makes, that happens in baseball."
Walker's routine bases-loaded grounder went between the Rolen's legs with one out in the ninth, allowing two runs to score to tie it at 4.
"This is one of the weirdest nights I've ever had in baseball," Walker said.
The Cardinals loaded the bases in the 10th and 12th, coming up empty both times with David Eckstein making the last out. He lined out to third off Scott Eyre to end the 10th and bounced out against Dempster (1-3) to end the 12th.
"It was right at him," Eckstein said of the 10th-inning liner. "You've got to find a way to come through, and I didn't."
Light-hitting Yadier Molina matched his career high with four hits for the Cardinals, raising his average to .196. However, Pujols was 1-for-6 for the Cardinals, who are 13-13 against the NL Central after going 51-29 against the division last year.
Pierre doubled off Josh Hancock (1-2), the last St. Louis pitcher and starting his fourth inning, to start the 14th. He advanced on Neifi Perez' sacrifice and Barrett was walked intentionally before Walker, who was 0-for-7, hit a sharp grounder to first to allow Pierre to score without a play.
"He was 0-for-7?" Baker said. "Oh my God, I've never seen anything like that."
Hancock has thrown 29 innings in 21 appearances, although he was a starter with the Reds in 2004.
"I was the last guy in the bullpen so I was going to take it until we won or lost," Hancock said of Pierre's double. "I wasn't tired, I just made one mistake and he hit it."
The Cardinals had a season-high 19 hits, but were hampered by a depleted bench, with Jim Edmonds unavailable due to an abdominal injury that could land him on the 15-day disabled list and Scott Spiezio at home due to illness for the second straight game.
"We played 14 innings and we had several chances to win it," La Russa said. "That isn't why we got beat."
Jacque Jones homered for the third straight game and had three hits for the Cubs, who also got three-hit games from Michael Barrett and Ronny Cedeno. Pierre's RBI single in the fifth was his fifth of the season, but third in five games.
Jones led off the fifth with his 10th homer, and second off Sidney Ponson, and the Cubs added another run in the inning on Pierre's one-out RBI single.
he Cardinals cut the gap to a run in the sixth on a two-out RBI single by So Taguchi, who got the game-winning hit in an 11-inning victory over the Astros on Wednesday.
Aaron Miles' sacrifice fly off Scott Williamson made it 4-2 in the eighth.
Padres 7, pirates 0
Chan Ho Park pitched a six-inning shutout and drove in a pair of runs to lead the San Diego Padres to a 7-0 rain-shortened victory over the Pittsburgh Pirates at PNC Park.
With steady rain sweeping across Pittsburgh, the start of the game was delayed for nearly two hours and then curtailed by three innings, but there was enough time for the Korean to collect his third win of the season.
Park (3-3) scattered five hits over six drizzly innings, while striking out eight with a pair of walks.
The righthander also belted three singles, driving in runs in the second and third innings as the Padres extended their winning streak to three games.
Mike Piazza and Brian Giles each belted two-run homers as the Padres pounded out 15 hits.
The rainy weather only added to a miserable night for Pirates starter Oliver Perez (2-4), who lasted just three innings after being rocked for five runs on nine hits.
Reds 14, astros 3
In Houston, Austin Kearns and Edwin Encarnacion each drove in four runs and David Ross cracked a three-run homer in leading the Cincinnati Reds to a 14-3 rout of the Astros.
Reds starter Aaron Harang (6-4), who received zero run support in his last two outings, had no such worries on Friday as Cincinnati opened the game with a five-run burst then added three in the second and another in the third to surge 9-0 in front.
"We haven't gotten Harang any runs," Reds right fielder Austin Kearns told MLB.com.
"So it was definitely nice to give him a cushion where he could relax."
Waddy Rodriguez (6-3) was scorched by the red-hot Cincinnati bats rocked for eight runs -- seven earned -- on six while walking five and striking out one in just 1 1/3 innings of work.
marlins 4, rockies 2
In Denver, Dontrelle Willis pitched seven solid innings to put an end to a career-high six-game losing streak as the Florida Marlins held on to beat the Colorado Rockies 4-2.
Willis (2-6) allowed just two runs -- both solo homers -- on seven hits with one walk and three strikeouts then turned the mound over to Logan Kensing, who pitched a perfect final two innings to clinch the victory and his first save of the season. Jeremy Hermida had three hits and a solo home run to support Willis's effort. Ryan Spilborghs and Clint Barmes homered in the loss for the Rockies.
Comments will be moderated. Keep comments relevant to the article. Remarks containing abusive and obscene language, personal attacks of any kind or promotion will be removed and the user banned. Final decision will be at the discretion of the Taipei Times.