Hakuho tied for lead as Asashoryu withdraws
Newly promoted ozeki Hakuho defeated lower-ranked fellow Mongolian Kyokutenho yesterday and was tied for the lead at 3-0 on the third day of the Summer Grand Sumo Tournament.
Hakuho, who was promoted to the sport's second highest rank in March, grabbed winless komusubi Kyokutenho with a left-hand grip and forced him out of the ring. With the win, Hakuho remained tied for the lead with ozeki Chiyotaikai, sekiwake Miyabiyama and rank-and-filer Hakurozan.
Hakuho, 21, is the fourth-youngest wrestler in modern sumo history to be promoted to ozeki after Takanohana, Taiho and Kitanoumi, who all went on to become yokozuna legends.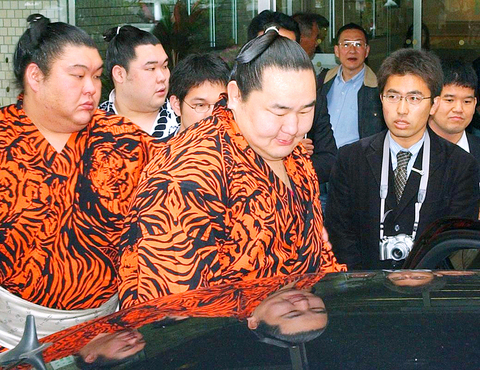 Grand champion Asashoryu, center, leaves a Tokyo hospital after a medical examination yesterday. The mighty Mongolian-born wrestler has decided to pull out of the 15-day Summer Grand Sumo Tournament after hurting his rights arm in his upset loss on Monday to rank-and-filer Wakanosato.
PHOTO: AP
Hakuho made his sumo debut in 2001 and is the second Mongolian to reach the title after grand champion Asashoryu.
Earlier yesterday, yokozuna Asashoryu withdrew from the 15-day tourney after injuring his right elbow in Monday's loss to second-ranked maegashira Wakanosato.
In Monday's bout, Asashoryu hit his elbow when he tumbled into the first row of seats from the raised ring after Wakanosato sidestepped at the ring's edge.
His injury will need about two months of treatment, the Japan Sumo Association said. Asashoryu's opponent on the third day, No. 3 maegashira Aminishiki, won the bout by default.
In other major bouts, ozeki Chiyotaikai improved to 3-0 with a win over third-ranked maegashira Kotoshogiku, who fell to 1-2.
Ozeki Kaio posted his first win when he hauled down Mongolian komusubi Ama near the center of the ring for a 1-2 record. Ama remained 0-3.
Ozeki Tochiazuma posted his second straight loss when Mongolian Asasekiryu prevailed after both exchanged a fierce series of shoves and thrusts. Second-ranked maegashira Asasekiryu improved to 2-1, while Tochiazuma fell to 1-2.
In another upset, ozeki Kotooshu was handed his second straight loss by Wakankosato, who flung down the Bulgarian grappler.
Wakanosato, who defeated Asashoryu on Monday, improved to 2-1, while Kotooshu dropped to 1-2.
Earlier, Estonian Baruto grabbed Hokutoriki's belt with his left hand before throwing the 13th-ranked maegashira down to the dirt. Baruto, making his debut in the elite makuuchi division, improved to 2-1, while Wakanosato remained winless.
Comments will be moderated. Keep comments relevant to the article. Remarks containing abusive and obscene language, personal attacks of any kind or promotion will be removed and the user banned. Final decision will be at the discretion of the Taipei Times.