Duke's Redick sets ACC scoring record
HOOPS Despite having a bad day, J.J. Redick of the Blue Devils finished the game against Temple with 2,590 career points, setting a new Atlantic Coast mark
Not even his worst game of the season kept J.J. Redick from setting another record for No. 1 Duke.
Redick's 11 points were enough to set the ACC career scoring record and Shelden Williams had 23 points and 12 rebounds to lead the Blue Devils to a 74-66 win over Temple on Saturday.
Already holding the NCAA record for career 3-pointers and Duke's career scoring record, the nine points Redick needed to pass Wake Forest's Dickie Hemric for the Atlantic Coast Conference mark seemed like a mere formality.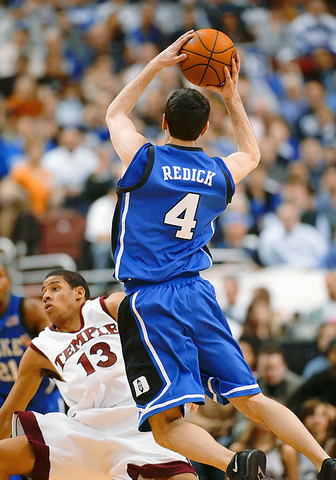 Duke's J.J. Redick shoots as he is fouled by Temple's Mark Tyndale late in the second half in Philadelphia, Saturday.
PHOTO: AP
Instead, it took much longer than anyone expected -- all the way to the final minutes of Duke's (27-1) 10th straight win.
With flashbulbs popping throughout the Wachovia Center and photographers crammed behind the basket, Redick sank two free throws with 1:28 left to pass Hemric's 2,587 points. The sold-out crowd gave him a standing ovation and his teammates patted him on the head as he went to the huddle for a timeout and Redick finished the game with 2,590 career points.
"I was just trying to extend the lead and kind of seal the game, that was what was going through my mind," Redick said. "I knew that I was there, but that wasn't the main focus."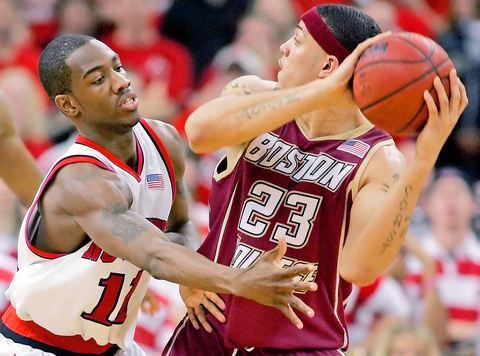 North Carolina State's Gavin Grant, left, looks to steal the ball from Boston College's Sean Marshall at the RBC Center in Raleigh, North Carolina, Saturday.
PHOTO: AP
Redick, the nation's second-leading scorer, hadn't scored fewer than 15 points in a game this season. He went 3-for-10 from the floor and 4-for-6 from the free-throw line.
Temple coach John Chaney -- who was inducted into the Hall of Fame with Duke coach Mike Krzyzewski in 2001 -- called Redick one of the greatest shooters he's ever seen.
"He has no fear," Chaney said. "You can knock him down, he's getting up."
No. 11 Boston College 74,
No. 15 NC St. 72, 2OT
Sean Marshall had plenty to think about besides simply winning the game for No. 11 Boston College. He enjoyed playing to the raucous road crowd which derided his every move, and there was a little matter of avenging an embarrassing loss from earlier in the season.
Oh, and he was coming off one of the worst performances of his career.
"Just a lot of emotions out there, it was an intense game," Marshall said. "I just got into the game, and it went that way."
His three-point play early in the second overtime gave the Eagles the lead for good and they beat No. 15 North Carolina State 74-72 Saturday, giving the Wolfpack their first losing streak of the season.
NC State had two chances in the waning seconds, but BC's Sean Williams swatted away a 3-pointer by Engin Atsur to ruin the first. Then Atsur lofted an off-balanced air ball right before the buzzer.
"Very little came easily for us," NC State coach Herb Sendek said. "Boston College was great defensively, especially down the stretch."
After scoring just five points in a loss to Virginia earlier in the week, Marshall finished with 22 points, including the only three points for BC in the final OT. Craig Smith had 18 points, 14 rebounds and six assists for the Eagles (22-6, 9-5 Atlantic Coast Conference). Ilian Evtimov led the Wolfpack (21-7, 10-5) with 16 points.
Dirk Nowitzki made an 18-foot fadeaway with a second left in overtime and finished with 32 points Saturday, helping the Dallas Mavericks rally from a 24-point second-half deficit to beat the Toronto Raptors 115-113 and stretch their club-record home winning streak to 14 games.
Nowitzki partially blocked Morris Peterson's desperation 3-pointer at the buzzer to seal the Mavericks' fifth straight victory.
Jason Terry added 27 points and Jerry Stackhouse had 22 points and eight assists to help the Mavericks to the second-biggest comeback in their history. Dallas came from 25 down to defeat Denver in 1994.
Chris Bosh had 29 points and 13 rebounds, while Mike James had 25 points and seven assists for the Raptors, who lost their third straight. Charlie Villanueva scored 23 points and Peterson added 20 points for Toronto.
Wizards 110, Knicks 89
At Washington, Gilbert Arenas scored 46 points, including 33 in the first half, and Washington beat New York for its ninth straight home win.
Arenas shot 13-for-16 from the field, including 7-for-10 on 3-pointers, and made 13 of 14 free throws. He finished one point shy of his career high and had four steals and two assists. His seven 3-pointers also were a season high.
The Washington franchise hadn't won nine consecutive home games since 1989, when the Bullets won 15 straight from Feb. 9-April 7. The Wizards, who have won 12 of their last 13 games at home, have won 16 of their last 22 overall.
Stephon Marbury, who was guarding Arenas, left with 55 seconds remaining in the first half and did not return. Marbury, who led the Knicks with 15 points, was bothered by a recurring left shoulder injury that forced him to miss 11 games earlier in the season.
Heat 115, SuperSonics 106
At Miami, Shaquille O'Neal made his first 14 shots, finishing 15-for-16, and Miami extend its winning streak to a season-best five games by beating short-handed Seattle.
O'Neal finished with 31 points despite going 1-for-6 from the line. His only missed field goal attempt came on a short turnaround with 2 minutes left, but he hit the follow for a 111-104 lead.
Dwyane Wade added 26 points for the Heat, who had 35 fast-break points, 84 points in the paint and 51 field goals, all season highs. They've taken advantage of a soft stretch in the schedule, and their next six games are against teams with losing records.
The Sonics, who lost for the second night in a row, dressed only nine players. Bryon Russell and Earl Watson, acquired Thursday from Denver, won't join the team until it returns to Seattle. Nick Collison was in Seattle with his wife, who gave birth Saturday.
Rashard Lewis scored 25 points for Seattle. Ray Allen, uncertain whether he would be able to play after sitting out Friday's loss at Orlando with a stomach ailment, added 21 points.
76ers 108, Bulls 102
At Philadelphia, Allen Iverson scored 38 points, Andre Iguodala had 20 and Kyle Korver 19 to lead Philadelphia over Chicago for its third straight win.
The Sixers (28-27) haven't lost since the All-Star break and moved a game over .500 for the first time since Feb. 4. They also kept a hold on the eighth and final spot in the Eastern Conference playoff standings.
With Philadelphia playing without starters Chris Webber (flu) and Samuel Dalembert (sprained ankle), Iverson helped make up for their absence with his fourth 30-point game in the last six.
Shavilk Randolph had eight points and 13 rebounds for the Sixers, who were much more competitive than the last time they played the Bulls in the final game before the All-Star break. The Sixers had their most lopsided loss of the season that night, 117-84.
Chris Duhon led the Bulls with 17 points, Ben Gordon and Luol Deng each scored 15, and Malik Allen had 13.
Bucks 99, Hawks 89
At Atlanta, Michael Redd scored 21 points and Milwaukee snapped a four-game losing streak.
The Bucks, who had lost seven straight on the road, overcame a 14-point second quarter deficit. Milwaukee (28-28) had fallen under .500 for the first time Friday night in a 116-111 loss to Philadelphia.
Joe Smith, who scored a season-high 32 points Friday night, added 16 and 11 rebounds for the Bucks. T.J. Ford had 14 points.
Al Harrington led Atlanta with 22 points.
Spurs 92, Warriors 75
At San Antonio, Nazr Mohammed had 15 points and 14 rebounds to lead a balanced attack, and San Antonio pulled away early to beat Golden State.
Six Spurs scored in double figures, and Tim Duncan just missed that mark by finishing with a season-low nine points. Duncan shot just 4-for-17 and grabbed 16 rebounds.
Bruce Bowen and Tony Parker each scored 14 and Manu Ginobili had 13 for the Spurs. Rasho Nesterovic and Brent Barry, who hit three 3-pointers, contributed 10 apiece.
Rookie guard Monta Ellis led Golden State with a career-high 16 points. Troy Murphy had 12 points and 12 rebounds, while Derek Fisher scored 11.
Jason Richardson, who came into the game averaging nearly 23 points, had 10 while being defended mostly by Bowen.
Suns 136, Bobcats 121
At Phoenix, Shawn Marion had 31 points and 24 rebounds, Steve Nash had 29 points and eight assists, and Phoenix rallied from a 14-point first-half deficit to beat Charlotte in the highest-scoring regulation game in the NBA this season.
The victory was the Suns' sixth in a row -- the longest current streak in the league -- and their ninth in 10 games, increasing their Pacific Division lead to six games over the Los Angeles Clippers.
Raja Bell added 27 points for the Suns, while Boris Diaw had 20 points and 11 rebounds, and Leandro Barbosa scored 14.
Raymond Felton led the Bobcats with 31 points, the most by an NBA rookie this season. Jumaine Jones scored 22 for Charlotte, Gerald Wallace had 18, Matt Carroll 17, and Primoz Brezec 13. Brevin Knight had 14 assists.
Hornets 100, Jazz 95
At Salt Lake City, Chris Paul had 23 points, including the go-ahead free throws with 25 seconds left, to help New Orleans beat Utah.
The short-handed Hornets got their first win after dropping consecutive games following the All-Star break.
David West, who returned after missing the Hornets' two losses to be with his wife and newborn baby, had a dunk to give New Orleans a 95-93 lead. West finished with 20 points.
Linton Johnson, who averaged 1.2 points in nine games with the New Jersey Nets before a trade brought him to the Hornets, had a career-high 17 points and also grabbed 10 rebounds.
Mehmet Okur led Utah with 26 points and Carlos Boozer had a season-high 15 points in his sixth game back from a hamstring injury.
Comments will be moderated. Keep comments relevant to the article. Remarks containing abusive and obscene language, personal attacks of any kind or promotion will be removed and the user banned. Final decision will be at the discretion of the Taipei Times.