Gretzky cultivates dangerous liaisons
PRO HOCKEY The Great One is seeing his wife, a close associate and others facing serious charges by New Jersey State Police over a sports-betting ring
When Wayne Gretzky glided across the ice setting NHL scoring records, he always seemed to be skating inside a bubble of bulletproof glass. He hardly ever took a big hit from a goon, and when he did, one of his teammates retaliated for him. You didn't rough up the Great One without paying for it.
But over the past few days, Gretzky, the coach and part owner of the Phoenix Coyotes, has been high-sticked harder than he ever was as a player. This time, he and his wife, the actress Janet Jones, are out there together with no enforcers around.
The New Jersey State Police announced an investigation Tuesday into a sports-betting ring said to be connected to organized crime and said to be operated by Rick Tocchet, one of Gretzky's assistants; James Harney, a New Jersey state trooper; and James Ulmer. Jones placed some US$500,000 in bets with the ring in the past six weeks, including US$75,000 on Super Bowl XL, according to the Star-Ledger of Newark.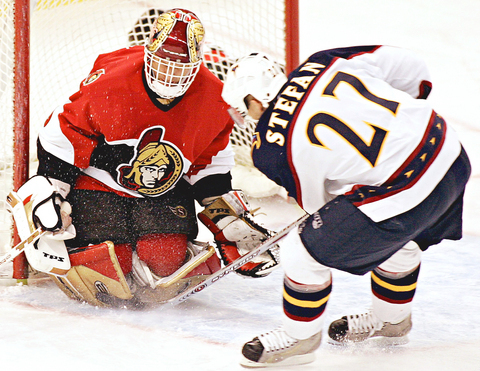 Senators goalie Dominik Hasek makes a save against Patrik Stefan of the Thrashers during the second period in Ottawa on Thursday. Atlanta defeated Ottawa 2-1.
PHOTO: AP
Meeting with reporters in Phoenix on Tuesday night, Gretzky said he had no knowledge of any gambling allegations until Tocchet called him Monday night.
Gretzky said, "The reality is, I'm not involved, I wasn't involved and I'm not going to be involved."
Referring to his wife and Tocchet, he said: "Am I concerned for both of them? Sure, there's concern from me. I'm more worried about them than me. I'm kind of like you guys, I'm trying to figure it out too."
Wayne Gretzky, right, and his wife Janet Gretzky watch the US Open tennis tournament in Flushing Meadows, New York, in September 2003.
PHOTO: EPA
But Thursday, the Star-Ledger, citing law-enforcement sources, reported that state wiretaps had caught Gretzky discussing the multimillion-dollar gambling operation, presumably sometime before the ring was dismantled on Monday.
After Thursday night's game, a 5-1 loss at home to Dallas, Gretzky said he did not participate in the gambling ring and would continue to coach the Coyotes. "First and foremost, I've done nothing wrong -- nothing that has anything along the lines of betting," he said.
During the game, Jones released a statement proclaiming Gretzky's innocence. "At no time did I ever place a wager on my husband's behalf," she said. "Other than the occasional horse race, my husband does not bet on any sports."
And sooner or later, when Gretzky is questioned by the NHL special investigator, Robert Cleary, a former US attorney who handled the Unabomber case, or is subpoenaed by a grand jury, he surely will be asked:
What did he know about the gambling ring and when did he know it? Did he ever place any bets with the ring? If he did not, did his wife place bets for him or was she betting her own money? Was he aware of how much she was betting?
And even if some bets were placed on football or basketball, the most important question would be: Did he and his wife place bets on NHL games, particularly any Coyotes games?
Tocchet has denied being involved in the gambling ring, and he was granted an indefinite leave of absence from the NHL on Wednesday by Commissioner Gary Bettman.
Bettman must also deal quickly with Gretzky's status not only with the Coyotes but as the executive director of Team Canada in the Winter Olympics men's hockey tournament.
Gretzky's connection to the investigation, and the implication of his wife, have escalated the impact of the scandal.
Proof of several hockey players' betting only on football and basketball would slightly smudge the NHL's image, even if connected to Tocchet, who had 440 goals and 2,972 penalty minutes in a respected 18-season career with six teams, including the 1992 Stanley Cup champion Pittsburgh Penguins. Hockey players betting through Tocchet in a gambling ring linked to organized crime would be much more damaging.
But if Gretzky were directly involved, it would be the worst scandal in NHL history, and it might become even more embarrassing.
According to the Record of Hackensack in New Jersey on Thursday, Lieutenant Colonel Frank Rodgers of the State Police said investigators believed that an unidentified NHL team owner had placed bets with the gambling ring, as did more than a dozen players and others connected to NHL teams.
Not that any of this seemed to surprise Arnie Wexler, a renowned counselor on compulsive gambling.
"The percentage of pro athletes who gamble on sports is greater than the percentage of the general public that does," Wexler said in a telephone interview from his Florida home. "Pro athletes have high levels of energy, unreasonable expectation, very competitive personalities, distorted optimism, and high IQs, either street smart or book smart."
Wexler said two NHL players, as well as several baseball and pro football players, had sought his help.
"One of the baseball players had an US$800,000 contract," Wexler said, "but the next year, he owed an Atlantic City casino US$25,000 and couldn't pay it. He finally gave them US$8,000, and they washed the debt."
But the NHL can't just wash away this gambling scandal, not with Gretzky involved, at least through his wife.
And the NHL can't wash away the embarrassment, as the scandal broke, of the site for their general managers' meeting this week: Las Vegas.
Thrashers 2, Senators 1
At Ottawa, Ilya Kovalchuk and Andy Sutton scored power-play goals and Kari Lehtonen made 34 saves, leading the Atlanta Thrashers to a 2-1 win over the Ottawa Senators on Thursday night.
Kovalchuk tied the game late in the second with his 37th goal, which moved him ahead of the New York Rangers' Jaromir Jagr for the league lead. Sutton put Atlanta ahead midway through the third with his third of the season.
Marc Savard and Niclas Havelid combined to set up both power-play goals for Atlanta, which won for the second time in three games following a season-high seven-game losing streak.
Ottawa rookie Andre Meszaros scored an unassisted goal 14:50 into the second to open the scoring, but that was all the Senators could muster despite outshooting the Thrashers 35-22.
Lightning 5, Hurricanes 3
At Tampa, Florida, John Grahame came off the bench early in the second period to make 28 saves, and Fredrik Modin had two goals for Tampa Bay.
Grahame replaced starter Sean Burke, who allowed three goals on eight shots, after Erik Cole's goal put the Hurricanes ahead 3-2 at 4:08 of the second. Grahame stopped 14 shots in the second, including Cole on a penalty shot at 11:39.
Modin gave Tampa Bay its first lead, at 4-3, on a rebound goal from the low slot that appeared to hit Carolina defenseman Aaron Ward with 9:48 left. Ruslan Fedotenko added an empty-net goal in the final minute.
Canadiens 3, Sabres 2, OT
At Buffalo, New York, Alex Kovalev scored twice, including the winner 39 seconds into overtime, lifting the Montreal Canadiens.
Radek Bonk had a short-handed goal for the Canadiens, who appeared unfazed by news that goaltender Jose Theodore tested positive for a banned substance. The Canadiens improved to 3-0-1 in their last four while snapping the Sabres' six-game win streak.
Jason Pominville, who scored with 27 seconds left to force overtime, and Jochen Hecht scored for the Sabres.
Devils 3, Bruins 2, OT
At Boston, Brian Gionta scored his second goal in overtime and Martin Brodeur made 37 saves for the Devils.
New Jersey snapped a a three-game road losing streak when Sergei Brylin circled around the net and connected with a streaking Gionta, who knocked the puck past goalie Tim Thomas while falling to the ice at 2:10 of overtime.
The Devils have beaten Boston all three times they've played this season and all by one goal.
Avalanche 2, Wild 1
At St. Paul, Minnesota, Joe Sakic's goal with 5:44 remaining lifted Colorado over Minnesota.
After Todd White tied the score earlier in the third period, the Wild put pressure on Avalanche goalie David Aebischer and had several prime chances -- as they did early in the game -- to take the lead.
But Aebischer, who has an 11-3-2 record since the new year began and an 8-2 career mark against Minnesota, didn't budge -- helping Colorado improve to 12-3-3 in its last 18 games. He made 33 saves.
Brad Richardson also scored for the Avalanche.
Red Wings 3, Predators 2
At Nashville, Tennessee, Mathieu Schneider scored with 6:31 left and Detroit beat Nashville for a second victory in two nights over its Central Division rival.
Robert Lang and Kris Draper also scoredl.
Scott Hartnell and Paul Kariya scored for Nashville, which dropped to 2-6 since taking two games in two days from the Red Wings in Detroit last month. Yanic Perreault had two assists.
Stars 5, Coyotes 1
At Glendale, Arizona, Niko Kapanen scored three goals, Sergei Zubov added three assists and Dallas beat embattled Phoenix.
Johan Hedberg made 35 saves. Brenden Morrow and Bill Guerin also scored for the surging Stars, who won for the eighth time in nine games (8-0-1).
Geoff Sanderson scored for Phoenix.
Montreal Canadiens goalie Jose Theodore has tested positive for a banned substance in pre-Olympic screening because he was using a hair-growth drug that can be used as a masking agent, the team's doctor said on Thursday.
The test wasn't part of the National Hockey League's new testing program, so he will not be subject to league discipline.
Theodore was not picked for Canada's Olympic team, but was on the preliminary 81-player eligibility list. No punishment was handed down because he is appealing the result to an arbitrator.
Canadiens team doctor David Mulder said at a news conference that Theodore was tested Dec. 12. A month later, the Hockey Canada doctor informed Mulder about Theodore's test result.
Mulder said Theodore tested positive because the goalie has been taking Propecia, a hair-growth stimulant.
Comments will be moderated. Keep comments relevant to the article. Remarks containing abusive and obscene language, personal attacks of any kind or promotion will be removed and the user banned. Final decision will be at the discretion of the Taipei Times.