Brewers edge Reds as Griffey gets 502
MAJOR LEAGUE BASEBALL Cincinnati's Ken Griffey Jr. finally knocked one out of the park this season, but it was Milwaukee that came out on top in the ninth inning
Ken Griffey Jr. hit his first home run this season, No. 502 of his career, but the Milwaukee Brewers beat the Cincinnati Reds 6-5 Saturday on Damian Miller's game-winning single in the ninth inning.
"We manufactured a run," Brewers manager Ned Yost said. "That was a huge win. That's the first time in a while where we battled back, especially from a four-run deficit."
Sean Casey also connected for the Reds, who led 5-1 in the seventh before the Brewers rallied on Junior Spivey's two-run single and Russell Branyan's two-run double.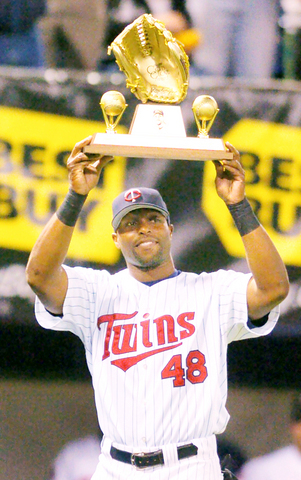 Twins center fielder Torii Hunter holds up his 2004 Gold Glove Award for the fans prior to a game against the LA Angels in Minneapolis, Minnesota on Friday. The award is Hunter's fourth straight. Minnesota won 4-2.
PHOTO: AP
Griffey connected for a two-run shot off reliever Victor Santos in the fourth inning, ending his longest drought to start a season. Griffey did not homer in his first 21 games and 79 at-bats this year.
"I think you guys make more out of it than me," Griffey said. "I haven't done anything different. I just went down and got one today."
Derrick Turnbow (1-1) got two outs for the win, escaping a bases-loaded jam in the ninth. Joe Valentine (0-1) took the loss.
Astros 7, Cubs 5
In Houston, Chicago ace Kerry Wood left early with shoulder pain again, and Jeff Bagwell had three hits to help Houston end its longest losing streak in nearly three years.
Wood departed after only three innings because of tendinitis in his right shoulder, the same problem that cut short his previous start last Sunday. He will be examined by a doctor Monday in Chicago.
Wood, also slowed by shoulder trouble during spring training, was pulled for a pinch-hitter after giving up three runs and four hits. He struck out six and walked two.
Brandon Backe (2-1) pitched seven-plus innings for the win and Brad Ausmus hit a two-run single for the Astros. Houston's six-game losing streak was its longest since May 19-25, 2002.
Cliff Bartosh (0-1) was the loser.
Braves 3, Cardinals 2
In Atlanta, Raul Mondesi homered leading off the bottom of the ninth inning to give Atlanta a victory over St. Louis.
Mondesi, batting just .200 in his first season with the Braves, connected on the second pitch from James Journell (0-1).
New closer Dan Kolb (1-2) earned his first win for Atlanta by working a perfect ninth.
Cardinals starter Matt Morris pitched six strong innings, and Albert Pujols hit an RBI double.
Giants 7, Pirates 6
In Pittsburgh, Deivi Cruz hit a two-run homer, and an error by Pittsburgh center fielder Jason Bay helped key a three-run sixth inning that carried San Francisco past the Pirates.
The Giants won their season-high fourth in a row despite a shaky start from Noah Lowry, who left trailing 4-3 in the fifth.
Tyler Walker (2-0) got the win. Dave Williams (1-3) took the loss.
Nationals 5, Mets 3,
8 innings, rain
In Washington, Tomo Ohka pitched six shutout innings as a late replacement for an ailing Zach Day, and Nick Johnson and Ryan Church homered to lead Washington past slumping New York in a game called before the bottom of the eighth because of rain.
Frank Robinson was ejected by plate umpire Tom Hallion in the eighth after a lengthy discussion during which the Nationals' manager repeatedly pointed to the puddles on the infield.
The ejection drew boos from some who remained from an announced crowd of 40,913, the Nationals' largest since their home opener.
The Mets' fourth straight loss allowed the Nationals to finish their first month in Washington with a 13-11 record. Last year, as the Montreal Expos, the club went 5-20 in April en route to finishing 67-95.
Vinny Castilla put Washington ahead in the first inning with a two-run double off Victor Zambrano (1-3).
Ohka (2-3) allowed just two hits, and Hector Carrasco got one out for his first save. Cliff Floyd hit a three-run double for the Mets, stretching his hitting streak to 16 games.
Dodgers 6, Rockies 2
In Los Angeles, Brad Penny pitched six scoreless innings and rookie Jason Repko hit a three-run homer, leading the Los Angeles over Colorado.
It was Penny's first appearance at Dodger Stadium since last Aug. 8, when he strained a nerve in his right biceps on his 14th pitch against Philadelphia and bounced off the mound in severe pain. This was only his third start since then.
Penny (1-0) threw 95 pitches, giving up four singles and a walk. He struck out four and allowed only one runner past first base against a lineup that included four rookies. He is 4-1 with a 1.74 ERA in eight career starts against the Rockies. Yhency Brazoban earned his seventh save in eight tries.
Joe Kennedy (1-3) allowed six runs -- five earned -- and five hits over 6 1-3 innings in his Dodger Stadium debut, striking out two and walking four while lowering his ERA to 7.94.
In Baltimore, Brian Roberts hit a tiebreaking three-run homer in the eighth inning and the Orioles won 7-5, their seventh straight game.
Miguel Tejada homered for the third consecutive game, a two-run shot off Travis Harper (0-1) that tied the game 4-4 in the seventh. B.J. Surhoff also hit a home run for the Orioles, whose winning streak is their longest since taking eight straight from Aug. 3-10, 2004.
Baltimore rallied from a 4-0 deficit to hand the Devil Rays their sixth straight loss, a season high. Tampa Bay fell to 1-9 on the road.
Athletics 6, Mariners 5,
10 innings
In Oakland, California, Mark Kotsay had five hits, including a game-winning single with two outs in the 10th inning for the Athletics.
Raul Ibanez's RBI single in the ninth off Oakland closer Octavio Dotel sent the game to extra innings. It was Dotel's first blown save in six chances.
Keiichi Yabu (2-0) pitched a scoreless inning for the win. Kotsay finished 5-for-6 and matched an Oakland record for hits, also equaling his career best.
Twins 4, Angels 2
In Minneapolis, Brad Radke earned his second win with 7 1-3 strong innings and Justin Morneau had a homer and a triple as Minnesota beat Los Angeles for its fifth straight win.
Radke (2-3) retired nine in a row at one point and bounced back after giving up 11 hits in each of his previous two starts. He gave up two runs -- one earned -- and seven hits, struck out five and didn't walk a batter.
Kelvim Escobar (0-1) gave up four runs and nine hits in his second start since returning from an elbow injury.
White Sox 4, Tigers 3
In Chicago, Tadahito Iguchi's RBI single capped a three-run seventh Saturday night as the White Sox rallied to end the Tigers' five-game winning streak.
Held to one hit by Jason Johnson (2-2) through five innings, the White Sox loaded the bases in the sixth with no outs and didn't score before rallying for three in the seventh.
Dustin Hermanson pitched the ninth for his third save in as many chances.
Red Sox 9, Rangers 2
In Arlington, Texas, Bronson Arroyo won again while appealing his suspension, and Johnny Damon and Trot Nixon hit consecutive homers to lead Boston over Texas.
Jason Varitek also homered and Arroyo (3-0) worked seven strong innings for his eighth straight victory spanning 14 starts since Aug. 21.
The Red Sox (12-11) snapped a three-game skid.
Comments will be moderated. Keep comments relevant to the article. Remarks containing abusive and obscene language, personal attacks of any kind or promotion will be removed and the user banned. Final decision will be at the discretion of the Taipei Times.