Kiwis and Fiji in Sevens quarterfinals
RUGBY INTERNATIONALS England and South Africa remained in the running for the World Cup Sevens title
England and South Africa kept their title hopes alive with wins yesterday at the rugby World Cup Sevens, as defending champion New Zealand and third-seeded Fiji advanced to the quarterfinals.
No. 6 Australia and No. 8 Scotland also advanced. Australia captured a place in the quarterfinals by holding off Canada 33-14 after squandering a 19-0 lead at the half.
Andrew Turnbull's seventh try of the tournament helped lift Scotland past Tonga 12-7.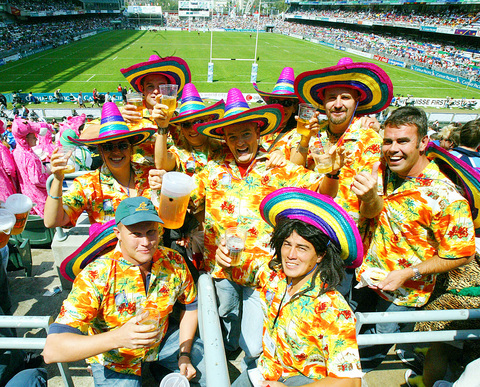 Fans enjoy the Rugby World Cup Sevens in Hong Kong, yesterday. The three-day event features 24 teams.
PHOTO: AFP
England entered the tournament aiming to make history as the first concurrent holder of both the sevens and 15-a-side Rugby World Cups after winning the 15-a-side tournament in 2003, but that dream was put in doubt by a 28-17 loss to unseeded France on Friday night.
No. 2 England recovered as Richard Haughton scored two tries to lead a 41-0 rout of Taiwan, but it continued to struggle with conversions, missing its first four kicks.
France's win Friday was helped by two crucial missed kicks by Simon Amor.
England's chances were boosted by France's 12-14 loss to seventh-seeded Samoa. Trailing 7-14 in the second half, France's Julien Malzieu scored, but Renaud Dulin's kick hit the goal post as the Frenchmen failed to even the score.
Both England and France have logged three wins and one loss.
Fifth-seeded South Africa continued its comeback from a shock loss to Tunisia on Friday, commanding a 24-0 lead against Kenya at halftime in a 36-10 victory. The South Africans are still in contention with a match record of 3-1.
Tunisia also moved to 3-1, trouncing Russia 40-7 as it makes an impressive World Cup Sevens debut. Abess Kherfani and Mohamed Ali Naouali both scored a pair of tries.
Fiji, the 1997 champion, remained unbeaten to secure a quarterfinal spot, dismissing home team Hong Kong 38-0 for its fourth victory.
Sevens great and leading all-time World Cup points scorer Waisale Serevi, who was recalled after a two-year absence, scored his first try of the tournament after focusing his attention on goalkicking.
Tafai Ioasa claimed a hat-trick of tries as five players scored to lead New Zealand over the US 45-0 and into the quarterfinals.
Fourth-seeded Argentina notched its fourth win to stay unbeaten, edging by Uruguay 33-19 on two tries from Lucio Lopez Fleming. But its place in the final eight is still in doubt with one game left and fellow pool members Tunisia and Australia at 3-1.
The World Cup's 24-team field is divided into four pools. The top two finishers in each group are awarded quarterfinal berths.
PARTY TIME
The costumes are out in full force, the beer is flowing freely -- the rugby World Cup Sevens is getting a taste of Hong Kong-style irreverence.
Sevens rugby games are known to be laid-back events, but Hong Kong takes the party atmosphere to a different level.
The best example is Hong Kong Stadium's notorious South Stand -- home to the most fun-spirited fans when the territory hosts its regular tournament on the sevens circuit.
"South Standers," as they are known, can be seen wearing Power Ranger suits, bouncing a ball around, or tossing flying discs, seemingly oblivious to the action on the field. And they haven't toned down for the prestigious World Cup Sevens.
Surgeon Jock Nicolle, 40, turned up with a group of friends dressed in Pink Panther outfits.
"Frankly, I've never watched the rugby," the Hong Kong resident confessed. "That's all irrelevant."
Nicolle, originally from Perth, Scotland, said he and his friends have showed up in the past as the Flintstones, Santa Claus and Robin Hood.
London-based New Zealander Ross Merritt and friends opted for what he called an 1980s New Zealand-style outfit -- brown shorts, cream vests and white hats. The 32-year-old accountant said he's here for "probably the party more than the rugby."
The rugby still matters, he said. "When big teams turn out, everyone still wants to watch the rugby."
The irreverent audience of Hong Kong rugby events has its roots in the humble beginnings of its annual sevens tournament. Launched in 1976, the contest started out as a casual affair at the Hong Kong Football Club.
Brunei-based Briton Chris Bell, 50, played in and attended some of those tournaments. "We partied and played at the same time," the education company head said.
The audience lounged on the grass and picnicked, bringing their own food and drinks, Bell recalled.
Asked if Hong Kong's party-minded fans undermined the seriousness of the World Cup, International Rugby Board spokesman Greg Thomas said the casual atmosphere was part of the sevens identity.
"It is serious. It isn't serious," he told a reporter.
Thomas said he appreciated how all teams enjoyed strong crowd support in Hong Kong, a former British colony with a sizable expatriate population.
Comments will be moderated. Keep comments relevant to the article. Remarks containing abusive and obscene language, personal attacks of any kind or promotion will be removed and the user banned. Final decision will be at the discretion of the Taipei Times.