Wetterich leads after pair of 66s
PRO GOLF TOUR Brett Wetterich played the first 36 holes of the Honda Classic without a bogey to take a one-shot lead over Lee Janzen after two rounds of play
Brett Wetterich shot his second successive 66 for a one-shot lead over two-time US Open champion Lee Janzen after two rounds at the Honda Classic on Friday.
Wetterich played the first 36 holes without a bogey. An 11-year pro who couldn't recall leading a tournament before, he overtook first-round leader Chad Campbell and was at 12-under 132.
Janzen, seeking his first tournament title since 1998, shot an 8-under 64 and surged into contention by making five putts of 15 to 35 feet.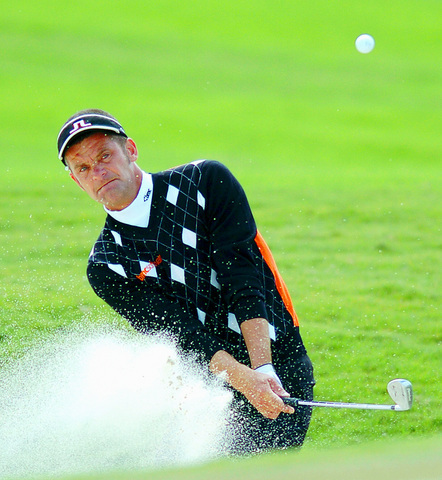 Jesper Parnevik of Sweden blast out of a sand trap during the Honda Classic on Friday in Palm Beach Gardens, Florida.
PHOTO: AP
Campbell bogeyed two of the final four holes to shoot 71. He was at 9 under and tied for third with Robert Damron, who shot 65.
Nick Watney shot 68 for the second consecutive day and was at 8 under.
Vijay Singh, whose six-month reign at No. 1 ended when Tiger Woods supplanted him last week, shot 69 and was 4 under. Singh is the lone player entered among the world's top six.
Also at 4 under were Davis Love III (69), the runner-up the past two years, and 2004 champion Todd Hamilton (71). Padraig Harrington (69) was 2 under.
Kevin Na, at 21 the youngest player on the tour, shot 69 for the second day in a row and was 6 under.
With greens still soft from three inches (7.6 centimeters) of rain on Wednesday, there were again plenty of low scores on the long Country Club at Mirasol course. Hamilton won last year at 12 under, and Wetterich matched that mark with a birdie on his 36th hole.
Relegated to the minor Nationwide Tour in 2003-2004, Wetterich rejoined the US PGA Tour in January and survived a cut for the first time this year two weeks ago at Tucson, Arizona. His best career finish was an eighth-place tie at the Honda in 2002.
Janzen started the second round on the back nine and was just 1 under for the day through 10 holes. But beginning at No. 4, he played five holes in 6 under, including an eagle 3 when he sank a 20-foot putt on No. 5.
After hitting his final tee shot, he added up his score and realized he needed only a par for 29 on the front side. He got it.
Janzen won the US Open in 1993 and 1998 -- his most recent tournament title. He also won the Players Championship in 1995.
Teeing off with Janzen in the final group Saturday, Wetterich will likely play before the largest gallery since he was paired with 15-year-old Michelle Wie at the Sony Open in January.
Briny Baird was disqualified for signing an incorrect scorecard following a first-round 73. A rules officials said Baird became aware on Friday that he had violated a rule regarding preferred lies that was changed last year. Because Baird's scorecard failed to include a two-stroke penalty for each violation, he was disqualified.
Isao Aoki shot a 3-under 69 in difficult scoring conditions to take a one-stroke lead over Mike Reid and Champions Tour rookie Mark Johnson after the first round.
Aoki, the 62-year-old Japanese star who was inducted into the World Golf Hall of Fame last year, had five birdies and two bogeys on the Valencia Country Club course as wind, thick rough, and fast greens sent scores soaring.
"I just hope I can keep it going tomorrow," Aoki said. "It was very difficult controlling the ball today. I'm very happy with five birdies."
Johnson, known as the "Beer Man" because he drove a Budweiser truck for 18 years before turning pro, had an eagle, four birdies and four bogeys.
"I could have done without the bogeys, but overall, I'm happy," he said.
Johnson was beginning to feel more comfortable playing against players he used to watch on television.
"It was a little strange at first," he said. "I would be out on the range hitting balls next to guys like Hale Irwin and other great players. I was in awe of those guys and now I'm competing against them.
"I have set some high goals for myself, but I think they are attainable. I want to finish in the top 30 or the top 50. I know I have the game to do that, I just need to be very consistent."
Reid had an eagle, four birdies and four bogeys.
Richard Green of Australia shot a 4-under 68 to take a one-stroke lead over Swedish golfers Pierre Fulke and Robert Karlsson after the second round.
Ernie Els, the only top-50 ranked player in the field, bounced back with a 69 after opening with a 73. No. 3 ranked Els of South Africa is seven strokes off the lead going into the weekend.
Green had a composite 9-under 135. Fulke shot 70 and Karlsson carded a 67, both in at 136. Thai golfer Thaworn Wiratchant shot a 68 and was a further stroke behind.
Three players were three shots off the lead: Frenchmen Raphael Jacquelin (68) and Gregory Harvet (67), and David Park (70) of Wales.
"You can never write Ernie off," Green said.
"I wouldn't mind betting he puts together a 6-under or something like that tomorrow."
Els, who won last weekend in Dubai, said he would need a "quality weekend" to be in contention at Qatar. A strong finish would allow the South African to close in on No. 1-ranked Tiger Woods and No. 2 Vijay Singh.
Els, reported to be receiving about ?200,000 (US$385,000) to play in Qatar and give a clinic, exchanged angry words on the practice range just before his round with his Belgian sports' psychologist Jos Vanstiphout.
Els said he was receiving criticism from Vanstiphout, instead of encouragement.
"It was crazy. I guess we can put it down to a misunderstanding, Els said.
Comments will be moderated. Keep comments relevant to the article. Remarks containing abusive and obscene language, personal attacks of any kind or promotion will be removed and the user banned. Final decision will be at the discretion of the Taipei Times.