Kidd seems to be happy
AMERICAN BASKETBALL Before Vince Carter came to New Jersey, Nets captain Jason Kidd was saying that he wanted to be traded, but he has now changed his mind
Six months after he asked to be dealt to a championship contender, Jason Kidd said Thursday that he would not seek a trade before the trading deadline on Feb. 24. \n"I'm not going to ask for that," Kidd said at the morning shoot-around. "Besides, there's no guarantee if I'm traded somewhere that I'll win a championship there. So we'll see." \nHours later, Kidd played a season-high 46 minutes in a 94-85 loss to the Rockets in overtime. He finished with 16 points, 10 rebounds, nine assists and a season-high six steals. \nKidd, the Nets' captain, first said that he wanted to be traded last summer, after the team traded power forward Kenyon Martin to the Denver Nuggets, the first in a string of cost-cutting moves. Kidd gave the Nets a list of teams that he wanted to be traded to. \nNow, without offering a public explanation, Kidd has apparently changed his mind, less than a month after the team obtained Carter from the Toronto Raptors. \n"I'm not going to ask for any trade," Kidd said before the game. At 31 years old, he has five years remaining on the six-year, US$103 million contract he signed in the summer of 2003. \nHis comments came just two days after the Nets announced that their leading scorer, Richard Jefferson, was lost for the season with a ruptured ligament in his left elbow. \nSince arriving in New Jersey, Carter has publicly lobbied for Kidd to remain with the team. He has said that even if the Nets fail to make the playoffs this season, their new core of Kidd, Carter and Jefferson would help attract elite free agents in the off-season. \n"Of course you'd like to win," Carter said on Thursday morning, "but it's all about the potential." \nCarter called Kidd "one of the best, if not the best, point guards in the league." \nJefferson signed a six-year, US$72 million contract before this season. Carter is under contract for two more seasons after this one. \nCarter said he had not spoken directly with Kidd about his hope that Kidd would remain with the Nets. \n"I think there's a time and a place for it," Carter said. "It's not one of those things where I would pull him aside. He gets it enough. It's been on TV. He's read it in the papers. He doesn't want to come to practice and hear about that. So when the situation happens, it happens." \nStill, Kidd did not sound completely convinced that the Nets would be able to attract the type of elite player who could fill the void created by trading Martin. \n"You can attract players, but do you have room for them?" Kidd said, referring to the salary cap. "That's the bottom line." \nBut Kidd did appear confident that the combination of Carter, Jefferson, who is known as R.J., and himself would only get better next season. \n"How many games did R.J. and Vince play together?" Kidd asked [the answer is eight]. "Next year will be a time for them to get adjusted to each other's game. And the future's always bright as long as you have talent on your team." \nBob Sura scored a career-high 35 points, including a game-clinching 3-pointer with 1:02 left in overtime Thursday to lead the surging Houston Rockets to a 94-85 victory over the New Jersey Nets. \n"I knew I had to step up," said Sura, playing on a knee that had been drained of fluid Tuesday. "I'm hanging in there. I'll fight through it as best I can and try to help our team." \nJuwan Howard scored eight of his 12 points in the extra period, and a hobbled Tracy McGrady added 18 points for the Rockets, who matched a season-best three-game winning streak and moved two games above .500 (19-17) for the first time this season. \nJason Kidd narrowly missed a triple-double with 16 points, 10 rebounds and nine assists, and Vince Carter had 17 points for the Nets, who dropped their third straight and fifth in the past six games. \n"I feel horrible for our guys," Nets coach Lawrence Frank said. "They gave a tremendous effort ... I was only disappointed with the result." \nKings 107, Jazz 93 \nIn Sacramento, California, Peja Stojakovic scored 27 points, Chris Webber had 23 points and 15 rebounds, and Brad Miller had 21 points on 9-of-10 shooting for the Sacramento's win over Utah. \nThe Kings had just nine players in uniform for the second straight game. \nMike Bibby sat out with a sprained ankle, and the lost Greg Ostertag and Maurice Evans to injuries during a physical game featuring plenty of hard contact and confrontations. \nCarlos Boozer had 15 points, nine rebounds and seven assists for the Jazz, who followed up surprising victories over Phoenix and San Antonio earlier this week with their 10th loss in 12 games. \nLakers 98, Cavaliers 94 \nIn Los Angeles, Kobe Bryant went down hard and did not return, though the Los Angeles Lakers were able to defeat LeBron James and Cleveland without him. \nBryant sustained what the team called a severely sprained right ankle and had to be helped off the court early. X-rays were negative, but Bryant will have an MRI on Friday. \nLamar Odom had 24 points, eight rebounds and seven assists, and Caron Butler added 21 points and 11 rebounds for the Lakers, who won for the third time in four games. \nJames led Cleveland with 28 points, a season-high 13 rebounds and nine assists to just miss his first career triple-double. Jeff McInnis added 20 points and Zydrunas Ilgauskas had 13 points and 15 rebounds for the Cavaliers, who had their four-game winning streak snapped. \nYao Ming of the Houston Rockets leads all players in the Western Conference, while Shaquille O'Neal of the Miami Heat continues to pace all Eastern Conference players after the third returns of votes in the 2005 NBA All-Star balloting program. \nNBA fans from around the globe will be responsible for voting in the starters for the 54th NBA All-Star Game, which will take place in Denver on Sunday, February 20. \nYao leads all players with 1,888,533 votes and is followed at the center position in the Western Conference by Sacramento's Brad Miller (283,562). Minnesota's Kevin Garnett, the 2003-2004 NBA Most Valuable Player, is first among Western Conference forwards with 1,545,544 votes, with San Antonio's Tim Duncan (1,224,697) second. Tracy McGrady of the Rockets (1,469,005) and the Lakers' Kobe Bryant (1,362,409) lead all Western Conference guards. \nIn the Eastern Conference, O'Neal has garnered 1,817,828 votes and is followed at the center position by Detroit's Ben Wallace (560,484). The top two vote-getters at forward are New Jersey's Vince Carter (1,294,646) and Orlando's Grant Hill (1,118,795), while Philadelphia's Allen Iverson (1,154,074) surpassed Cleveland's LeBron James (1,151,688) and are 1-2 at the guard position. \nThe balloting continues through Jan. 23, and the unveiling of the All-Star starters will occur on Feb. 3. Following the completion of fan voting and the starting lineup announcement, the head coaches in each conference will vote to determine the remaining All-Stars in the respective conferences. \nShelden Williams scored 22 points and Daniel Ewing added 17, as fifth-ranked Duke remained unbeaten with an 86-74 victory over North Carolina State at the RBC Center on Thursday. \nLee Melchionni netted 16 points and DeMarcus Nelson finished with 15 for the Blue Devils (12-0, 2-0 ACC), who extended their January winning streak to 15 games. \nCameron Bennerman paced the Wolfpack with 20 points. Julius Hodge chipped in 13 points and six rebounds for North Carolina State (10-5, 0-2), which has dropped four in a row. \nNo. 14 Washington 77, Oregon 56 \nIn Seattle, Washington, Bobby Jones and Tre Simmons each scored 15 points as Washington rolled to an easy win over Oregon 77-56 at the Bank of America Arena. \nNate Robinson and Jamaal Williams each netted 14 points for Washington (14-2, 4-1 Pac-10), which has won 10 of 11. The Huskies ended 30-of-64 from the floor, including 13-of-19 from the line. Simmons added 12 boards in the rout. Bryce Taylor paced the Ducks with 16 points. \nAaron Brooks added nine and Brandon Lincoln chipped in eight for Oregon (10-3, 2-2 Pac-10), which dropped just its second game in its last eight tilts. \nNo. 16 Gonzaga 76, \nLoyola-Marymount 65 \nIn Spokane, Washington, J.P. Batista scored 15 of his team-high 17 points in the first half as Gonzaga knocked off the Loyola-Marymount Lions, 76-65, at the McCarthey Athletic Center. \nBatista was on fire for the Bulldogs (12-3, 2-1 WCC), hitting 7-of-10 from the field and 3-of-4 at the charity stripe. Ronny Turiaf scored nine of his 16 points in the second half. Derek Raivio dropped 13 points, grabbed eight rebounds and dished out eight assists in the Bulldogs' 30th consecutive home win as a ranked team. \nMatthew Knight led the Lions (9-7, 1-2), who haven't won in Spokane since February of 1991, with 20 points and nine rebounds. John Haywood chipped in 13 points while Wes Wardrop added 12. \nNo. 17 Arizona 77, USC 68 \nIn Tucson, Arizona, Chris Rodgers scored a career-best 22 points and Salim Stoudamire added 21 to lead Arizona to a 77-68 win over Southern California at the McKale Center. \nRodgers sparked a late run that solidified the Wildcats' 10th win in 11 outings. Hassan Adams added 15 points for Arizona (13-3, 3-1 Pac-10), which rebounded from its lone conference setback to get back into the winning column. \nNick Young had 18 points for the Trojans (7-9, 0-5), who have dropped five straight and six of seven under interim head coach Jim Saia. \nMemphis 78, No. 22 Marquette 68 \nIn Memphis, Tennessee, Rodney Carney scored a game-high 29 points to lead Memphis to a 78-68 win over Marquette at FedExForum. \nCarney shot 10-of-20, including 3-of-7 from beyond the arc, as the Tigers (9-7, 2-0 C-USA) jumped out to an early lead and never trailed. Darius Washington Jr. added 20 points for Memphis, which has won two straight and three of four. Anthony Rice scored 17 points for Memphis, but had to leave the game early in the second half and did not return after suffering a broken nose. Despite his loss, the Tigers earned their first victory over a ranked team this season (1-4). \nDameon Mason had 20 points for the Golden Eagles (13-2, 1-1), who had a four-game win streak halted and lost for only the second time this season. \nNo. 1 Illinois 90, Penn State 64 \nIn Champaign, Illinois, Luther Head scored a game-high 19 points and Deron Williams chipped in 11 with 12 assists to lead top-ranked Illinois over Penn State 90-64 in a Big Ten battle on Wednesday. \nDee Brown netted 15 points, all on three-pointers, and dished out six assists for the Fighting Illini (17-0, 3-0 Big Ten), who are 17-0 for the first time since the 1988-1989 season. \nPenn State (6-10, 0-3), meanwhile, lost for the eighth time in nine tries. Geary Claxton led the way for the Nittany Lions with 18 points. \nNo. 2 Kansas 71, Iowa St. 66 \nIn Ames, Iowa, Keith Langford totaled 18 points and five assists, while Wayne Simien nearly compiled a double-double in his return to the Kansas lineup, as the second-ranked Jayhawks remained unbeaten with a 71-66 victory over Iowa State at Hilton Coliseum. \nSimien, an All-America candidate who missed the last four games due to a torn tendon in his left thumb, finished with 13 points and nine rebounds to help the Jayhawks (12-0, 2-0 Big 12) record their second road win in a row. \nCurtis Stinson netted 10 of his 18 points in the second half for the Cyclones. \nNo. 3 North Carolina 91, \nNo. 8 Georgia Tech 69 \nIn Chapel Hill, North Carolina, Jawad Williams scored 18 points and Sean May had 12 points and 13 rebounds to lead North Carolina to an easy 91-69 win over ACC rival Georgia Tech at the Smith Center. \nFreshman Marvin Williams added 14 points for the Tar Heels (14-1, 3-0 ACC), who scored their second straight blowout victory against a ranked ACC opponent. North Carolina crushed then No. 22 Maryland on Saturday, 109-75.. \nNo. 9 Kentucky 69, Vanderbilt 54 \nAt Lexington, Kentucky, Rajon Rondo scored a career-high 18 points, while Kelenna Azubuike added 16, as Kentucky defeated Vanderbilt 69-54 at Rupp Arena. \nChuck Hayes collected 14 points and Patrick Sparks added 11 for Kentucky (11-2, 2-0 SEC), which has won seven of eight. \nCorey Smith paced Vanderbilt with 16 points. Shan Foster added nine for the Commodores (11-5, 2-1), who had their seven game winning streak snapped and in the process suffered their first conference loss of the season. \nTexas A&M 74, No. 10 Texas 63 \nAt College Station, Texas, Acie Law poured in a game-high 24 points to lead the Texas A&M Aggies to a 74-63 upset victory over the Texas Longhorns in the Lone Star Showdown at Reed Arena. \nLaw was on fire for the Aggies (12-1, 1-1 Big 12), hitting 10-of-13 from the field and 3-of-5 from beyond the arc. He also tied for the team-high with six assists. Joseph Jones had a big game, scoring 13 points while grabbing 10 rebounds, while Bobby Leach added 10 points and six assists in the win. \nTennessee 64, \nNo. 11 Mississippi St. 63 \nAt Knoxville, Tennessee, Scooter McFadgon scored a team-high 14 points, Brandon Crump added 12 and Tennessee held on to upset Mississippi State 64-63 in a wild affair at the Thompson-Boling Arena. \nChris Lofton and Andre Patterson each netted eight points for Tennessee (9-6, 2-1 SEC), which ended the nation's longest road winning streak at 16 games. \nLawrence Roberts paced the Bulldogs with 22 points, but missed a potential game-winning turn-around jumper as time expired.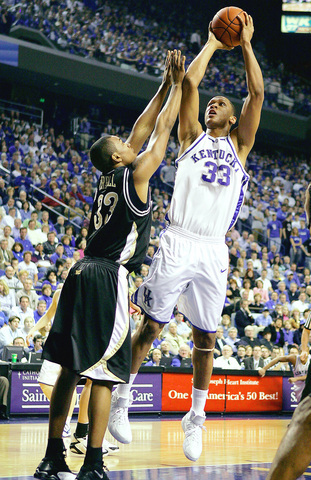 Randolph Morris, right, of the Kentucky Wildcats shoots against Julian Terrell of the Vanderbilt Commodores at Rupp Arena in Lexington, Kentucky on Wednesday.
PHOTO: AFP
Comments will be moderated. Keep comments relevant to the article. Remarks containing abusive and obscene language, personal attacks of any kind or promotion will be removed and the user banned. Final decision will be at the discretion of the Taipei Times.