Richard Jefferson bitter about injury
AMERICAN BASKETBALL Nets president Rod Thorn said that Jefferson would not be ready to play again until the second half of May after he severely injured his wrist
New Jersey Nets leading scorer Richard Jefferson will miss the rest of the regular season with a wrist injury that he claims resulted from a dirty play by Detroit guard Chauncey Billups. \nAn MRI scan on Monday night revealed Jefferson ruptured a ligament in his left wrist. Surgery is expected within the next two weeks. \nNets president Rod Thorn said that Jefferson would not be ready to play again until the second half of May, effectively ending his season. However, the 24-year-old Jefferson hoped to be ready for the postseason if the three-time defending Atlantic Division champions found a way to get that far without him. \nThe extremely durable Jefferson insisted the injury happened when Billups undercut him on a layup attempt in Detroit on Dec. 27, causing him to fall on his wrist. It was the same one he hurt earlier in the month against the Knicks. \nBillups was called for a flagrant foul on the play. \nAfter initially calling the play questionable, Jefferson blamed Billups, who was at the Continental Airlines Arena for a game between the Nets and Pistons on Tuesday night. \n"I wouldn't say it was a cheap shot," Jefferson said. "I don't think it was retaliation. I don't feel it was a cheap shot. Was it a bad play? Was it a dirty play? Yes. Is Chauncey Billups a dirty player? By no means, I don't think so." \nJefferson said he didn't complain about the play when it happened, and he's not complaining about it now. \n"But look what happened from that play," said the athletic swingman, who had only missed five games in his first three-plus seasons. \nBillups said there was nothing malicious about the play, noting he has only gotten one or two flagrant fouls in his seven years in the league. \n"You can look at the play, I remember it vividly," Billups said after the Pistons beat the Nets 89-80 on Tuesday night. "I was running down, I couldn't stop. We were both sprinting. I couldn't stop. I felt like when he got the ball he jumped back into me. Everybody knows I don't play like that. I'm glad he knows I don't play like that. There would be no reason for me to do that on one play." \nPistons coach Larry Brown felt bad that Jefferson was hurt. \n"I feel bad for the Nets, but I am not going to comment on that," he said of the accusation against Billups. \nNets coach Lawrence Frank refused to comment on the play, saying he was more concerned with Jefferson. \nJefferson averaged team-highs of 22.2 points, 7.3 rebounds and 41.1 minutes. He ranked 11th in the NBA in scoring and fifth in minutes, and had a career-high 42 points against Cleveland on Dec. 22. \n"This is a tough blow," Thorn said. "Richard, in my mind, he's an All-Star player this year. You could depend on him as a guy who has played great for us. He's a guy who plays hurt and cares about his teammates. He's the kind of teammate everyone wants. It's a tough loss." \nThe injury is the latest setback in a season in which New Jersey probably will miss the playoffs for the first time in four years. \n"If you talk to our players, if you talk to our coach and obviously if you talk to me, we are not going to give up," Thorn said. "We are going to keep trying and try to get some pieces that will help us." \nJefferson, who signed a contract extension this summer worth US$78 million over the next six years, was acquired in a draft-day trade with Houston in 2001. \nJefferson, who said he has lost some function in his left hand in recent weeks, felt that the Nets could make the playoffs if Kidd and Carter pick up their games and Thorn can find a big man for the team. \nAmare Stoudemire scored 34 points Tuesday as the Phoenix Suns won their seventh straight, and 18th in 19 games, 122-107 over the Miami Heat in a matchup of the teams with the best record in the West and East. \nAll five Suns starters hit double figures -- in the first half -- and Phoenix improved its NBA-best record to 31-4, the sixth-best start for a team with four losses in league history. Four of the five ahead of them went on to win the NBA title. \n"I did a little bit of everything," Stoudemire said. "I tried to mix it up on him, and use my jumper. I figured he was going to back up a little bit and let me shoot, and when he came out, I took it to the rack and tried to get fouls or make plays for my teammates." \nShawn Marion added 26 points and 11 rebounds, Steve Nash 16 points and 16 assists and Joe Johnson 24 points and nine rebounds for the Suns, who topped 120 points for the second game in a row and seventh time this season. \n"I don't know that I've seen a quicker team in my 10 years in the league," Miami coach Stan Van Gundy said. "They've got great athletes at every position." \nShaquille O'Neal had 34 points and 11 rebounds, but the Heat -- beaten at Seattle on Sunday -- lost two in a row for only the second time this season. The first was early November, the fifth and sixth games of the season. Dwyane Wade added 23 points for Miami. \nPistons 89, Nets 80 \nIn east Rutherford, New Jersey, Rasheed Wallace had 19 points and 13 rebounds for Detroit, and New Jersey lost in its first game since learning injured star Richard Jefferson will miss the rest of the regular season. \nJefferson, dressed in all black, watched from the bench as the Nets got 19 points from Vince Carter, 16 from Travis Best and 13 from Jason Kidd while losing for the fourth time in five games. \nEarlier in the day, the Nets announced that Jefferson would undergo surgery to repair a torn ligament in his left wrist that he originally injured when he was flagrantly fouled last month by Detroit's Chauncey Billups. Jefferson will wear a cast for two months and he said he hoped to return for the playoffs -- if the Nets qualify. \nRichard Hamilton scored 18 points for the Pistons, who extended their road winning streak to six games. \nCavaliers 100, Bobcats 98, OT \nIn Cleveland, Ohio, LeBron James scored 29 points and helped Cleveland rally from a 10-point deficit in the fourth quarter to beat Charlotte for its fifth straight win. \nBrevin Knight tied a career high with 20 assists for the Bobcats, who lost for the eighth time in nine games. Gerald Wallace and Primoz Brezec led Charlotte with 18 points apiece. \nDrew Gooden scored nine of Cleveland's final 15 points, including seven in overtime. He finished with 17 and Zydrunas Ilgauskas added 22 for the Cavaliers, who improved to 14-3 at home. \nHornets 88, Knicks 82 \nIn New York, Baron Davis had 21 points and 10 assists to give the New Orleans victory over New York and its first winning streak of the season. \nLee Nailon had 18 points, and P.J. Brown and Dan Dickau added 17 points each for the Hornets, who looked nothing like the NBA's worst team down the stretch as they held New York's comeback attempt at bay to end a 15-game road losing skid. \nThe Hornets (4-29) have their first winning streak in nearly a year. They snapped their 10-game losing streak on Saturday with a home victory over Sacramento. \nAllan Houston led the Knicks with 17 points. \nHawks 103, Bucks 80 \nIn Atlanta, Georgia, Tyronn Lue scored a season-high 18 points to lead seven Atlanta players in double figures as the Hawks beat Milwaukee and snapped a six-game losing streak. \nAl Harrington had 14 points, including 12 in the first quarter, for Atlanta. Predrag Drobnjak added 13, while Jason Collier and Josh Childress each scored 12. \nThe Bucks were without starting center Dan Gadzuric for most of the game. He played only six minutes before he was taken to an area hospital, complaining of stomach pain. \nMike James led Milwaukee with 14 points. \nPacers 86, Grizzlies 85 \nIn Memphis, Tennessee, Jermaine O'Neal capped a 35-point night by making two free throws with 4.6 seconds left to help Indiana snap Memphis' six-game winning streak. \nO'Neal, who was 12-of-23 from the field, grabbed 12 rebounds. Jamaal Tinsley added 19 points and six assists for the Pacers, while Reggie Miller finished with 10 points. \nGasol had 31 points and four blocks for Memphis, and Bonzi Wells added 20 points. \nGasol recorded the 5,000th point and 500th block of his career in just 275 games. Only nine players have reached the milestones faster. \nKings 109, Nuggets 100 \nIn Sacramento, California, Peja Stojakovic scored 27 points, Mike Bibby added 18 and the short-handed Kings extended Denver's losing streak in Sacramento to 17 games. \nRookie Kevin Martin scored 11 of his career-high 17 points in the second quarter for the Kings, who dressed just nine players but held off several late charges by the Nuggets. Chris Webber sat out with a sore left knee, and the Kings also were without new acquisitions Cuttino Mobley and Michael Bradley following Monday's trade with Orlando for Doug Christie. \nAndre Miller had 16 points and 11 assists for the Nuggets, who lost their fifth straight and 11th in 12 games. The Nuggets dropped to 1-5 under interim coach Michael Cooper. \nSuperSonics 104, Clippers 99 \nIn Seattle, Washington, Ray Allen scored 31 points and Vladimir Radmanovic had nine of his 18 points in the fourth quarter, helping Seattle deal Los Angeles its second straight loss. \nRashard Lewis, Seattle's second-leading scorer, injured his right thigh in the first quarter and was limited to 24 minutes and nine points. The Sonics got five blocked shots from Jerome James and 11 assists from Luke Ridnour. \nCorey Maggette led the Clippers with 20 points. Elton Brand added 17 points and 11 rebounds. \nThe Clippers beat the Sonics by 30 points in the season opener Nov. 3 at Staples Center. \nFrancisco Garcia scored 15 of his 25 points in the first half as No. 19 Louisville built a big lead and cruised to a 107-62 victory over Southern Mississippi at Reed Green Coliseum. Ellis Myles scored 20 points and Larry O'Bannon contributed 16 for the Cardinals (13-3, 2-1 Conference USA). \nRashaad Carruth scored 25 points to lead the Golden Eagles (9-6, 0-3). \nLouisville increased its 33-point halftime lead to 77-37 shortly after the break and the outcome was never in question. Taquan Dean hit a pair of three-pointers and O'Bannon added another before a conventional three-point play by Garcia gave the Cardinals a 40-point lead with 15 minutes left. \nA dunk by Myles off a steal by Juan Diego Palacios had the Cardinals in front, 98-50, with 5:35 left. Myles left the game with a foot injury after the play. \nCarruth scored five early points as the Eagles jumped out to a 7-3 lead, but Louisville responded by scoring 19 of the game's next 20 points to take control of the contest. \nPalacios hit a jumper to start the run and Dean hit a three-pointer to give the Cardinals an 8-7 lead. Perrin Johnson scored to cap the burst and Louisville led, 22-8, with 14 minutes left before the break. \nThe Cardinals continued to add to their lead. Brandon Jenkins' three-pointer stretched the lead to 16 and a layup by Lorrenzo Wade off a turnover seconds later gave Louisville a commanding 47-17 advantage with just over six minutes left before halftime. \nThe lead grew to 60-25 after two free throws by O'Bannon with 47.5 seconds left before the break and the Cardinals went to the locker room with a commanding 60-27 advantage. \nGarcia was 4-of-6 from the field and 5-of-5 from the free throw line in the opening half. \nNo. 4 Wake Forest 81, Maryland 66 \nJustin Gray scored 25 points to lead No. 4 Wake Forest to an 81-66 victory over the Maryland Terrapins at the Lawrence Joel Coliseum on Tuesday. \nGray was 9-of-15 from the field, including 6-of-9 from three-point range. Chris Paul contributed 14 points for the Demon Deacons (14-1, 3-0 Atlantic Coast Conference), who have won nine in a row since their only loss of the season, a road setback against now top-ranked Illinois. \nNo. 6 Oklahoma St. 78, Missouri 68 \nIn Stillwater, Oklahoma, Joey Graham poured in 27 points and Oklahoma State pulled away late in the second half to earn a hard-fought 78-68 victory over Big 12 rival Missouri at Gallagher-Iba Arena. \nJohn Lucas netted 18 points and Stephen Graham added 13 to help Cowboys head coach Eddie Sutton tie his mentor, the legendary Henry Iba, for seventh place in NCAA history with his 767th career win. Oklahoma State (12-1, 2-0 Big 12) held off the Tigers by making an outstanding 26-of-29 free throw attempts, with Joey Graham sinking all 13 of his tries from the charity stripe. The Cowboys won for the third straight time. \nNo. 23 Alabama 64, Arkansas 61 \nIn Fayetteville, Arkansas, Earnest Shelton scored a game-high 18 points as the Alabama Crimson Tide beat the Arkansas Razorbacks, 64-61, to give head coach Mark Gottfried his 200th career victory. \nIn his seventh season at Alabama, Gottfried has guided the Tide to a 132-78 record after coaching three seasons at Murray State, where he went 68-24. \nNo. 7 Syracuse 70, Notre Dame 61 \nGerry McNamara scored 22 points as Syracuse recorded its ninth straight victory with a 70-61 decision over Big East rival Notre Dame at the Joyce Center on Monday. \nJosh Pace added 16 points, six of which came during a late 14-0 Orange run which erased a six-point deficit, to help head coach Jim Boeheim earn his 300th Big East win. Hakim Warrick finished with 12 points for the Orange (16-1, 3-0 Big East), whose lone setback this year was a 74-60 defeat to No. 6 Oklahoma State in early December. \nTorin Francis compiled 15 points and nine rebounds for the Irish (10-3, 2-1), who saw a six-game win streak come to an end. Colin Falls and Chris Quinn chipped in 14 and 13 points, respectively, in the loss. \nNo. 25 Oklahoma 77, \nNo. 12 Connecticut 65 \nIn Norman, Oklahoma, Taj Gray chalked up 23 points and Lawrence McKenzie added 18 to lead five Oklahoma players in double figures as the Sooners upset Connecticut, 77-65, in an intense non-conference contest. \nGray finished 9-of-17 from the field and snatched 10 rebounds while McKenzie nailed 5-of-7 from three-point distance, as Oklahoma extended its winning streak to six games. Also scoring in double figures for the Sooners (12-2) were Kevin Bookout with 11 points and Terrell Everett and Drew Lavender adding 10 points apiece. \nMarcus Williams led the Huskies with 16 points.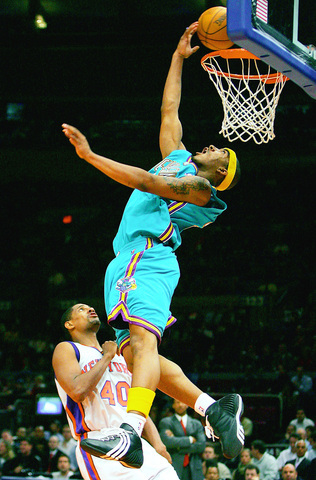 J.R. Smith, right, of the Hornets attempts a reverse dunk as Kurt Thomas of the Knicks watches in New York on Tuesday.
PHOTO: AFP
Comments will be moderated. Keep comments relevant to the article. Remarks containing abusive and obscene language, personal attacks of any kind or promotion will be removed and the user banned. Final decision will be at the discretion of the Taipei Times.