Spurs hold back Garnett for victory
AMERICAN BASKETBALL After trailing badly in the first half, San Antonio put the clamps on Minnesota center Kevin Garnett, who only scored once in the second half
Manu Ginobili scored 22 points, and the San Antonio Spurs held Kevin Garnett to just one second-half basket in their 96-82 victory over the Minnesota Timberwolves on Thursday night. \nThe Spurs, who trailed by double digits in the first half, made 11 of their 18 shots in the fourth quarter to break open a tie game. Minnesota, which shot 53 percent in the first half, made only three of 14 shots in the period. \nTim Duncan added 19 points and 10 rebounds for San Antonio, and Tony Parker also scored 19 points. \nWally Szczerbiak had 22 for Minnesota, which dropped its fourth straight road game. Garnett scored 15 points on 4-for-16 shooting and had 10 rebounds, while Troy Hudson added 14 points. Michael Olowokandi had 12 rebounds. \nSuns 109, Grizzlies 102 \nIn Phoenix, Amare Stoudemire had 30 points, 11 rebounds and five steals -- and Shawn Marion scored 29 points -- to lead the Suns to their season-best 10th consecutive victory with a 109-102 win over the Grizzlies. \nThe Suns -- winners of nine in a row earlier this season -- improved to 23-3, the NBA's best start since Michael Jordan and the Chicago Bulls went 41-3 in 1995-1996. \nSteve Nash had 17 points and 14 assists, and sealed the victory with four free throws in the last 23.1 seconds. \nMike Miller scored 19 of his 22 points in the first half for Memphis, and Jason Williams had 19 of his 21 in the second. Paul Gasol added 19 points for the Grizzlies. \nHeat 109, Kings 107 \nIn Sacramento, California, Damon Jones hit a 3-pointer with 23.4 seconds left, and Shaquille O'Neal blocked Mike Bibby's layup attempt in the closing seconds of Miami's 10th straight victory. \nJones' dramatic shot and O'Neal's defense capped an impressive late rally in Miami's final warmup before Shaq's much-hyped return to Los Angeles to face Kobe Bryant and the Lakers on Saturday. \nO'Neal, who had 25 points and 10 rebounds despite a bruised left calf, missed two free throws with 10.9 seconds left, but blocked Bibby's ensuing drive to the hoop with about 2 seconds to play. \nChris Webber's 3-pointer at the buzzer was well short, and Miami extended its longest winning streak since late in the 1997-1998 season. The Heat also became just the third Eastern Conference team to win in Sacramento in 53 games over the last four seasons. \nWebber scored 26 points for the short-handed Kings. \nIndiana Pacers forward Jermaine O'Neal can play against Detroit on Christmas after a federal judge upheld an arbitrator's decision to reduce the National Basketball Association All-Star forward's suspension for fighting with fans amid a brawl that erupted during a Nov. 19 game between the Pacers and Detroit Pistons. \nJudge George B. Daniels ruled from the bench Thursday after listening to arguments by lawyers for the NBA and the players' union and watching a brief videotape of O'Neal punching a fan during the brawl. \nThe union asked Daniels to temporarily uphold an arbitrator's decision Wednesday to reduce 10 games from a 25-game suspension imposed on O'Neal by NBA commissioner David Stern. Ron Artest's season-long suspension and the suspensions of two other Indiana players were upheld. \n"We're delighted," union attorney Jeffrey Kessler said. He called the ruling "a great Christmas present for Jermaine O'Neal and all Pacers fans. It's the fair and right thing to do." \nO'Neal, a three-time All-Star and eight-year NBA veteran, is now eligible to return Saturday when the Pacers host the Pistons in the teams' first matchup since one of the most violent melees in NBA history. \nEven before the suspension reduction was upheld, Indiana coach Rick Carlisle said O'Neal would start against Detroit. \n"I think it will be great for Jermaine to be back on the floor," Carlisle said. "That will be important to him and certainly to our fans. When you're without your best player for a long time, it's tough." \nJeffrey Mishkin, a lawyer for the league, suggested that upholding the arbitrator's ruling would threaten the Stern's authority to control conduct during a game and, ultimately, the league's image. \n"The purpose is to give the commissioner authority over the game," Mishkin said during arguments Thursday. \nHe said the commissioner needed to protect his powers and show "that we have our house in order." \nMishkin declined to comment after the ruling. \nThe league did not participate in the arbitration, contending the collective bargaining agreement between the league and the union leaves punishment for on-the-court behavior solely in Stern's hands. \nCarl Krauser scored a career-high 31 points with six rebounds and five assists, and No. 10 Pittsburgh remained unbeaten with a 69-60 victory over Richmond at Petersen Events Center on Thursday. \nChris Taft added 11 points and Ronald Ramon had 10 for the Panthers (9-0), who won despite being outshot 45 percent to 41 percent. \nThey made up for it their poor shooting percentage by hitting two more three-pointers than Richmond and by making 11 more free throws, although they were just 16-of-28 from the line. \nJermaine Bucknor scored 13 points to lead the Spiders (4-4), who have lost three of their last four. Kevin Steenberge and Patrick O'Malley added 12 points apiece in the loss, and T.J. Paterick scored 10. \nPittsburgh led by as many as 10 points in the first half after a 10-2 run made it 29-19 with 6:06 remaining before the break. Krauser bookended the spurt with a pair of three-pointers and scored eight of the 10 points. \nBut Richmond scored 12 of the final 16 points in the first half to pull within 33-31 at intermission. The Spiders outshot Pittsburgh 54 percent to 50 in the half. \nThe Panthers took control of the game with an 11-3 run in the second half, turning a one-point lead into an nine-point cushion. Ramon sparked the rally with a three-pointer, Krauser added two more threes and Chevon Troutman's tip-in made it 47-38 with 13:24 remaining. \nPittsburgh led by as many as 13 points at 57-44. Richmond climbed to within four points when Steenberge's free throw made it 62-58 with 3:12 left, but that was as close as the Spiders would get. \nNo. 20 George Washington 81, \nFlorida International 71 \nAt Miami, Florida, T.J. Thompson scored a game-high 25 points to lead George Washington to an 81-71 win over Florida International at Golden Panther Arena. \nThompson shot 8-of-11 from the field, including 6-of-8 from three-point range. The Colonials (8-1) have won eight straight after losing their season opener. \nJ.R. Pinnock and Mike Hall added 14 points apiece for George Washington, which has never lost in three meetings versus FIU. \nIvan Almonte had 22 points for the Golden Panthers (6-5), who have dropped two straight after winning two in a row. \nNo. 24 Maryland 82, American 61 \nAt College Park, Maryland, John Gilchrist poured in 20 points to lead the Maryland Terrapins to their third straight victory, an 82-61 decision over the pesky American Eagles at Comcast Center. \nNik Caner-Medley added 16 as the Terps (7-2) used an 18-1 run in the second half to take command. The Terrapins were coming off a overtime victory over Florida State in their Atlantic Coast Conference opener. \nJason Thomas led the way for American (5-3) with 14 points. The Eagles had a five-game win streak halted with the loss. \nAt Charlottesville, Virginia, J.R. Reynolds' layup with one second remaining in overtime lifted 25th-ranked Virginia to a thrilling 79-77 victory over Loyola-Marymount at University Hall. \nElton Brown had 25 points and eight rebounds for the Cavaliers (8-1), who have won two straight and improved to 6-0 at home this season. \nMatthew Knight posted game-highs of 27 points and 10 boards to nearly lead the Lions to the upset. Dustin Brown netted 15 points on 7-of-10 shooting for LMU (7-3), which saw a two-game win streak halted. \nNo. 1 Illinois 70, Missouri 64 \nLuther Head scored 20 points with seven rebounds, and Illinois escaped with a 70-64 victory over Missouri at Savvis Center on Wednesday night. \nDeron Williams collected 19 points and five assists for the Fighting Illini (11-0), who improved to 16-8 against Missouri in the annual Braggin' Rights game. Roger Powell added 14 points and Dee Brown had 11 in the win. \nLinas Kleiza poured in 25 points to lead the Tigers (6-5), who had a two-game winning streak snapped. \nNo. 2 Kansas 73, UW-Milwaukee 62 \nIn Kansas City, Missouri, Keith Langford scored 21 points and grabbed seven rebounds to lead Kansas past Wisconsin-Milwaukee 73-62 at Kemper Arena. \nAlex Galindo chipped in 14 points and six boards for the Jayhawks (8-0), who are off to their best start since the 1997-1998 campaign. \nEd McCants paced the Panthers with 26 points. He was 10-of-18 from the field, including 6-of-12 from beyond the arc. Adrian Tigert finished with 13 points and nine boards for Wisconsin-Milwaukee (6-3), which has dropped three in a row after beginning the season with six straight wins. \nNo. 5 Wake Forest 81, \nNew Mexico 64 \nIn Albuquerque, New Mexico, Chris Paul scored a game-high 23 points to lead fifth-ranked Wake Forest to an 81-64 win over New Mexico at The Pit. \nJustin Gray finished with 17 points for the Demon Deacons (10-1), who hit 10 three-pointers to earn their fifth straight victory. Taron Downey contributed 16 points in the win. \nDanny Granger scored 24 points for the Lobos (10-2), who had their six-game winning streak snapped. Alfred Neale added 13 points. \nNo. 7 Syracuse 88, Rice 72 \nIn Syracuse, New York, Josh Pace scored 22 points to lead Syracuse to an 88-72 win over Rice at the Carrier Dome. \nGerry McNamara and Hakim Warrick both contributed 19 points for the Orange (11-1), who posted their fourth straight victory. \nMichael Harris finished with 25 points and eight boards for the Owls (5-3), who have lost two straight. Jason McKrieth added 16 points. \nNo. 8 Kentucky 92, \nWilliam & Mary 47 \nIn Lexington, Kentucky, Chuck Hayes scored a game-high 18 points, Kelenna Azubuike added 17 and Kentucky routed William & Mary, 92-47, at Rupp Arena. \nJoe Crawford added 12 points for Kentucky (8-1), which has won four straight after suffering its first loss of the season to North Carolina on Dec. 4. The Wildcats shot 37-of-76 from the floor, including 7-of-28 from beyond the arc. \nReid Markham and Taylor Mokris paced the Tribe with seven points apiece. Nick D'Antoni was the only other member of William & Mary to score more then five points with six. The Tribe (3-5) have dropped three straight and five of six after winning two in a row to start the season. \nNo. 9 Georgia Tech 90, \nCharleston Southern 48 \nIn Atlanta, Georgia, Isma'il Muhammad scored a game-high 16 points to lead Georgia Tech to an easy 90-48 win over Charleston Southern at Alexander Memorial Coliseum. \nLuke Schenscher added 14 points and Jarrett Jack contributed 13 for the Yellow Jackets (8-1), who rebounded from their loss to Gonzaga over the weekend to win for the eighth time in nine games this season. \nKurtis Rice scored 12 points and Nathan Ball added 11 for the Buccaneers (1-6), who have dropped five straight contests. \nNo. 11 Connecticut 87, \nCentral Connecticut St. 59 \nIn Hartford, Connecticut, Josh Boone posted 20 points and 11 rebounds while Charlie Villanueva also finished with 20 points as 11th-ranked Connecticut rolled to an 87-59 victory over Central Connecticut State at the Hartford Civic Center. \nMarcus Williams dished out a school-record 16 assists for the Huskies (6-1), who have won two in a row following a shocking two-point loss at Massachusetts on Dec. 9. Rudy Gay and Rashad Anderson added 16 points each in the romp. \nDeMario Anderson poured in a career-high 23 points in the Blue Devils' fifth defeat in six games. Javier Mojica compiled 13 points and eight rebounds for Central Connecticut (2-5), which fell to 0-12 lifetime against its in-state rival. \nNo. 12 Washington 114, \nSacred Heart 53 \nIn Seattle, Washington, Jamaal Williams scored 22 points and grabbed six rebounds to lead eight Washington players in double figures as the Huskies trounced Sacred Heart, 114-53, at Bank of America Arena. \nJoel Smith tallied 15 points and Bobby Jones had 14 points and 14 boards for Washington (9-1), which has won five straight. Nate Robinson and Tre Simmons each had 13 points as the Huskies never had trouble after falling behind early on. \nLuke Granato had 15 points for the Pioneers (1-7), who have dropped six in a row. Kibwe Trim added 11 points for Sacred Heart, which shot only 33 percent from the field. \nNo. 15 Texas 97, Centenary 52 \nIn Austin, Texas, Kenny Taylor scored 23 points and LaMarcus Aldridge added 19 to lead 15th-ranked Texas to a 97-52 thumping of an overmatched Centenary squad at the Frank Erwin Center. \nMike Williams had 13 points and 10 boards and P.J. Tucker finished with 12 points, six boards and five assists for the Longhorns (8-2), who were playing for the first time since an 89-88 setback to fourth-ranked Wake Forest over the weekend. \nKevin Taylor tallied 14 points to lead the Gents (2-7), who have dropped two straight and seven of nine this season. \nNo. 22 Cincinnati 84, La Salle 63 \nIn Cincinnati, Ohio, James White and Eric Hicks scored 15 points apiece, and No. 22 Cincinnati remained undefeated with an 84-63 victory over La Salle at Fifth Third Arena. \nJason Maxiell added 12 points for the Bearcats (9-0), who won despite being outshot 48 percent to 39 percent in the game. Cincinnati made up for the field goal disparity by going to the foul line 32 times, and making 24.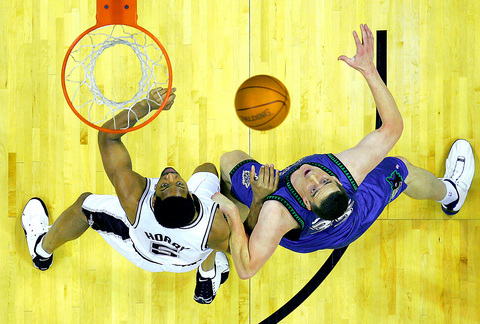 Forward Mark Madsen, right, of the Timberwolves, battles for a rebound against Robert Horry of the Spurs at the SBC Center in San Antonio, Texas on Thursday.
PHOTO: AFP
Comments will be moderated. Keep comments relevant to the article. Remarks containing abusive and obscene language, personal attacks of any kind or promotion will be removed and the user banned. Final decision will be at the discretion of the Taipei Times.