Schumacher is still on top
BRITISH GRAND PRIX McLaren's Kimi Raikkonen was breathing down the German driver's neck for a while, but eventually arrived 2.1 seconds too late
Even with the renewal of a former rivalry, Michael Schumacher still came out on top.
Now he looks to return to his native Germany in two weeks with a chance to equal a season record.
After his 10th victory this year at the British Grand Prix on Sunday, Schumacher can equal the record of 11 wins in a season at the German GP next Sunday. When he set the record of 11 in 2002 he needed 17 races to do it. This year he can do it in just 12.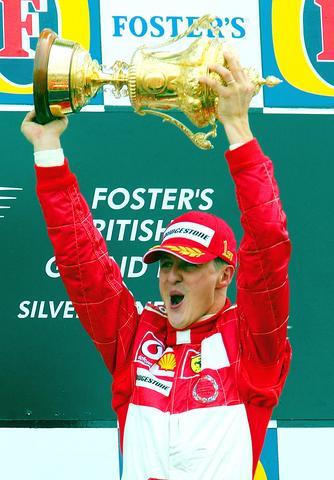 Germany's Michael Schumacher celebrates after winning the British Grand Prix at Silverstone on Sunday. Finland's Kimi Raikkonen was second and Brazil's Rubens Barrichello third.
PHOTO: AP
Schumacher finished 2.1 seconds ahead of McLaren's Kimi Raikkonen, who now seems to be ready to challenge Schumacher again with the new model McLaren-Mercedes.
Raikkonen came close to Schumacher, making a race of it for the first time this season.
Only Rubens Barrichello, Schumacher's Ferrari teammate, has come as close. Barrichello came in third.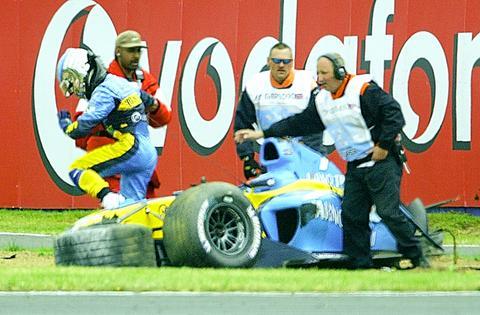 Italian Renault driver Jarno Trulli leaves his car after crashing on the Silverstone racetrack during the British Grand Prix on Sunday.
PHOTO: AFP
Raikkonen finished two points behind Schumacher in last season's points standings but scored only one point in the first seven races. He has gotten progressively quicker since McLaren introduced its new model MP4-19B in the previous race, the French Grand Prix. He qualified first for this race and had the top practice times.
Now the drivers head to Hockenheim, Germany, and Raikkonen is intent on getting better.
"I guess that it is a quick car and it is reliable, but we still need to improve it and I think we are getting some new parts for the next race," Raikkonen said. "Hopefully we can go more strongly and maybe we can try for a win. It is a very positive start because it is only the second race that we have taken this car and we can really race with it."
However, Schumacher's team is not standing still.
"Certainly we are not sleeping, so we are working on new projects, but we keep on working on the old one as well, because we like winning, honestly," Schumacher said.
Schumacher's only loss of the year came at the Grand Prix of Monaco on May 23, when he and Juan Pablo Montoya of Williams touched while keeping their tires warm behind a safety car.
On Sunday, a safety car made it interesting with tires again playing a factor.
Jarno Trulli of Renault crashed on the 40th of 60 laps. Trulli walked away from his shattered car after it spun several times and flipped over, eventually landing in a gravel run-off area.
Raikkonen had a chance. He needed to make a third pit stop, and the crash and safety car provided the spot. Schumacher had already made two, didn't need another, and was anticipating pulling away when Raikkonen stopped again.
When the safety car pulled off after the 45th lap, Schumacher held a narrow 0.2-second lead over Raikkonen. The last 15 laps had Schumacher slowly pulling away from Raikkonen.
"I got close to him," Raikkonen said. "But I couldn't get by him."
Schumacher got a small break. Leading behind the safety car, he was followed by Cristiano da Matta of Toyota and Christian Klien of Jaguar, who were each a lap down. Raikkonen was next.
"I was probably lucky," Schu-macher said. "I had two cars between me and Kimi. I had very cold tires. But when my tires came back, I was able to open the lead."
Barrichello summed up the significance of the safety car.
"When I saw the safety car, everything was alive again," he said.
However, Schumacher was able to stay ahead and win again.
With seven races remaining in the 18-race season, Schumacher leads the points standings with 100. Barrichello is second with 74 while Jenson Button of BAR-Honda, who finished fourth on Sunday, is third with 53 points.
Ferrari also leads the team standings with 174 points, 95 ahead of Renault, and can possibly clinch its sixth consecutive constructors championship with another good showing in Germany if Renault does poorly again.
Jarno Trulli walked away from a spectacular crash on the 40th lap of Sunday's British Grand Prix.
His Renault hit a tire barrier, went out of control and spun three times before doing a flip and landing on its wheels in a gravel run-off area. The shattered car spewed parts all over the track and infield with one tire ending up in the middle of the track.
Trulli was shaken up but immediately gave a thumbs-up sign to indicate he was OK. He was helped out of the car and was able to jog across the track with the help of a doctor as he got out of the way of danger.
"Everything happened so quickly," Trulli said. "But I think it was a rear suspension failure. Even before the crash things were not going well. I was very heavy through the first two stints, but even taking that into account I was struggling to be quick."
After a good start to the season, Renault failed to score for only the second time this year. Trulli's teammate Fernando Alonso came in 10th after being penalized 10 positions on the starting grid because he had an engine change following Saturday morning's practice.
Alonso had the sixth-fastest time in qualifying but was dropped to 16th on the grid. He was never in contention for the points after claiming the pole position and finishing second at the French Grand Prix last week.
For the season, Trulli stayed in fourth place in the standings with 46 points with Alonso fifth at 33.
Comments will be moderated. Keep comments relevant to the article. Remarks containing abusive and obscene language, personal attacks of any kind or promotion will be removed and the user banned. Final decision will be at the discretion of the Taipei Times.