Sorenstam's putter gives her a boost
PROFESSIONAL GOLF Annika Sorenstam, the tournament champion two of the past three years, was among only 11 players to better par as the course took a heavy toll on others
Annika Sorenstam, her short game back in the groove, shot a 4-under 68 Friday to take the first-round lead in the Office Depot Championship. \nAccurate around and on the greens on a day when the putting surface was especially tricky, Sorenstam was one shot in front of Jill McGill and Meg Mallon in the 54-hole event. \nSorenstam, the tournament champion two of the past three years, was among only 11 players to better par as the course took a heavy toll on some others. \nKarrie Webb, a two-time LPGA player of the year and winner of six majors, started off with a bogey and kept going downhill on the way to an 81 -- her worst round since she joined the tour in 1996. \nThe 1999 tournament champion, Webb finished her opening round this time with eight bogeys, a double bogey and a triple bogey. \nLaura Diaz fared even worse, struggling to an 82 that left her tied for 138th in the 144-player field. \nLast week's Kraft Nabisco winner, Grace Park, was in contention with a 73 that left her tied for 22nd. Se Ri Pak, who beat Sorenstam by one shot to win the Los Angeles title two years ago, had a first-round 74 and was tied for 31st. \nSorenstam was coming off a 13th-place finish in the Kraft Nabisco, the LPGA's first major of the year. She didn't have her short game -- which has carried her to 49 career wins -- working last week. \nHer touch is back. \nSorenstam hit just 11 greens in regulation at El Caballero Country Club, but her approach shots gave her four birdie putts from 8 feet and closer that she made. She also rolled in a 12-footer for birdie on her sixth hole, and sank a twisting 31-footer on her 17th. \nShe smiled and waved to acknowledge the gallery's applause after making the long putt. \nSorenstam, the tournament winner in 2001 at Wilshire Country Club and 2003 at El Caballero, seems at home on the stately old course with vast, difficult to read greens. \n"I do think I love this place," she said. \n"I putted very well today; I saw the lines. The greens are so undulating and tricky. \n"Last week I just lost the touch -- or something happened.'' \nShe shook her head and added, "So who knows what this game is all about." \nShe began her round on the back side and her only bogey came when she three-putted on the 369-yard par 4 No. 13, missing her par try from 8 feet. She later missed another 8-footer that cost her a birdie. \nShe could live with the misses. \n"There is always one here, one there, should have, could have, would have," she said. "I made some good saves all around, so I'm not going to complain. \n"If I make the short ones, it's OK if one or two slip by." \nFifteen players, none within striking distance of the lead, did not complete the first round. Play was suspended because of darkness.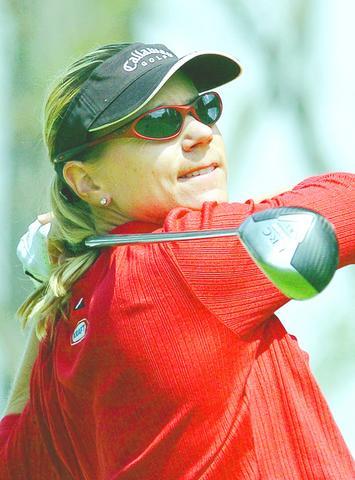 Tournament leader Annika Sorenstam of Sweden tees off on the 17th hole during the Office Depot Championship in Tarzana, California, Friday.
PHOTO: AP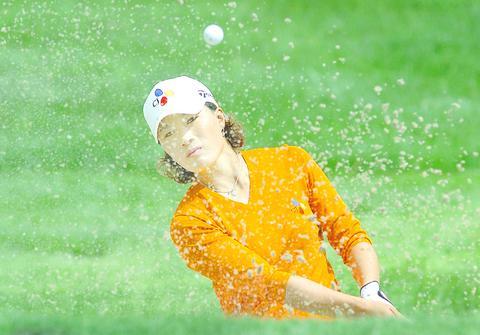 Pak Se-ri of South Korea hits from the bunker on the 11th green during the Office Depot Championship in Tarzana, California on Friday.
PHOTO: AP
Comments will be moderated. Keep comments relevant to the article. Remarks containing abusive and obscene language, personal attacks of any kind or promotion will be removed and the user banned. Final decision will be at the discretion of the Taipei Times.