Martin moves the Nets past Hornets
NATIONAL BASKETBALL ASSOCIATION The win was New Jersey's 12th straight under coach Lawrence Frank, extending his league record for the best coaching start
Kenyon Martin had 23 points, 13 rebounds, four steals and four blocks Saturday as the New Jersey Nets beat the New Orleans Hornets 97-84 to tie the longest winning streak in the NBA this season with 13 victories.
"To be truthful, I really didn't feel well, but I'm here so I am going to show up and play," said Martin who also had two assists in 40-plus minutes despite having trouble breathing because of a sinus infection.
The victory was the Nets' 12th straight under coach Lawrence Frank, extending his league record for the best coaching start and tying the North American mark for the best start in professional sports.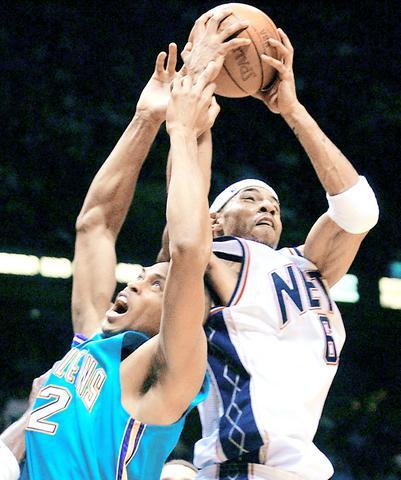 New Jersey Nets' Kenyon Martin, right, comes down with a rebound away from New Orleans Hornets' P.J. Brown during the fourth quarter in East Rutherford, New Jersey, Saturday.
PHOTO: AP
Joe Morgan took over the Boston Red Sox from John McNamara in 1988 and won a dozen. Jim Price won that many after taking over the baseball New York Giants in 1884.
"Our mindset is not about losing," New Jersey's Jason Kidd said. "Our mindset is about getting better each time we take the floor."
Richard Jefferson added 21 points and Kidd finished with 11 points, nine assists and nine rebounds to just miss out on his 59th career triple-double.
Heat 97, Nuggets 81
In Miami, Dwyane Wade outplayed fellow rookie Carmelo Anthony to score 28 points, and Lamar Odom had 12 of his 21 points in the third quarter as Miami beat Denver to match a season-best four-game winning streak.
Anthony finished with 16 points, ending a streak of nine straight games with at least 20 points, and shot just 3-for-20 -- his worst effort since the third game of the season.
Andre Miller scored 15, former Heat guard Voshon Lenard had 14 and Nene scored 10 for the Nuggets, who have lost six of their last eight road games.
Miami trailed by as many as seven early in the third quarter and was down 54-48 with 9:03 left before a 22-6 run put the Heat in control. Odom had 10 points during the burst, during which Miami held Denver without a field goal for more than six minutes.
Mavericks 97, Rockets 88
In Dallas, Dirk Nowitzki had 25 points and 12 rebounds as the Mavericks recovered from a 16-point first-quarter deficit to defeat the Rockets 97-88.
Michael Finley contributed 19 points, and Antoine Walker added 17 points and 10 rebounds for the Mavericks, who began a stretch of five consecutive home games against Western Conference teams.
Houston opened the game with a 19-3 run and was in front by 14 at the end of the first quarter against a lethargic Dallas defense. But the Mavericks began to run, finishing with a 24-4 advantage in fast-break points for their sixth victory in eight games.
Jim Jackson's 18 points and Cuttino Mobley's 16 paced the Rockets, who've lost all six meetings against the Mavericks with Yao Ming in the lineup. Yao has won against every other NBA team.
Grizzlies 105, Bulls 98
In Chicago, Pau Gasol scored 23 points and had nine rebounds, and James Posey added 27 points as Memphis beat Chicago.
Memphis has won four straight games and eight its last of nine to move 11 games above .500 (33-22) for the first time in franchise history.
Lorenzen Wright had 14 points and nine rebounds for Memphis, and Bonzi Wells added 16 points.
Kirk Hinrich scored a career-high 25 points and had nine assists for Chicago.
Clippers 105, Bucks 103
In Milwaukee, Elton Brand scored 31 points and blocked four shots to help the Los Angeles Clippers spoil Keith Van Horn's Milwaukee debut.
Michael Redd, an 89 percent free throw shooter, was fouled by Corey Maggette while attempting a desperation 3-pointer with one-tenth of a second left and the Bucks trailing 105-102.
But Redd missed his first free throw attempt. He made the second, then committed a lane violation while deliberately missing his third shot.
The Clippers snapped a five-game road losing streak and won in Milwaukee for the first time since Feb. 23, 1997.
Van Horn led the Bucks with 23 points.
Trail Blazers 105, Celtics 84
In Portland, Oregon, Zach Randolph had 27 points and 15 rebounds as Portland scored the game's first 22 points and held on to down Boston.
Chris Mihm had 15 points to lead the Celtics, who have lost five straight games and 10 of 11. Ricky Davis added 12.
Warriors 94, SuperSonics 92
In Oakland, California, Clifford Robinson made a go-ahead 3-pointer with 55 seconds left, and Vladimir Radmanovic stepped on the 3-point line on his potential game-tying shot with 1.1 seconds left as Golden State edged Seattle.
Comments will be moderated. Keep comments relevant to the article. Remarks containing abusive and obscene language, personal attacks of any kind or promotion will be removed and the user banned. Final decision will be at the discretion of the Taipei Times.