Malone suddenly not feeling super
Karl Malone will miss at least three games because of a sprained knee ligament, a rare injury for the Los Angeles Lakers' star forward. \nMalone, who has missed only 11 games in 18-plus NBA seasons, had an MRI examination Monday, and the news was better than expected. When the injury occurred Sunday night against Phoenix, Malone said he heard something pop in his right knee. \n"I know what I heard. I don't know where it came from," he said after undergoing treatment Monday at the Lakers' training facility. "I believe I'll be back sooner than later. I'm going to work my butt off, I want to be back with the guys. \n"I want to be smart, too. I want to be out there. I don't want to be out there hurting the team. It could have been worse, I think." \nThere's no question about that, because a major tear was obviously a possibility, as was the need for surgery. \n"It is good news. I think it's really good news," coach Phil Jackson said. "We have to look at it that way." \nLakers spokesman John Black said the 40-year-old Malone will be re-evaluated next week by Dr. Steve Lombardo, who performed the MRI at the Kerlan-Jobe/HealthSouth Orthopedic Clinic. \nMalone, the NBA's second-leading career scorer, was injured after being fouled by Scott Williams early in the Lakers' 107-101 victory over the Suns. \nTheir feet tangled, Malone fell to the floor hard and Williams fell on top of him. \nMalone has played in 1,458 regular-season games while missing only 11 -- six because of injury or illness, and five due to suspension. \nHe'll add to that total starting Tuesday night when the Lakers play at Golden State, and will also miss home games Thursday night against Houston and Sunday night against Boston. \nThis will be the first season Malone has missed more than two games. He sat out the contest against Utah on Dec. 7, suspended for throwing an elbow at Dallas' Steve Nash three nights earlier. \nMalone acknowledged he's never felt this vulnerable. \n"As an athlete, you feel invincible," he said. "Reality set in that we are human. Sometimes we feel like we're superhuman. It's frustrating. \n"The positive is it's still early on -- it's not the playoffs. You just expect to punch the clock every day. I'm keeping a positive outlook. I never expect to be hurt. We are humans. I just have to be patient -- whatever." \nMalone is averaging 14 points, 9.5 rebounds and 3.7 assists in 24 games this season -- his first with the Lakers. He played his first 18 NBA seasons with the Jazz. \n"We're just happy that it's not too serious," teammate Kobe Bryant said. "We have to have guys come off the bench and make significant contributions." \nThe Lakers' 20-5 record is the NBA's best. \nMalone's 36,710 career points rank second behind former Lakers star Kareem Abdul-Jabbar, who scored 38,387 points in a 20-year career that ended in 1989. \n76ers, 95, Magic 73 \nGlenn Robinson scored a season-high 22 points, and Eric Snow added 14 points and 14 assists to lead the Philadelphia 76ers to a 95-73 victory Monday night over the Orlando Magic. \nRobinson bounced back from a 2-for-10, 4-point game a day earlier against Boston. \nKyle Korver had 16 points for the 76ers, who blew the game open with a 22-3 run in the fourth quarter. Aaron McKie had 14 points for Philadelphia, 9-of-20 from beyond the arc. Korver was 4-for-10 and McKie 3-for-5. \nIverson missed his fifth straight game with a swollen right knee, Derrick Coleman did not play with a left knee sprain, and Kenny Thomas left during the second quarter with flu-like symptoms. \nJazz 92, Bulls 80 \nIn Chicago, Andrei Kirilenko had 26 points and a career-high 16 rebounds to lead Utah to its 11th victory in the last 12 meetings with Chicago. \nMatt Harpring also had a double-double, finishing with 15 points and 14 rebounds for the Jazz, who wrapped up a six-game road trip with a .500 record. They won despite turning the ball over 26 times. \nThe Bulls sure made it interesting, though. Trailing by 20 early in the third quarter, they went on a furious rally and cut Utah's lead to 79-72 on a fast break dunk by Corie Blount with 3:46 to play. But they couldn't get any closer, and were forced to foul the Jazz down the stretch. \nChicago, which has lost three straight, and seven of its last nine, was led by Kendall Gill with 13 points. He was one of six Bulls in double figures. \nNuggets 106, Grizzlies 99 \nIn Denver, Voshon Lenard scored 24 points, Andre Miller had 21 points and 10 assists, and Denver won for the 17th time -- matching its total for all of last season. \nThe Nuggets opened the fourth quarter with a 14-4 run for a 95-84 lead. Memphis cut the deficit to four points with 1:25 left but got no closer. \nNene added 16 points and Carmelo Anthony 15 for Denver, which shot 51 percent compared to Memphis' 47 percent. Pau Gasol led the Grizzlies with 24 points and 14 rebounds, and James Posey added 20 points.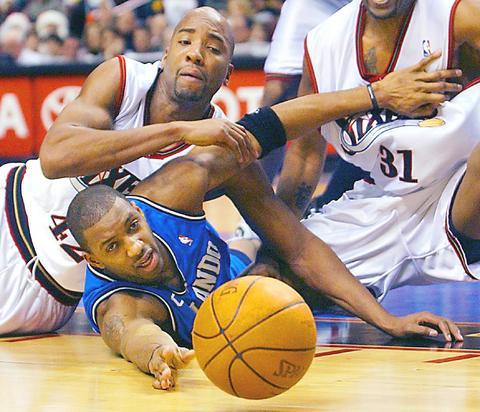 Orlando Magic guard Tracy McGrady, center, dives for a loose ball with 76ers' Zendon Hamilton, left, and Glenn Robinson during the first half in Philadelphia, Monday. Photo: ap
Comments will be moderated. Keep comments relevant to the article. Remarks containing abusive and obscene language, personal attacks of any kind or promotion will be removed and the user banned. Final decision will be at the discretion of the Taipei Times.