Toronto Maple Leafs won't fall
NATIONAL HOCKEY LEAGUE The Leafs tied up the Capitals in Washington while Manny Legace made 28 saves to lead Detroit to its eighth straight home victory
The Toronto Maple Leafs extended their franchise-record points streak to 13 games with a 2-2 tie with the Washington Capitals on Friday.
Toronto goalie Trevor Kidd made 25 saves in just his second game of the season in place of Ed Belfour, and Washington's Olaf Kolzig overcame his recent struggles to stop 32 shots.
"I think I said to myself with about five minutes to go to buckle down," Kidd said. "I tried to batten down the hatches a little bit."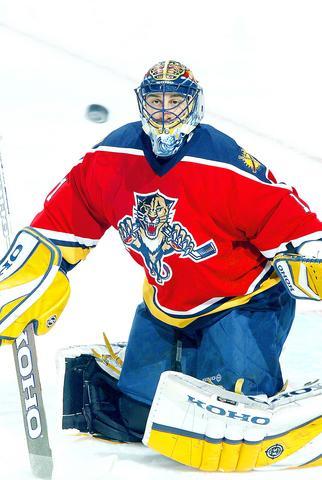 Roberto Luongo of the Panthers watches the puck against the Dallas Starsat the Office Depot Center in Sunrise, Florida, Friday.
PHOTO: AFP
Alexei Ponikarovsky and Mats Sundin scored for Toronto, and Washington got power-play goals from Kip Miller and Dainius Zubrus.
The Maple Leafs are 11-0-1-1 during their points streak. The tie broke a six-game road winning streak.
The Capitals are 2-1-2 under new coach Glen Hanlon.
Red Wings 3, Blackhawks 2
In Detroit, Brendan Shanahan scored a tiebreaking goal in the second period, and Manny Legace made 28 saves to lead Detroit to its eighth straight home victory.
Ray Whitney, returning from a groin injury, and Nicklas Lidstrom also scored for the Red Wings, who improved to 10-1-1-1 in their last 13. Henrik Zetterberg finished with two assists.
Brett McLean and Burke Henry scored for Chicago, which dropped to 0-10-0-1 in its last 11 road games and slipped to 1-12-3-3 in its last 19 overall.
Flames 2, Blue Jackets 1
In Columbus, Ohio, Matthew Lombardi scored a short-handed goal and Mikka Kiprusoff stopped 34 shots and survived 13 power plays, helping Calgary extend its winning streak to three games and unbeaten streak to five (4-0-1-0).
The Blue Jackets set a franchise record for power plays and failed to score on any of them.
Martin Gelinas also scored for the Flames.
Rick Nash scored his NHL-leading 20th goal for the Blue Jackets, who have lost their last four games (0-2-0-2) and are winless in seven (0-4-1-2).
Panthers 1, Stars 0
In Sunrise, Florida, Marcus Nilson scored a short-handed goal in the second period, and Roberto Luongo made 36 saves, helping Florida win for just the second time in 11 games (2-3-5-1).
Goalie Marty Turco finished with 23 saves and Dallas had its three-game winning streak snapped.
The Stars are 3-12-2 in away games, matching their total for road losses during the 2002-2003 season. Dallas is winless in its last six games away from the American Airlines Center.
Devils 5, Sabres 2
In Buffalo, New York, Brian Gionta had two goals and an assist, and Martin Brodeur made 31 saves to help New Jersey past Buffalo for its sixth win in eight games (6-1-1).
John Madden added a goal and an assist, and Jeff Friesen and Sergei Brylin also scored for New Jersey.
Ales Kotalik and Adam Mair scored for Buffalo. The loss extended the Sabres' losing streak to seven games, tying a franchise record.
Mighty Ducks 1, Avalanche 0
With Jean-Sebastien Giguere doing his best impersonation of himself and Sergei Fedorov scoring, the Mighty Ducks were in good shape.
In fact, it was all they needed Friday in a 1-0 win over the Colorado Avalanche before a sellout crowd of 17,174 at The Pond. It was only the team's second sellout of the season.
Giguere looked more like the goalie who was one of the league's best last season and the playoff MVP than the goalie who had only four wins in 20 games and a goals-against average just under 3.00 before Friday. He stopped 33 shots in the last two periods and finished with 38 saves total for his first shutout of the season. It was also his first win since Nov. 16.
"This was a real big deal for us because of the fact that we neeed Jiggy to find a way to play at the top of his game and leave the rink feeling great about himself," Ducks coach Mike Babcock said. "And it allows our team to play with way more confidence, which we need to get better."
The Avalanche have scored the third-most goals in the Western Conference. But Giguere had his best game of the season. He made his second consecutive start and didn't look like a goalie making only his second start in the last two weeks.
The possiblilities, if Giguere continues to have that type of performance, were obvious to Ducks center Steve Rucchin.
"A turning point in his season will be a turning point in our season," he said.
Giguere said it was "definitely the best I've felt so far this year."
Fedorov's power-play goal gave the Ducks a good chance to win based on the team's history this season. The Ducks are 6-1-1-0 when Fedorov scores a goal.
The Ducks got out of last place in the Pacific Division with the win. They moved one point ahead of the Dallas Stars. The Ducks also stopped a two-game losing streak and earned just their third win in the last nine games.
The Avalanche kept the pressure on in the second and third periods. Joe Sakic came closest to tying the score. His shot from the left circle was deflected by Giguere and went off the post. Colorado had a power play late in the third, but the Ducks killed it off.
Fedorov gave the Ducks a 1-0 lead after more than four minutes of a power play. Sandis Ozolinsh passed to Fedorov, who then scored from the slot off a give and go with Petr Sykora with 5:22 left in the first period.
The Ducks jumped on top of the Avalanche, who took five penalties in the period. They outshot the Avalache 15-5 in the period.
Fedorov's goal was his first in four games and team-leading 11th of the season.
Comments will be moderated. Keep comments relevant to the article. Remarks containing abusive and obscene language, personal attacks of any kind or promotion will be removed and the user banned. Final decision will be at the discretion of the Taipei Times.