Matsui homer shows Yankees the way
WORLD SERIES `Godzilla' blasted a three-run homer over the wall of Yankee Stadium, while Andy Pettitte gave up just one run in nearly nine innings
Andy Pettitte shut down the Marlins and Hideki Matsui became the first Japanese player to homer in a World Series, as the New York Yankees drew even with Florida with a 6-1 win in Game 2 on Sunday night.
With the bill of his cap pulled down low to shadow his dark eyes and his glove held high, Pettitte cut a menacing figure on the mound and pitched the Yankees right back into this World Series, working into the ninth inning on only three days' rest.
Inspiration came from his mentor, Roger Clemens.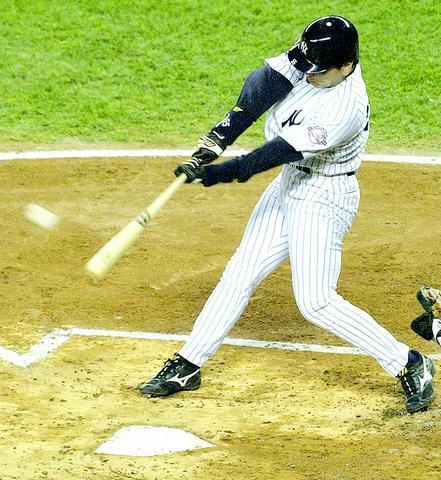 New York Yankees batter Hideki Matsui hits a three-run home run against the Florida Marlins in the second inning of Game 2 of the World Series on Sunday at Yankee Stadium in the Bronx, New York. The Yankees won to tie the series 1-1.
PHOTO: AP
"I was inside the clubhouse before game talking to Rog a little bit. He said, `This is what we worked all year for. You got to go out strong like a horse tonight,'" Pettitte said.
He did, all right, and his teammates came out slugging, a take-that response to a Marlins team intent on using its speed to cause trouble.
Matsui delivered the big hit the Yankee Stadium crowd was waiting for, a three-run homer in the first inning on a 3-0 count. Slumping Alfonso Soriano later added a two-run drive.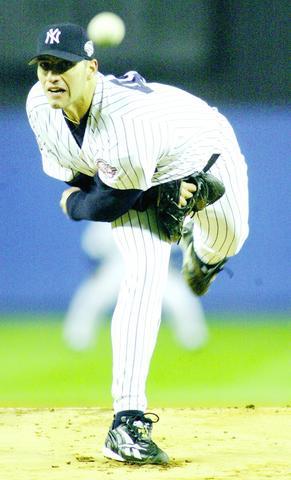 Andy Pettitte throws against the Marlins in the World Series on Sunday.
PHOTO: AP
Those shots seemed to revive a Yankees team that looked sluggish in losing the opener 3-2. And they were plenty for Pettitte, who tied John Smoltz's postseason record of 13 victories.
"I don't know how much better his stuff can be than tonight," Marlins leadoff man Juan Pierre said. "But if it is, I don't want to see it."
Now, the series shifts to Pro Player Stadium for Game 3 tonight. (Wednesday morning Taiwan time) Marlins ace Josh Beckett will start against Mike Mussina.
"We talked about it all along. Pitching is going to win this series," Marlins manager Jack McKeon said.
Pettitte nearly recorded his first postseason shutout in 29 starts. Third baseman Aaron Boone's second error of the game, a two-out misplay in the ninth, set up Derrek Lee's RBI single.
At that point, manager Joe Torre pulled Pettitte, who waved his cap as he got a standing ovation from the 55,750 fans chanting his name.
Pettitte gave up six hits, struck out seven, walked one and did not permit a runner past second base until the last inning. Jose Contreras relieved and got the final out.
"I was missing a little bit, kind of fighting myself a little bit trying to figure out what kind of game I wanted to pitch on three days' rest," Pettitte said, referring to the first inning.
Once again, Pettitte's timing was impeccable.
The Yankees also lost the openers in their playoff series against Minnesota and Boston this year before Pettitte won Game 2.
"For people to say `There is no pressure' or `This guy doesn't feel pressure,' I don't believe it," Torre said. "It's a matter of how you handle it."
Pettitte improved to 13-7 lifetime in the postseason, and never let the Marlins threaten. Catcher Jorge Posada threw out Luis Castillo trying to steal in the first inning, and the Yankees got a lucky break when a ball that deflected off Miguel Cabrera's leg was called fair and turned into a double play.
Not that the Yankees needed much help to beat Mark Redman on this night. Pettitte's deep start allowed New York to give ace closer Mariano Rivera another day of rest.
Nick Johnson helped out with three hits for the Yankees. He may not get to play again for a bit because the Yankees will lose the designated hitter at Miami, with Jason Giambi taking over at first base.
Boone is certainly learning how fast fortunes change in the Bronx -- he was hailed as a hero after his 11th-inning homer won Game 7 of the American League Championship Series against Boston, but was criticized for failing to throw home in a key spot on Saturday night.
Matsui's homer came after Giambi was hit by a pitch with two outs and Bernie Williams singled.
"I'm just taking the same mental approach I did during the regular season," Matsui said through a translator.
Matsui got the green light on the 3-0 count and hit a no-doubt drive over the wall in center field. The crowd kept cheering until he came out for a curtain call.
When Matsui trotted out to left field after the inning, the fans in the bleachers gave him another standing ovation. Williams tipped his cap from center field and Matsui returned the favor.
New York hitters were 1-for-12 with runners in scoring position in the opener. Matsui got the Yankees going in the right direction.
"I don't know what happened yesterday," Torre said.
Juan Rivera, platooning with right fielder Karim Garcia, hit an RBI double in the second that made it 4-0. He drove in Johnson, who beat out a surprise bunt, but tried to stretch the hit into a triple and was cut down on a snap throw by catcher Ivan Rodriguez.
Redman was pulled when the Yankees threatened again in the third. He had gotten no-decisions in his other three postseason starts this year, and was pulled from Game 7 of the National League Championship Series at Wrigley Field after only three innings.
Soriano homered off Rick Helling in the fourth, launching a shot far over the left-field fence after another single by Johnson.
Soriano had been just 5-for-36 with 13 strikeouts since the start of the ALCS against Boston. He drew a leadoff walk in the first but was picked off by Redman, and struck out the next inning.
Comments will be moderated. Keep comments relevant to the article. Remarks containing abusive and obscene language, personal attacks of any kind or promotion will be removed and the user banned. Final decision will be at the discretion of the Taipei Times.