Germany wins women's soccer crown
GRIPPING A golden goal from substitute Nia Kuenzer was the difference between two evenly matched sides, and it earned the Germans their first ever World Cup
Somewhere on the bottom of the pile of women in white jerseys was a most unlikely hero. \nGermany won the Women's World Cup for the first time, 2-1 over Sweden on Nia Kuenzer's header in the eighth minute of overtime Sunday. A substitute who came on 10 minutes earlier, Kuenzer soared high to deflect Renate Lingor's long free kick over the outstretched arm of goalkeeper Caroline Jonsson, who was brilliant all day. \nThe German players mobbed her and rolled together on the ground, while Sweden's beaten players lay motionless and stunned. \n"I was confused," Kuenzer said of her momentous goal. "I wasn't sure what happened, and then my teammates are jumping on top of me and we are all on the ground." \nKuenzer, in her 30th game with the national team, came on with only two minutes remaining in regulation. She got an earlier chance in overtime that was denied, but her header moments later was true. \n"Every soccer player dreams of scoring the deciding goal in the World Cup," she said through an interpreter. "But expect it?" \nShe vigorously shook her head and laughed. "No." \nSwedish coach Marika Domanski-Lyfors expressed pride in both teams, but was livid with referee Floarea Cristina Ionescu's awarding of the free kick that Kuenzer converted. \n"It's harder to lose when it's not fair," said Domanski-Lyfors, who berated Ionescu on the field. "It wasn't a free kick and everyone saw it. I don't know how she could call it." \nThe German women added a world crown to the three Germany's men have won. They beat the defending champion US 3-0 in the semifinals, but struggled mightily to edge Sweden. \nThe result was similar to a German overtime win for the European Championship in 2001. \n"These are two very equal teams," Germany coach Tina Theune-Meyer said. "I think Sweden will be a strong team for many years." \nMuch of the crowd was decidedly pro-Sweden. The fans cheered and chanted for the Swedes even as the entire German team stood on a podium, jumping up and down as the championship medals were awarded. \n"There will be many parties today in Germany," Theune-Meyer said. \nGerman captain Bettina Wiegmann and star forward Maren Meinert played in their final game for their country and both were outstanding. \n"This is my greatest day," Wiegmann said, the gold medal dangling over her No. 10 jersey. "Yes, it is the perfect ending." \nThe Germans committed five players to the attack in the second half and it paid off with an early goal and a half-dozen superb chances. \nAfter a somewhat listless first half, the Germans came out strong and scored just a minute into the second period. Birgit Prinz, voted the tournament's outstanding player, sent a pass to the right wing to Meinert, who had three steps on the defense. Her right-footed shot from 15m glanced off Jonsson and into the net. \n"That goal was a big lift for us, coming so soon," Prinz said. \nJonsson had to be sharp to barely tip Wiegmann's shot in the 57th. Five minutes later, Pia Wunderlich put a shot wide with half the net gaping in front of her. \nAnd with 15 minutes to go in regulation, Meinert spun and unleashed a wicked shot that Jonsson just deflected off the Swedish crossbar. \nIt seemed a matter of time until Germany went ahead, but then Sweden woke up and some brilliant passing in the German box led to Frida Ostberg's dead-on header that barely went wide. \nHanna Ljungberg then made two brilliant moves to get into the German area, but Silke Rottenberg, the hero of Germany's victory over the US, made an arm save to keep it tied. \nSweden's first-half goal was well-earned. \nNot backing down against Germany's powerful attack that outscored opponents 23-3 en route to the final, the Swedes pressed forward with a varied offense. \nSeveral long passes soared beyond the German defense, only to see the Swedes fail to finish. \nStill, they were finding openings, and pounced in the 41st minute. \nVictoria Svensson, Sweden's most creative player in the tournament, sent a brilliant pass to Ljungberg on the left wing. \nLjungberg had enough time to change from her left foot to her right and slide a shot into the far corner of the net past the onrushing Rottenberg. \nGermany, second in the 1995 World Cup to Norway, has a 7-0-5 mark against Sweden. And like most of their matches, this one could have gone either way. \n"We just wanted to win the final any way we can," said Kuenzer, who still seemed amazed she had provided the margin of victory. "We said before the final that anyone on the team could do it."
Germany's Maren Meinert, front center, holds up the trophy as she celebrates with goalie Silke Rottenberg, back second left, Pia Wunderlich, front left, and Bettina Wiegmann, front right, after defeating Sweden 2-1 in the 2003 Women's World Cup final match on Sunday in Carson, California.
PHOTO: AP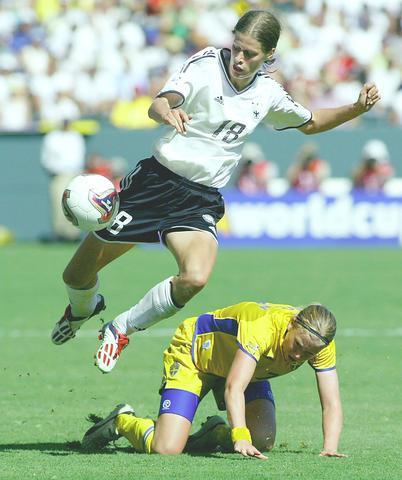 Germany's Kerslin Garefrekes, left, hurdles Sweden's Sar Larsson on Sunday.
PHOTO: AP
Comments will be moderated. Keep comments relevant to the article. Remarks containing abusive and obscene language, personal attacks of any kind or promotion will be removed and the user banned. Final decision will be at the discretion of the Taipei Times.