Chicago shows hunger with recent trades
With eight victories in their last 11 games, the Chicago White Sox moved within three games of first place in the AL Central and were talking playoffs. \nBut general manager Kenny Williams decided Chicago needed to do more than talk. In less than 12 hours Tuesday, he made two blockbuster trades that let the rest of the American League know the White Sox are serious about making a run at the postseason. \nAnd beyond. \n"We're here to win it," Frank Thomas said Wednesday. "This is not going to be a wait-and-see for two years. We're going after it now." \nThe White Sox were still celebrating the news they had gotten 12-time All-Star second baseman Roberto Alomar when Williams pulled off another deal late Tuesday. This one was even more stunning. Outfielder Carl Everett was on his way to the South Side. \nIn a matter of hours, the White Sox went from being a team on the fringes of the AL Central race to being the team looming behind the Kansas City Royals and Minnesota Twins. \n"They got Roberto and Carl Everett. Can you ask anything more?" Minnesota center fielder Torii Hunter said. "That lets you know they're trying to win. So we just have to keep on pushing. That's all I have to say." \nAlomar and Everett were both in the lineup for Wednesday night's game against Minnesota -- even though Everett had been in Anaheim, California, the night before and the White Sox have an off day Thursday. Both got loud cheers when they were introduced. \n"I'm coming to a team that is committed to winning, and I'm looking forward to this opportunity," Alomar said before the game. "They have made some great moves, and I'm really excited about being here.'' \nThe White Sox began the season as the favorite in the AL Central. They had picked up Bartolo Colon in the offseason, pairing him with Mark Buehrle for one of the most formidable 1-2 combinations in the American League. They had traded for closer Billy Koch, making an already solid bullpen even more intimidating. \nThey had Thomas, Magglio Ordonez, Carlos Lee and Paul Konerko, an offensive juggernaut few teams could match. \n"You can put together what you think is going to work on paper," Williams said. "But ultimately, it's the players and their performance." \nAnd that's where the White Sox stumbled. They lost their first three games, and were eight games below .500 on June 4. Their pitching was solid, but their offense was abysmal. Even laying down a bunt was a challenge. \nWhen they lost to San Francisco on June 12, they dropped a season-high 81/2 games back. The AL Central race, it seemed, was down to Kansas City and Minnesota. \n"We played as bad as you can possibly play in the first half," Thomas said, "and we're still in the thick of things." \nThere's nothing that cures a slump for a Chicago team like the Crosstown Series, and this year was no different. The White Sox took two of three in the first series against the Cubs, outscoring them 20-11. \nThen they went to Minnesota, which has been like a black hole in recent years. But Chicago won two games there, too, then came home to take another pair from the Cubs. \nJust like that, the postseason didn't seem so far-fetched. \n"I knew if we played up to our capabilities that we would win this division," Williams said. \nBut the White Sox needed help. They had never found an adequate replacement for Ray Durham at second, with D'Angelo Jimenez making errors and base-running blunders. Jose Valentin is never going to make anyone's list of top 10 defensive shortstops, leaving the middle of the infield extremely vulnerable. \nCenter field wasn't much better. That spot has been a revolving door recently, with none of the youngsters quite being the right answer. \nEnter Alomar and Everett. \n"I deemed it more important for us, right now, to make every effort to get this thing done here and now. Rather than continuously be looking down the road where we're `Prospects 'R Us,' selling hope and hoping we catch lightning in a bottle with our young players," Williams said. \n"Quite frankly, it's very difficult to dream about going deep in the postseason with players who haven't been battle-tested." \nAlomar and Everett certainly are that. \nAt 35, Alomar is in his 16th season in the majors and has been to the playoffs five times, including the 1992 and 1993 World Series. Though his 1-1/2 seasons with the Mets were a disaster, he was a near-certain Hall of Famer when he played in the American League. \nHe hit .313 in 11 seasons with Toronto, Baltimore and Cleveland. In his final season in Cleveland, he hit .336 with 20 homers and 100 RBIs. \nEverett, 32, has been to the playoffs twice. A career .277 hitter, he's batting .274 with 18 home runs and 51 RBIs this season. \n"With this lineup, you know we'll have pitchers on the edge, wondering how to get them out," Thomas said. "This gives us a serious edge."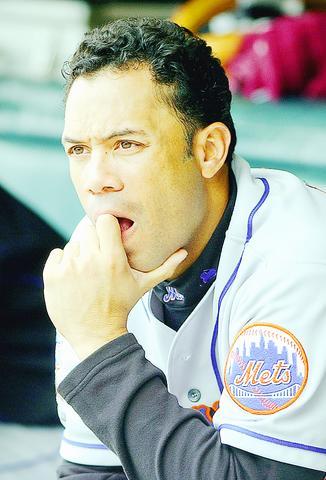 Roberto Alomar was traded by the Mets to the White Sox on Tuesday.
PHOTO: AP FILE PHOTO
Comments will be moderated. Keep comments relevant to the article. Remarks containing abusive and obscene language, personal attacks of any kind or promotion will be removed and the user banned. Final decision will be at the discretion of the Taipei Times.