Miller, Jordan duke it out
PACERS ON A ROLL The 37-year-old Miller scored 17 of his 25 points in the decisive third quarter to lead the Pacers past Jordan and his Wizards 100-84 on Friday night
Maybe it was the last wild shootout between two of the NBA's greatest clutch players. \nAnd this time, Reggie Miller got the best of Michael Jordan. \nThe 37-year-old Miller scored 17 of his 25 points in the decisive third quarter to lead the Indiana Pacers past Jordan and the Washington Wizards 100-84 on Friday night. \n"He makes the big shots. He changes the momentum of the game," said Jordan, who will retire at the end of this season. "They went from eight points down in the third to six points up. It was all from his play." \nPlaying only his third game of the season after returning from a bone bruise on his right ankle, Miller hit three 3-pointers in a 50-second span of the third quarter. After the third one, he backpedaled on defense and stared at Jordan, who was sitting on the baseline. \nWhat Miller couldn't say with words, he said with his eyes: Come out and play. \n"I would never say that to the all-time greatest player ... ever," Miller said, laughing. "But I was thinking it." \nJordan returned to the game and hit a jumper to give Washington a 66-65 lead, but Miller answered with two free throws. Jordan hit another shot, but that was Washington's last lead. \nLakers 112, Grizzlies 106, OT \nAt Memphis, Tennessee, Kobe Bryant scored eight of his 45 points in overtime to lead Los Angeles. \nIt was Memphis' first regular-season game against Los Angeles since former Lakers star and general manager Jerry West came out of retirement to become president of the Grizzlies in April. \nShaquille O'Neal tied it at 98 with a free throw with 11 seconds left in regulation. He had 33 points and 13 rebounds. \n76ers 106, Cavaliers 99 \nAt Cleveland, Allen Iverson scored 29 points and took over in the final two minutes as Philadelphia withstood a furious fourth-quarter comeback to send the Cavs to their 13th consecutive loss. \nRookie guard Dajuan Wagner scored 29 points for the Cavs, who have lost 14 straight to Philadelphia. \nRaptors 98, Celtics 95 \nAt Boston, Morris Peterson scored a career-high 31 points and Vince Carter added 23 in his first start since Nov. 2 as Toronto snapped a six-game losing streak. \nAntoine Walker tied a season high with 31 points for the Celtics, who had their four-game winning streak snapped. \nIt was Carter's second game back after missing 10 games with a strained quadriceps muscle in his left knee. \nHawks 100, Heat 94, OT \nAt Atlanta, Shareef Abdur-Rahim scored 29 points as the Hawks rallied from an 11-point deficit in the fourth quarter and beat Miami in overtime. \nMiami's Mike James hit a 3-pointer with 3.6 seconds left in regulation to tie it at 88. \nPistons 96, Bucks 91 \nAt Auburn Hills, Mich., Richard Hamilton scored 20 points and Ben Wallace added 12 points and 21 rebounds for Detroit. \nWallace grabbed at least 20 rebounds for the fourth time in his last six games as the Pistons improved to 7-1 at home. \nJazz 95, Timberwolves 77 \nAt Salt Lake City, Matt Harpring set a career high for the second straight game with 33 points as Utah won its sixth straight. \nComing off his previous high of 30 points against the Clippers on Tuesday night, Harpring made his first seven shots -- primarily against Kevin Garnett, who is 4 inches taller. \nWarriors 92, Nuggets 82 \nAt Denver, Earl Boykins scored 20 points and had six of his seven steals during a key run in the third quarter to help Golden State overcome a 21-point deficit. Gilbert Arenas added 27 points and seven assists for the Warriors. \nSuns 94, Spurs 87 \nAt Phoenix, Stephon Marbury scored 43 points -- his biggest output since joining the Suns before last season -- as Phoenix rallied to beat San Antonio. \nMarbury had a team-record 26 points in the fourth quarter in his biggest game since he scored a career-high 50 for New Jersey on Feb. 13, 2001, against the Lakers. \nKings 107, Clippers 94 \nAt Sacramento, California, Bobby Jackson scored a career-high 31 points and Doug Christie had a season-high 25 as the short-handed Kings improved to 8-0 at home. \nWith Peja Stojakovic and Hedo Turkoglu joining three injured teammates in street clothes, Sacramento dressed the NBA-minimum eight players. Chris Webber scored 16 points despite a severe case of the flu. \nRockets 83, SuperSonics 72 \nAt Seattle, Steve Francis scored 13 of his 21 points in the third quarter for Houston. \nThe SuperSonics have lost six of seven after opening the season 8-2. It spoiled a milestone night for point guard Gary Payton, who became the franchise leader with 964 regular-season games, passing Fred Brown (1971-84).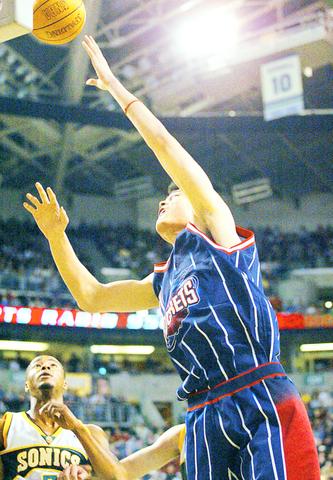 Houston's Yao Ming shoots over Seattle's Rashard Lewis in Seattle on Friday.
PHOTO: AP
Comments will be moderated. Keep comments relevant to the article. Remarks containing abusive and obscene language, personal attacks of any kind or promotion will be removed and the user banned. Final decision will be at the discretion of the Taipei Times.