Christian groups call for peace
PLEA FOR CALM Churchgoers heard anti-nuclear activists condemn opposition parties for stirring up trouble over a decision that they said showed respect for life
Concerned Christians prayed together yesterday in Taipei for an end to the political firestorm set off by the Executive Yuan's decision to scrap the Fourth Nuclear Power Plant.
At a service held at Chinan Church (濟南教會) in Taipei, congregants expressed their support for Premier Chang Chun-hsiung's (張俊雄) stated determination to overcome all the obstacles in building a nuclear-free Taiwan, and urged political figures to reach a consensus to lessen public anxiety over the issue.
The congregation was organized by over 10 religious groups, including the Taiwan Christian Ecological Center (生態關懷者協會), Presbyterian Churches in Taiwan, and several Catholic groups.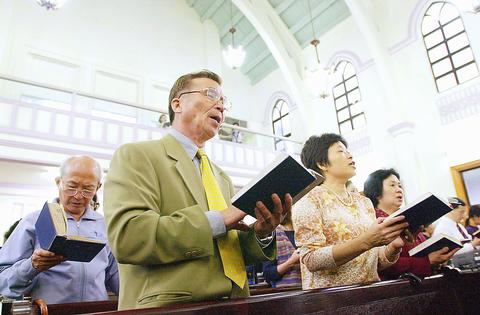 Christians at Taipei's Chinan Church yesterday pray for an end to the political upheaval triggered by the Executive Yuan's decision to halt construction of the Fourth Nuclear Power Plant.
PHOTO: GEORGE TSORNG, TAIPEI TIMES
Industrial economist Li Ping-cheng (李秉正) from Tamkang University; an environmental health expert from National Yang Ming University, Chang Wu-hsiu (張武修); and Shih Hsin University social development professor Lin Yih-ren (林益仁) gave speeches, focusing on nuclear-related issues, including the impact of nuclear energy on economic development in Taiwan, nuclear waste disposal and the value of scrapping the controversial plant.
Lin told the Taipei Times that the nuclear plant issue was a question of basic values.
"If policymakers place any priority on social justice or taking care of minorities, then this priority should be reflected in policies," Lin said.
Lin said that scrapping the plant would eventually benefit residents in Kungliao township, where the plant is located, and said pro-nuclear policies discriminated against Aboriginal people on Orchid Island (蘭嶼), where nuclear waste is stored.
After the meeting, participants signed a petition asking the government to pursue peace and make efforts to build a harmonious society.
Participants stressed that scrapping the plant was an act that showed respect to life and all living creatures.
Meanwhile, anti-nuclear activists and Taiwan Green Party representatives said yesterday that they would move to recall legislators who oppose the Executive Yuan's decision to halt construction of the plant.
Kao Cheng-yan (高成炎) from the Green Party said at a press conference that KMT legislators trying to recall President Chen Shui-bian (陳水扁) would lose voters' support.
Anti-nuclear residents from Kungliao said they were sorry to see that the cancellation of the plan had triggered such a massive political struggle and threatened to hold a local vote to recall legislators who opposed the government's decision.
Responding to activists, KMT Legislator Ting Shou-chung (丁守中) said that he did not believe that the recall would be carried out at all.
Meanwhile, in southern Taiwan, more than a dozen environmental groups, including the Kaohsiung City Green Association (高雄市綠色協會) and the Takao Hill Association for National Park (柴山自然公園促進會), reiterated their support for the Executive Yuan's decision yesterday at a press conference.
Environmentalists said they were disappointed at opposition parties' intention to stir up a political storm. The activists further criticized the media, which they said misled the public and were incapable of reporting nuclear-related issues.
"The last thing we want is for people to only see the issue irrationally instead of calmly," Yang Ping-yu (楊娉育), head of the Takao Hill Association, told the Taipei Times.
Comments will be moderated. Keep comments relevant to the article. Remarks containing abusive and obscene language, personal attacks of any kind or promotion will be removed and the user banned. Final decision will be at the discretion of the Taipei Times.