Pingpu people want recognition
ABORIGINAL RIGHTS Deprived of their official recognition by the government in 1954, the Pingpu people have urged Taiwan's future leader to restore their ethnic identity and help preserve their history
For some people, ethnic identity is little more than a romantic notion. But for a group of Pingpu (平埔) Aborigines -- lowland plains tribes believed to be the earliest inhabitants of Taiwan -- seeking to reestablish their ethnic identity is a solemn task. Yesterday, they called upon the presidential candidates to restore their ethnic status after the election.
"The Pingpu people have never actually disappeared [from Taiwan]. They have simply been assimilated into society," said Jason Hsiao (蕭誠聰), who identifies himself as a descendent of the Pingpu people. "What we have is a problem of ethnic identity," he said.
At a press conference yesterday, a group of Aborigines who claim to belong to the Pingpu people, expressed their support for both DPP presidential candidate Chen Shui-bian (陳水扁) and independent candidate James Soong (宋楚瑜).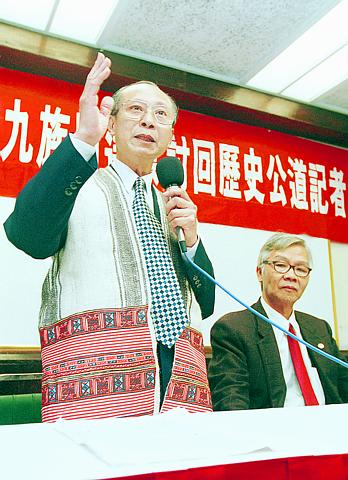 Pan Chiu-kun, head of one of the Pingpu tribes, calls on all presidential candidates to address the plight of Aborigines in Taiwan at a news conference in Taipei yesterday.
PHOTO: CHIANG YING-YING, TAIPEI TIMES
Both men have signed agreements with the group to help restore their ethnic identity -- which is currently not recognized as one of Taiwan's Aboriginal peoples -- and to help preserve what is believed to be the ancient relics of the Ketagalan, one of the Pingpu tribes, near the planned site of Taiwan's fourth nuclear power plant in Kungliao Township, Taipei County.
The Ministry of the Interior in 1954 abolished the Pingpu's status as an ethnic subcategory under the Aboriginal umbrella, resulting in what Pingpu people like Hsiao claim was "a cultural mistake" that has endangered their search for their roots.
Lin Sheng-yi (林勝義), president of the Alliance of Taiwan Indigenous Cultures, said although Pingpu people are little different in apprearance from Taiwan's dominant Han Chinese population, those who have already declared their indigenous identity would use their votes in the upcoming poll to seek the election of a guardian of their long-ignored rights.
Lin estimated that 1.5 million people in Taiwan could claim Pingpu origin.
The academic world, however, has yet to come to a conclusion in regard to the exact number of the island's lowland Aborigines.
Chen Shun-sheng (陳順勝), professor of neurology at Kaohsiung Medical University, told the Taipei Times that it is difficult to estimate the total percentage of Taiwan's population that have Pingpu blood because of insufficient data on their original numbers.
Most scholars agree that before the migration of Han Chinese to Taiwan that began about 400 years ago, the entire area of northern Taiwan as far north as Keelung and as far south as Taoyuan was the domain of the Ketagalan people.
Scholars admit that it's still difficult to ascertain exactly how big the Pingpu population was in earlier times, or how their cultural characteristics were assimilated into the mainstream Han culture.
Han Chinese and Aborigines form the two main ethnic groups living in Taiwan today, but before large-scale immigration by Chinese from the 17th century onwards, Taiwan's history belonged to the Aborigines.
According to a classification compiled by the Shun Yi Museum of Formosan Aborigines, Taiwan's Aborigines are now divided into nine main tribes. The various lowland tribes of the Pingpu people are not included in this categorization.
"But it should be remembered that Aborigines in Taiwan are not limited to these nine peoples. The tribes of the Pingpu should also be included," said Hsiao.
Comments will be moderated. Keep comments relevant to the article. Remarks containing abusive and obscene language, personal attacks of any kind or promotion will be removed and the user banned. Final decision will be at the discretion of the Taipei Times.